Infinite Variety: The GR131 across the Canaries
Steve Barham describes his experience of trekking the still-developing GR131 long-distance route across all seven of the Canary Islands, covering 651km and 20,000m of ascent in five weeks and crossing an infinite variety of dramatic volcanic landscapes. 'Rambling Man' Steve spent some time quizzing our author Paddy Dillon on various aspects of the route, before embarking on this amazing journey.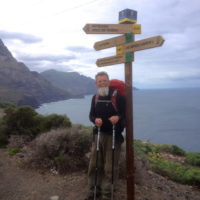 Steve Barham
Steve has hiked in most European countries, America, Australia, New Zealand, India and Africa and is currently completing the 650km GR249 circumnavigation of Malaga province in Southern Spain. His microadventures can be followed on stevebarhamramblingman.wordpress.com.


View Articles by Steve Barham