Loraine Wilson – author, mountain guide and explorer of Crete
It is with sadness that we report the recent death of Loraine Wilson, author and leading authority on exploring Crete on foot.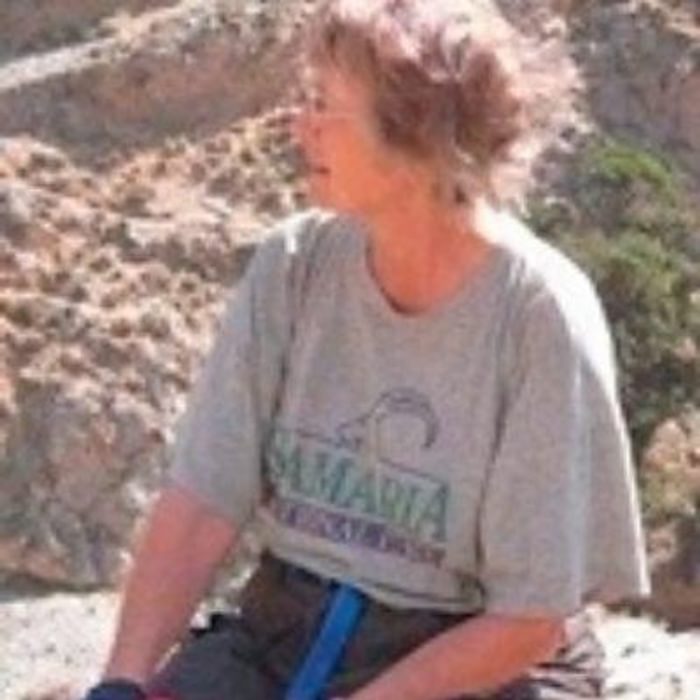 Loraine Wilson
Loraine was author of two Cicerone guides to Crete, her first was the White Mountains and this was developed into a new edition to cover the whole of Crete's mountains – The High Mountains of Crete.
In 1979, after returning from a spell in the early Dubai building boom, Loraine Wilson swapped life as an Architectural photographer and assistant for trek leading, mainly in the mountains of Greece. A lifelong hill walker and backpacker, she has been walking the Cretan mountains since 1983 and had become the recognised authority on walking and trekking on Crete. In 1995 a course in Heritage Management alerted her in a more formal way to the necessity of encouraging 'inland tourism' in Crete and places like it.
Jonathan Williams said: "Loraine's passion for Crete and all things Cretan had to be seen to be believed. She seemed to know every path and gully, every peak and gorge of that wonderful island. She communicated this passion in her two guides to Crete and illustrated them beautifully with her photos, experience from her earlier career. Her death is a great loss to all who love Crete and Greece: she is irreplaceable."
If any readers wish to add to these notes, please let us have comments sent to info@cicerone.co.uk and we will add them in.
Having just read the news on Cicerone Extra that Loraine Wilson has died, I am reminded of her powerful enthusiasm for all things Cretan. We first met in the 1980s when she was leading trekking holidays for London-based Sherpa Expeditions. Although I never trekked with her, we would often meet at winter promotion evenings when she would pour out her love for Crete, and the depth of her knowledge for Greece in general and the island of Crete in particular. More recently we spent time together at the Kendal Mountain Festival, and I persuaded her to 'come out of retirement' a couple of years ago to produce a fine article on trekking across the White Island for the Cicerone anniversary book – '50 Years of Adventures'. Loraine was not an 'in-your-face' character, but one who could inspire with the gentle smile of a favourite aunt. Rest in peace, Loraine.
Kev Reynolds
To read more articles like this get our newsletter
Sign up today for a 20% discount on your next purchase. Join over 30,000 enthusiasts from around the world. If you don't love our mix of new books, articles, offers and competitions, you can unsubscribe at any time. We will never spam you, sell your data or send emails from third parties.