Mountain Biking in Slovenia
Julian Alps - Gorenjska and Soca Valley, South, Central and North East
Guidebook to 35 full-day and half-day mountain biking routes in Slovenia. The routes, which are graded, range from 12 to 59km, taking in Gorenjska, Soca Valley, the South, as well as Central and North East Slovenia. Includes a Slovenian glossary plus all you need to know about getting there, getting about, bikes, equipment and accommodation.
Seasons
most of the routes can be tackled from Spring to Autumn; a few in the more clement south could be tackled in Winter
Centres
Bled and Bohinj; Bovec, Kobarid and Tolmin; Ajdovščina; Postojna; Kamnik; Maribor; Doljenske Toplice
Difficulty
vast majority of routes technically require only a reasonable amount of competence to complete; however, they often require a good level of fitness as most will include a climb that can go from stiff to brutal; there are also rides included that anyone should be able to complete and a few with a higher technical grade
Must See
Lakes Bled and Bohinj; the high Alpine pastures of the Julian Alps; beautiful River Soča; caves of the limestone Karst; Predjama Grad - the castle in a cave; vineyards of the South and East; historical sites from both world wars
Overview

Table of Contents

Updates

Reviews

Downloads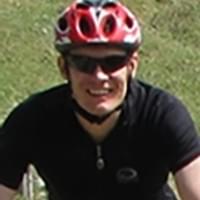 Rob Houghton
Rob Houghton has been an outdoor instructor, leader and educator for more years than he cares to remember and he has led educational expeditions on five continents. For as long as he can remember, Rob has always been a cyclist and his first bike was a Raleigh Striker back when they had fake suspension forks on the front. He only took up mountain biking ten years ago after a friend first took him around a trail centre in Wales. He was hooked.
View author profile