Paddy is exploring the Azores: a walkers' paradise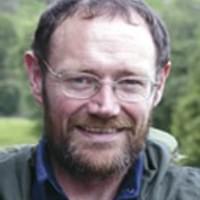 Paddy Dillon is exploring the Azores which, it turns out, are a walkers' paradise. Paddy has even managed to find enough wifi to send this blog post in!
Paddy Dillon arrives in the Azores on a private jet with a police escort...
Just because the Azores are in the mid-Atlantic shouldn't suggest that they're difficult to reach, or outrageously expensive. I discovered a piece of legislation that basically obliges Azores Airlines to get you from the Portuguese mainland to even the smallest islands for around £30, even if that means taking two or three flights to get there, and it includes an ample baggage allowance. I was rather more surprised to find myself the only person on the flight between the tiny islands of Corvo and Flores, apart from the airport policeman. I've been telling people I arrived on my private plane, with a police escort!
"The 1957-8 volcanic landscape at Capelinhos on the island of Faial"
Corvo is the smallest of the Azores, where everyone lives in a small village that just happens to have an airport bolted onto it. The most famous scenic area is the Caldeirão, on top of the island. This remarkable crater has a flooded floor and is grazed by contented cattle. That's when you can see it, because half the time it's covered in cloud and you can't see anything. It was sunny when I reached Corvo, and I was bundled into a car and rushed to the Caldeirão so abruptly that I thought I was being abducted! In fact, it was just as good the following day, but after that it seemed to be permanently cloud-capped.
"A weeping wall of waterfalls at Poço da Ribeira do Ferreiro on the island of Flores"
It's 5 minutes walk from the airport to the trail
Flores is bigger than Corvo, but still quite small. That hasn't stopped them thinking big in terms of trails. Only last August they opened a 'GR' route running most of the way around the island. It took five minutes to walk from the airport terminal to the start of the trail, then three quite hard days of walking to complete the route. There are other scenic one-day trails on the island, waterfalls galore to admire, and a very scary route that literally drops off a crumbling cliff in search of the island's only hot spring.
"Lagoa Complido fills an old crater high on the island of Flores"
Faial is another small island with grand 'GR' designs. On Faial, they decided that coast to coast was the way to go, or 'Costa a Costa', as they say locally. Two days would do it, but that would be the wrong approach. The start at Capelinhos takes in a barren volcanic landscape that didn't exist until an eruption in 1957-8. I couldn't help thinking the landscape was only
as old as I am
! You could spend a day just at that end of the island, without even beginning to climb through lush Azorean forest to the might central Caldeira whose rim boasts Munro-sized peaks.
"High in the clouds on the island of Faial. Let's hope that's a mapboard!"
There are nine islands in the Azores archipelago, so
I have my work, and walks, cut out
for me. Portugal's highest mountain is out there in the middle of the Atlantic - the mighty Pico at 2350m (7710ft).
"The Caldeirão and its lakes high on the island of Corvo"
Here's one from the rim of the high Caldeira on the island of Faial, including one of those signposts with far-flung destinations.
I also made a dash to climb Pico, on the island of Pico. It's Portugal's highest mountain, even though it's nowhere near Portugal. Yes... that's snow on it.

Snow on Portugal's highest mountain
To read more articles like this get our newsletter
Sign up today for a 20% discount on your next purchase. Join over 30,000 enthusiasts from around the world. If you don't love our mix of new books, articles, offers and competitions, you can unsubscribe at any time. We will never spam you, sell your data or send emails from third parties.