Walking on the Azores: wild, remote and rugged islands
In the remote North Atlantic, the Azores rise spectacularly out of the sea. Paddy Dillon rounds up some of his favourite trails on these wild and wonderful islands.
The Azores are nine amazing volcanic islands in a remote part of the North Atlantic. They are lush, green and well-watered, yet remarkably wild and rugged in places, as well as being geothermally active, belching sulphurous steam and hot mud in places. They straddle the continental plates of North America, Africa and Eurasia, as if they haven't quite decided where they belong. Portugal claims them for its own, and Portugal's highest mountain, Pico, is one of many splendid attractions.
So, they're amazing and remote but they're also fairly easy to reach and explore. There are a few direct flights from Britain, Europe and North America, mainly to the large islands of São Miguel and Terceira. To reach the others, Azores Airlines operates year-round services, while Atlânticoline ferries link all the islands in the summer, but only connect half of them in the winter. All the islands have bus services, except for tiny Corvo, which operates minibus transfers on demand. As for accommodation, there are plenty of options in all sorts of locations, with prices to suit every pocket, as well as basic campsites that might well be free to use.

Atlânticoline ferries connect all the Azores islands in the summer months
Bus services of varying frequency are available on all the islands except Corvo
The nine islands are quite small and are separated by considerable distances. I describe it like this – take a county the size of Derbyshire, break it up into nine uneven pieces and spread them all the way through England, from Land's End to Northumberland. That's pretty much the extent of the Azores. It's never possible to see all nine of them in one view. The most you can hope to see at once is five.
Weather-wise, the Azores don't stay so astoundingly verdant without frequent watering, but conditions change rapidly, with showers and sunshine alternating all the time. The lush green grass is grazed by cows and the Azores have a thriving dairy industry. On wet days, it's worth chasing after waterfalls, checking out the history and heritage of the islands, or venturing underground into the bowels of old volcanos. On sunny days, head for the heights, enjoy the views and be amazed at the range of colourful flowers.
As for the walking trails, the Azores offer an incredibly varied selection, everything from short and easy strolls to long-distance routes that take three or four days to complete. You could spend two months walking day after day, hopping from island to island, and you wouldn't complete all the trails, which is great, because it means you can return time and time again and always find something new. Don't ask which island is 'best', because they're all remarkably different from each other and they're all worth visiting, but here's a round-up of some of my favourite walks, island by island.
Walking on the Azores
70 routes across Sao Miguel, Santa Maria, Terceira, Graciosa, Sao Jorge, Pico, Faial, Flores and Corvo
£17.95
Guidebook to 70 walks on the Azores, a remote archipelago in the North Atlantic Ocean. Most of the walks are easy or moderate, with a few graded difficult. The selection is spread across all nine islands, offering much variety, from easy village-to-village walks to remote and mountainous walks, including Portugal's highest mountain, Pico.
More information
São Miguel
SeteCidades
São Miguel is the largest island and there is plenty of scope for a wide variety of walks. A circular walk of a dozen miles runs around the rim of the vast, lake-filled Sete Cidades caldeira. Pick a clear day, because this is all about the wonderful views, then just walk along a series of clear tracks and enjoy. There is a busy roadside viewpoint on the southern rim, called Vista do Rei, where King Carlos and Queen Amélie of Portugal enjoyed the view in 1901.

São Miguel offers a 12 mile walk around the huge caldeira of Sete Cidades
São Miguel's best waterfall walk lies above the village of Faial da Terra
Santa Maria
The GR1
This route offers a four-day walk around one of the smaller islands. The trail gets everywhere, taking in a splendid cliff coast, fine waterfalls, a remarkable 'red desert', charming villages and the highest point of Pico Alto. A memorable stretch involves a steep descent alongside terraced vineyards to the village of Maia, and later a steep ascent alongside similar terraces to leave the village of São Lourenço.

Santa Maria's GR1 trail visits the remote village of São Lourenço
Santa Maria's 'red desert' was formed by stripping clay for use in potteries
Terceira
Mistérios Negros
The jagged black lavas of the Azores were a mystery to the early Portuguese settlers, so they called them the Mistérios Negros. A short walk passes a rugged lava flow in the middle of the island, then there is an opportunity to explore an underground lava tube called Gruta do Natal. Keep hold of your entry ticket, which also entitles you to go underground into a deep and amazing volcanic chamber at Algar do Carvão.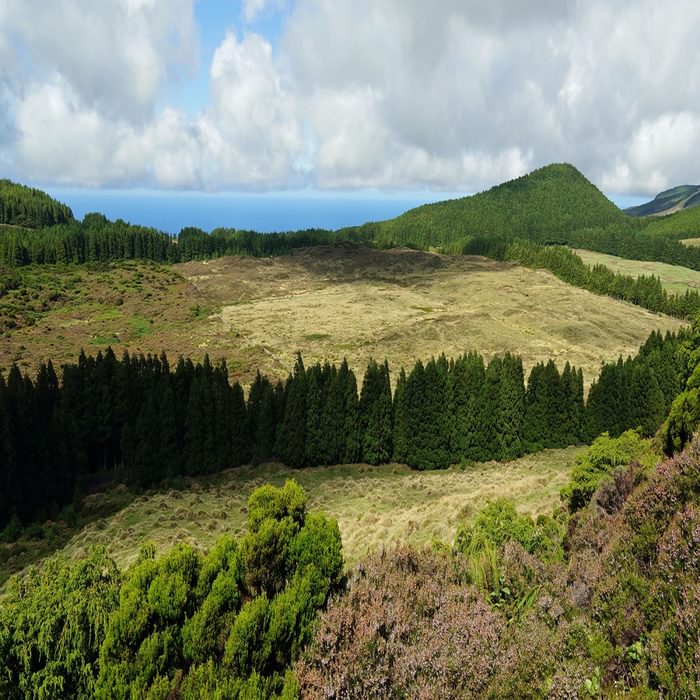 Graciosa
FurnadoEnxofre
Graciosa is a small island with a large caldeira. A fine track runs around the outside slopes of the caldeira, then a tunnel bored through the walls of the caldeira allows the inside of the crater to be explored. The access road drops gently, then a flight of steps descends to a visitor centre. More steps descend into an underground volcanic chamber, where there is a sulphurous lake and bubbling hot mud pots. They'll let you know in advance if the gas levels inside the chamber are likely to kill you!

São Jorge
The GR1
São Jorge is a long, thin island with a remarkable cliff coastline where landslips have created tiny areas suitable for cultivation, known as fajãs. As it's such a long island, it is best explored by following the GR1 for three days, although that takes in only half the length of São Jorge. The route includes stretches of the coastline, areas of forest, tiny settlements on cultivated fajãs and a rugged trek over the high crest of the island to reach the popular Fajã da Caldeira.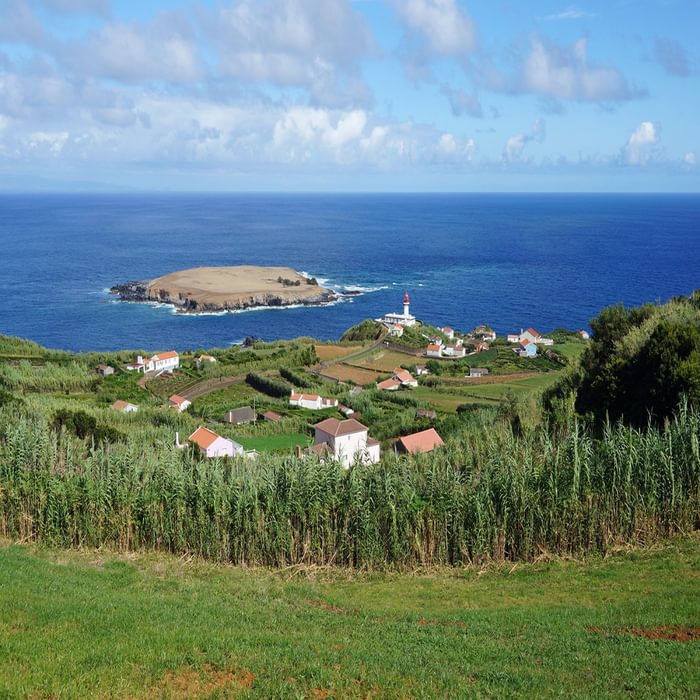 Pico
Pico
The large island of Pico is dominated by the huge conical volcanic mountain of Pico. At 2350m (7710ft) it's the highest mountain in Portugal, despite being nowhere near! Pick a fine day for the ascent and expect it to be snow-capped in winter. It's necessary to apply for a permit, obey the regulations and follow the only available path to and from the summit. Some people camp high on the mountain in order to be there for sunrise. It's a punishingly steep climb and the ground is often uneven, rocky and stone-strewn. The reward is a view of five of the Azores islands.

Pico features a number of well-preserved windmills and intricate vineyards
Pico island is crowned by the mountain of Pico - the highest in Portugal
Faial
Caldeira da Faial
The island of Faial is shaped like a huge volcanic cone, rising from the sea and finishing with a perfect, circular, high-level caldeira rim. It looks ideal for a walk, and in fine weather it provides a wonderfully scenic circuit. The walk starts high and stays high, while the interior of the caldeira looks bizarre and the rest of the island simply falls away in all directions to the sea. The neighbouring mountain of Pico looks amazing, often seen rising high above a band of cloud.

Faial's caldeira offers a fine view across the sea to the mountain of Pico
Faial suffered a volcanic eruption at Capelinhos between 1957 and 1958
Flores
The GR1
Flores is a small island and it offers such a wealth of interesting scenes that the best thing is to follow the long-distance GR1 for three days, taking in as much as possible. The route wanders from village to village, through farmland, forest and remote areas, taking in stretches of the rugged coastline and passing several splendid waterfalls. An entire weeping wall of waterfalls at Poço da Ribeira do Ferreiro is particularly attractive.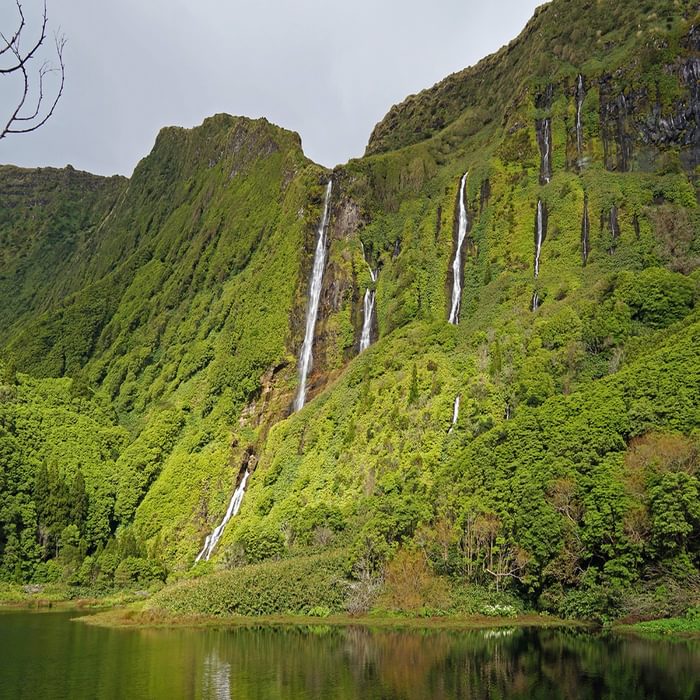 Corvo
LagoadoCaldeirão
The tiny island of Corvo gets the fewest number of visitors, which is a pity, because it is well worth exploring. Just don't stay too long, or everything starts repeating itself! The classic walk is a circuit around some small lakes sitting deep in the Caldeirão, surrounded by the highest hills on the island. Pick a fine day, because on a cloudy day you'll see nothing at all, and this walk is all about wonderful scenery.
Corvo and Flores are two small Azores islands lying closest to North America
Corvo's finest walk is around the crater lakes of Lagoa do Caldeirão
Information
Websitewww.visitazores.com is the main online resource for all types of information about the Azores, linking to abundant details about the trail network
Maps 1:50,000 Kompass maps of the Azores cover all nine islands in good detail
Accommodation Check the usual accommodation websites, www.airbnb.com, www.booking.com, for a range of options, locations and prices
Public Transport São Miguel has three bus companies, while the other islands have one bus company each, except tiny Corvo, which offers minibus transfers on demand. Inter-island flights are operated by Azores Airlines, www.azoresairlines.pt and inter-island ferries are operated by Atlânticoline, www.atlanticoline.pt.

To read more articles like this get our newsletter
Sign up today for a 20% discount on your next purchase. Join over 30,000 enthusiasts from around the world. If you don't love our mix of new books, articles, offers and competitions, you can unsubscribe at any time. We will never spam you, sell your data or send emails from third parties.