The GR5 Trail - Vosges and Jura
Schirmeck to Lac Léman, and the GR53
Guidebook to a 687km (427 mile) trek through eastern France, traversing the Vosges and the Haut-Jura plateau. The route follows the GR53 from Wissembourg to Schirmeck, before picking up the central section of the GR5 from Schirmeck to Nyon on Lake Geneva, taking in wooded and grassy hills, river gorges and fascinating castle ruins.
Seasons
Spring to Autumn, although a late spring may see snow lingering on some of the higher stretches.
Centres
Wissembourg, Saverne, Schirmeck, Ribeauvillé, Villers-le-Lac, Les Rousses, Nyon
Difficulty
A well-waymarked route, suitable for any reasonably fit walker. On some stretches, it may be necessary to drop off-route a short distance to obtain food or accommodation.
Must See
The quiet Northern Vosges, with castle ruins on rocky pinnacles; the enchanting winemaking villages of Alsace; the hilltops and glacial lakes of the Vosges; the tranquil gorge of the Doubs, and the spectacular Saut du Doubs waterfall; outlook points over the expansive Jura plateau; the impressive cliffs of Mont d'Or
Overview

Table of Contents

Updates

Reviews

Downloads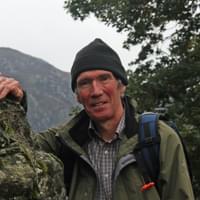 Les Smith
Les lives in Perthshire, Central Scotland, with easy access to the Scottish hills. His first long distance walks were within the UK, but since then he and his wife have ventured along several of the more challenging European long distance trails.
View author profile
Elizabeth Smith
Elizabeth graduated in geography many years ago, and has long enjoyed walking in the hills, whether at home in Scotland or further afield. Long-distance trails give her the opportunity to appreciate the wider context of the landscape, and the flexibility given by camping allows her to reach places away from the beaten path.
View author profile