The River Rhone Cycle Route
From the Alps to the Mediterranean
Guidebook to cycling the Rhone Cycle Route, an 895km ride through France and Switzerland from the Swiss Alps to the Mediterranean Sea. Divided into 20 stages, each approximately 45km long, the route can be completed by most cyclists in 10-14 days. Includes information on preparation, navigation, accommodation and amenities on route.
Seasons
Except for stage 1 in the high Swiss Alps, the route can be cycled between April and October. Stage 1 can only be cycled when Furkapass is snow free, usually mid-May to mid-October.
Centres
A point-to-point route passing through Martigny, Montreax, Geneva, Lyon, Vienne, Valence, Montélimar and Arles.
Difficulty
A straightforward route that is generally downhill or level, (though there are a few short ascents). Mostly asphalt surfaces in good condition suitable for hybrid or touring cycles. Much of the route follows dedicated off-road cycle tracks, suitable for family cycling, though there are a few short sections where main roads are used.
Must See
The Rhone glacier, Furka pass, Lake Geneva, Château de Chillon, Montreux, Lausanne, Geneva, Lyon, Vienne, Valence, Montélimar, vineyards of the Côtes du Rhone, papal city of Avignon. Roman Arles, Camargue delta.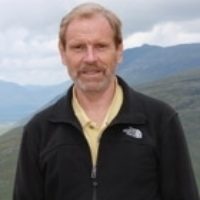 Mike Wells
Mike Wells has been a keen long-distance walker and cyclist for over 20 years. He has walked all the major British trails, the GR5 through the Alps from Lake Geneva to the Mediterranean and has explored the Italian Dolomites' Alta Via routes. He has also walked in Poland, Slovakia, Slovenia, Norway and Chilean Patagonia.
Mike has cycled the C2C route across northern England as well as the Camino and Ruta de la Plata to Santiago de la Compostela. He has completed an end to end traverse of Cuba, a circumnavigation of Iceland and a trip across Lapland to the North Cape.
View Articles and Books by Mike Wells