10 Reasons to Love The Southern Uplands
We take a closer look at the Southern Uplands - an underappreciated range - with the help of our favourite eccentric Ronald Turnbull, author of the recently published guide to the area.
Reason 1: Size.
Who knew that the Scottish area of hills called The Southern Uplands is, in terms of land area, six times bigger than Snowdonia? Ronald strongly recommends that: "Any walking lifetime should include some time – 44 days, say – in these distinctive hills... From the huge views of the Cheviots to the mysteries of iced-over Loch Enoch, this lost bit of Scotland is your local Siberia."
Reason 2: Remoteness.
The Southern Uplands are for you if you long to enjoy some remote and secluded walking away from the hordes of tourists that follow the well-trodden trails in other more traditionally popular walking areas. In the Southern Upland heartlands, 20k could be covered without meeting anyone else at all.
Reason 3: Peak bagging.
It's also a place for the peak-bagger who has ticked off all the Munros and Corbetts. Although there are 7 Corbetts in this area, the appropriate lists here are the Donalds and the Marilyns. Percy Donald's 1935 list of 140 hills and 'tops' must be over 2000ft high but need have only 50ft of drop around them. The Marilyns can be as high or low as you like but must have a clear drop of 150m surrounding them. There are a great number of Corbetts, Donalds and Marilyns in this area but, as Ronald suggests, sometimes it's better to eschew the lists in favour of some less familiar peaks:
"Such lists can act as a spur to further hill-going, and take walkers to places they wouldn't otherwise think of.... [I prefer to concentrate on] the most worthwhile summits, irrespective of altitudes and listings".
Reason 4: Views.
You can see Snowdon from the peak of Merrick, the summit of Southern Scotland and dubbed "the longest view in the UK".
Reason 5: Quiz Facts.
Ailsa Craig is the only island in the world with a variety of onion named after it. If that's not reason enough to visit this quirky island then how about the ruined Castle of Ailsa, the puffins, gannets and gulls and the incredible views from the top.
Reason 6: Poetry.
Robert Burns claimed that 'daily he wandered' the Afton Hills in his poem about Afton Water. This is where you can see what all the fuss was about - green braes, sweet scented birks and a murmuring stream all feature in Ronald's favourite walk in the Afton Glen area. You can also enjoy the full poem at the Burns Cairn.
Reason 7:History.
Fancy some history with your hill? Visit Neidpath Castle. It was the stronghold of Sir Symon Fraser who defeated the English three times in one day at Roslin in 1303, defended Tweeddale for Robert the Bruce and was hanged, drawn and quartered with a garland of periwinkle around his head in 1312. Mary Queen of Scots also stayed there and Oliver Cromwell's forces tried to destroy it in 1650.
A selection of images of the Southern Uplands
Reason 8: Fairies.
Yes really. On Minch Moor, along part of the Southern Upland Way, there is a Cheese Well where, traditionally, offerings of cheese and butter were left out for the fairies. However, as Ronald explains:
"These [offerings] are replaced today by small cash donations. The Southern Upland Way rangers have asked walkers not to leave food offerings - presumably it only encourages the fairies."
Reason 9: More history.
History pervades all walking in the Southern Uplands, especially on the walks that include parts of the Border Abbeys Way where you can visit Melrose Abbey: the heart of Robert the Bruce is buried here.
Reason 10: Inventive names.
Who wouldn't want to visit the Devil's Beef Tub, the Murder Hole, or The Dungeon Hills? They are safer and more beautiful than you might expect.
So... Why not discover your own reasons to love the Southern Uplands with Ronald Turnbull's guidebook, out now and published by Cicerone. You can also purchase any of the routes mentioned for only 99p if you just want a taster of what is available in this glorious area. We'll see you on the hills.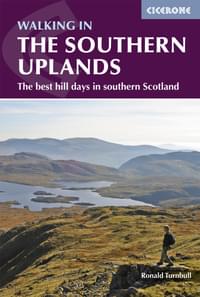 To read more articles like this get our newsletter
Sign up today for a 20% discount on your next purchase. Join over 30,000 enthusiasts from around the world. If you don't love our mix of new books, articles, offers and competitions, you can unsubscribe at any time. We will never spam you, sell your data or send emails from third parties.