The Suffolk Coast Path in a day - completing the trilogy
During lockdown Stephen Dunnett set himself the challenge of keeping it local by exploring the long-distance routes in his home county of Suffolk. He completed the Sandlings Walk and the Stour and Orwell walk, and here he completes his trilogy.
Finish what you started
I suspect several of us started 'projects' during the restrictions of lockdown that rapidly took a back seat as soon as we could travel a bit more and go back to the pub! Do you remember those almost deserted roads and all the local footpaths regularly walked by people on their permitted 1 hour of daily exercise?
People did drive less and did walk more but already I am back to risking life and limb if I have to walk on a road and the local paths are once more over-grown.
However, I did have unfinished business here in Suffolk and after completing 'The Sandlings Walk in a Day' (Cicerone extra article – 20th March 2021) and 'The Stour and Orwell Walk in a Day' (Cicerone extra article – 17th July 2021), I still had the Suffolk Coast Path to do to complete my challenge of a trilogy of 'walks in a day'. All of these walks are described in the excellent Cicerone book, Suffolk Coast and Heaths Walks (Lawrence Mitchell – 2017).
Logistical difficulties…
So, the idea of this challenge, hatched during the dark days of 'stay at home', was to complete each walk within a day, thus reducing travel and the need to stay away from home. Fortunately, this was not an issue for the final part of the trilogy, planned for August 2021, but the Suffolk Coast Path presents some different logistical challenges instead.
The walk as described in Cicerone's Suffolk Coast and Heath Walks guide goes from Lowestoft, south to the finish in Felixstowe. There is a ferry crossing required to get across the River Deben and restricted crossings, particularly out of peak season makes this an important consideration, particularly as transport options from Bawdsey are very limited if you miss the last ferry.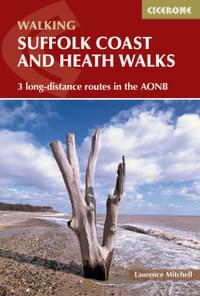 A start from Felixstowe would certainly make this easier to plan. However, for my challenge date, my wife pointed out that the bridge that links Southwold to Walberswick was out of use for all of the summer for repairs (brilliant timing!) and that necessitated another ferry instead of the bridge.
As it was not possible to use both ferries within the constraints of completing the walk in a day, I decided to start my walk at Lowestoft and finish at Bawdsey Quay, missing out the final, short, stage into Felixstowe. Once more, I was lucky that my wife was to be 'support crew' meaning that transport, cake and coffee was never going to be a problem.
…and more logistics!
The ferry between Southwold and Walberswick usually starts at 10am but while the bridge was closed, there was an earlier 9.30 start. I was keen to start from Lowestoft at sunrise, as being the UK's most easterly point, it is renowned for its sunrises and so long as I didn't go too quickly, the first ferry should be fine.
5am on 11 August 2021 saw me and my 'crew' at Lowestoft South Beach ready for the off and we were not to be disappointed by the sunrise. After an easy, peaceful at that time in the morning, walk along the seafront, you immediately become aware of more logistics involved in walking this close to one of the fastest eroding coastlines in Britain.
It really is worth having a look at the tide times and plan stages for low tide. I had done this so was able to use the beach after Lowestoft rather than a less than lovely alternative beside the busy A12 road.
Given the constant coastal erosion, I urge anyone walking the stages between Lowestoft and Southwold to try to get up to date information – I am 'local' so am lucky in this respect. The guide states that you can walk along the beach from Pakefield (just south of Lowestoft) to Covehithe or Southwold. You can BUT it is not easy, often impossible and potentially very dangerous.
The beach at Benacre Broad was breached several years ago and sometimes the channel is shallow and wadable at low tide but at other times it can be deep. Covehithe Broad and Easton Broad are usually fine but are always close to breaching after storms. Finally, Easton Bavents Cliffs, just before Southwold are potentially extremely dangerous.

It is dangerous to walk close to the cliff due to the constant risk of collapse and huge concrete sea defence blocks bar access to the seafront at Southwold. There is no beach here but if the tide is low, it is possible to climb over the blocks and although I do it, I would certainly not recommend it – note: there is no emergency way off the beach and at high tide, there is no beach.
Beautiful walking and beautiful scenery
As I had looked at the tides and I know the 'Easton Bavents Blocks', apart from the inland alternative around Benacre Broad, I did use the beach route to Southwold. I love the Suffolk coast and this was the Suffolk coast at its best – a gentle, warm breeze, a quietly lapping sea and the soothing sound it makes on shingle and best of all, no other people!
The gulls were moving en-masse to their feeding areas, a bit like commuters used to move en-masse to the coffee shop before they worked from home. Seals are common here and I have often been watched by one as I walk along the beach – they are just as curious as we are. Near Easton Bavents, the power of the sea and the erosion it causes is all too obvious as the remains of people's homes hang off the edge of the cliff.
I arrived at Southwold Pier at 8.50am and my 'crew' already had my coffee waiting. We did a bit of people watching, which is always good fun, and as it was only a short distance to the ferry, I didn't want to get there before 9.30. Southwold is the start/finish of the Sandlings Walk so from here onwards it is possible to 'mix and match' routes to create your own options.
Ferry cross the Blyth
Gerry and the Pacemakers clearly got the wrong river and missed out here! £2 got me across the River Blyth on the first ferry of the day. The ferry man thought I was an idiot to be doing what I was doing but at least I didn't chuck all my rubbish down by his jetty which some others felt was OK during the course of the summer. What is it with the morons who feel it is OK to litter our countryside?

Walberswick is a pretty little village and it is worth walking through the village itself rather than following the 'official' route. It is not difficult to see why several well-known celebrities including Richard Curtis, Emma Freud and Griff Rhys Jones live is this quiet, almost anonymous village. The 600 year old Bell Inn is worth a visit and a good accommodation option if you do not plan to do the walk in a day.
However, I was doing the 'walk in a day' so no pub visit and although Richard and Emma offered me a cup of tea, I had to decline and push on to Dunwich where the 'Crew' was waiting. After a quick pit stop, I pushed on along one of my favourite parts of the route.
The heather was just starting to bloom across Dunwich Heath, Minsmere was quiet as the Autumn migrants were yet to return and the lovely, short cropped grass towards Sizewell was a joy to jog on. Sizewell A and B provide the usual stark contrast between natural beauty and nuclear power production and as on the Sandlings Walk, assuming Sizewell C gets approval, this walk will be impacted by its construction.

Fantasy islands and inland to Snape
I had an easy jog to Thorpeness, which was packed with visitors, so my jog increased to a sprint due largely to my people-phobic tendencies! In normal circumstances, Thorpeness is interesting to explore. It is not what it appears. Despite its old look, it was only created in the early 1900s by Glencairn Stuart Ogilvie and the Meare (note the odd spelling). It was all dug by hand and is actually very shallow.
Once I had cleared Thorpeness, the route took me inland along the lovely Sailors Path to Snape Maltings. I still felt fresh so jogged a fair bit of this and arrived at Snape at 2.40pm, well ahead of my planned schedule. There are two options from Snape – the 'official', shorter, direct route to Chillesford, or a longer and probably more rewarding route via Orford. It is also possible to link Orford to the main route via Butley Ferry but in all my visits, I have never seen it running.
I was happy to jog on along the 'official' route, quickly arriving at Chillesford and then onwards and upwards over Burrow Hill – a mountain by Suffolk standards! - to join Butley River at the ferry.

The path beside the River Ore was in good condition and I continued to make quick progress. This is a lovely, quiet section and there are several interesting relics from former MOD use to look at. The odd concrete structures in the field are former observation posts for bombing tests from the nearby and at the time, highly secret, Orford Ness.
(Note: if you walk the Orford loop option, it is possible to book a boat trip from Orford to Orford Ness and I highly recommend this www.nationaltrust.org.uk/orford-ness-national-nature-reserve) I arrived at Shingle Street and my last pit stop at 6.10pm so by now I knew I had plenty of time to finish in the light.

The power and a picnic
I jogged the pretty section beyond Shingle Street, passing four Martello Towers, iconic structures along the Suffolk coast. One of these featured recently in the Sandi Toksvig's Extraordinary Escapes on Channel 4. After East Lane, the 'alternative' route turns inland towards Bawdsey to avoid a difficult walk along the shingle beach on the 'official' route.

However, I had no option. A huge Amazon film set had been built for filming of 'The Power' (being ignorant of such things – not got a clue what it is!) including a massive 'fake house' accommodation and catering village and car parks. However, it does appear that Amazon have 'The Power' to close off public footpaths as a security guard was positioned on the beach path option to ensure that no-one passed!
So, it was the inland route along a less than pleasant road from Bawdsey to my finish at Bawdsey Quay where I arrived just before 7.20pm. In all, it had taken me 14 hours and 4 minutes to cover the 51 miles of my route and a picnic on the quay, watching the sun set on a tranquil scene was the perfect end to a perfect day.

Shhh, visit Suffolk but don't tell anyone!
OK, so my trilogy of 'walks in a day' is complete. We don't (hopefully) need to be planning projects for lockdowns but I would suggest that planning something different for 2022 could be a good winter pick-me-up.
Hopefully my slant on Cicerone's Suffolk Coast and Heaths Walksbook and my three articles have given you some ideas. Suffolk still is a 'hidden place' - we were not plagued with the hoards that some areas had to endure during the summer of 2021. It will still be quiet here next year – so long as you don't tell anyone!
And plans for further ahead? In 2025 Norfolk and Suffolk LDWA will be staging the LDWA100 – what more could you want? See you there.
To read more articles like this get our newsletter
Sign up today for a 20% discount on your next purchase. Join over 30,000 enthusiasts from around the world. If you don't love our mix of new books, articles, offers and competitions, you can unsubscribe at any time. We will never spam you, sell your data or send emails from third parties.