The Two Moors Way Stamp Trail
In 2006, to mark the 30th anniversary of the Two Moors Way, two journalists set up a stamp trail along the whole route. Sue Viccars tells us more.
Any long-distance walk from point-to-point brings with it a special sense of achievement, and a coast-to-coast is even better. Just look at the popularity of such routes as Wainwright's Coast to Coast, devised in the 1970s, from St Bee's Head in Cumbria to Robin Hood's Bay in North Yorkshire, or – more recently – the Hadrian's Wall Path National Trail, from Bowness-on-Solway to Wallsend on the Tyne.
But what about an option further south? Devon is England's third-largest county – allowing for a walk of over 100 miles (160km) – and is also the only one where the south and north coasts are separate and markedly different in character. And, being an essentially rural county and home to two of southwest England's unspoiled, magnificent and greatly contrasting moorlands – the granite heights of Dartmoor in the south, and softer Exmoor in the north – Devon can offer a route that takes walkers far off the beaten track for complete immersion in this most delightful of counties.
The Two Moors Way was officially opened on 29 May 1976 and, in 2005, was officially linked with a section of the Erme–Plym Trail to form Devon's Coast to Coast route, running on to Wembury on the south coast. And although the complete route has now been up and running for ten years, people still tend to talk about it as 'the Two Moors Way – with that extra bit to the sea tacked on'!
In 2006, to mark the 30th anniversary of the Two Moors Way (and its extension to Wembury to form the Devon Coast to Coast), two Radio Devon journalists (www.bbc.co.uk/radiodevon) set up a stamp trail along the whole route. The passport can be downloaded (Two Moors Way Stamp Trail Passport) but the website list of stamping stations is not up-to-date; and the 'Certificate of Achievement' (originally obtainable from the Two Moors Way Association) is no longer available. At the time of writing the Old Mill Café at Wembury did not have a stamp (having changed hands in 2013) but, hopefully, the new owners will soon have one. There is no longer a village shop at West Anstey. Please note too that some of the stamps held at the locations listed below are becoming quite frail!
The Exmoor National Park Visitor Centre in The Pavilion at Lynmouth does, however, have both a stamp and a Visitors' Book for south-to-north 'completers' to sign at the end of the walk. Those wishing to collect stamps along the way are advised to carry their own small notebook for that purpose.
Stamp station locations (June 2015)
Wembury
Old Mill Café, Wembury Beach (under development)
Yealmpton
Market Street Café, Yealmpton
Ivybridge
The Watermark, Erme Court
Holne
Community Shop and Tearoom
Drewsteignton
Post Office Stores, The Square
Morchard Bishop
The London Inn
Witheridge
Newsagents, 16a The Square
Knowstone
Masons Arms and in the porch of the parish church
Withypool
Post Office and General Stores
Simonsbath
Simonsbath House Hotel
Lynmouth
The Pavilion, The Esplanade
Sue Viccars' guidebook to the Two Moors Way was published by Cicerone Press in June 2015. Please see below: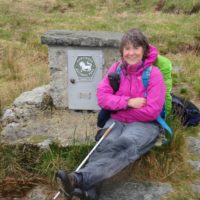 Sue Viccars
After gaining a degree in Geography and Archaeology at Exeter University Sue Viccars worked for a London map publisher before grabbing the chance to return to Devon, where she spent 20 years commissioning walking, equestrian and countryside books for David & Charles Publishers. She received her first walking book commission three weeks after going freelance in 2000 and since then has written or contributed to around 20 books (and edited dozens more), specialising in her home territory of southwest England, with particular reference to Dartmoor and Exmoor. She writes the walks for Exmoor: the country magazine, and has been editor of Dartmoor Magazine since 2008.
View Articles and Books by Sue Viccars