Walking in Kent: no second best
Kev Reynolds was winding up a lecture on trekking in the Himalaya when a member of the audience asked: 'If you're so passionate about mountains, why do you live in Kent?' Here is his response…
Having spent almost fifty years in this county, and walked hundreds of its footpaths – in all seasons, in all weathers – I can honestly say that I'm as happy when gazing on a favourite view from the Greensand Ridge, as when I'm studying Everest from Kala Pattar, the Matterhorn from above Zermatt, or Huascaran from the ruins of Yungay in Peru. Happiness should not be dependent on the distance between the contour lines of a map. If it was, we'd drive ourselves crazy with longing to be somewhere else!
I recently spent a good part of a year checking routes for a new edition of Walking in Kent. First published in 1988 it has gone through several editions, updates, rewrites and other changes, giving lots of excuses to revisit places of great natural beauty or historic importance.
Historic importance? Yes, Kent is full of them: ancient burial sites like the Coldrum Stones and Kits Coty on the North Downs; sites where Saxons and Romans first made landfall; footpaths that take us across land that once was sea, and a harbour-master's house now several miles from the coast it once served.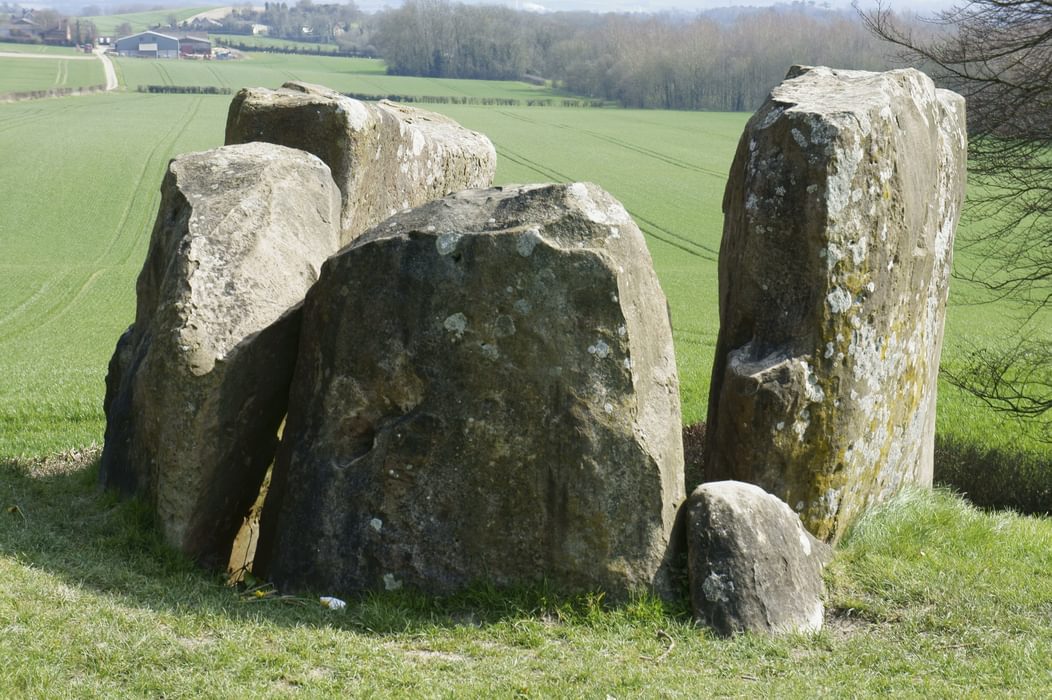 Twenty thousand historic buildings
Kent has 20,000 historic buildings. Among them, two cathedrals, numerous castles, stately homes, Wealden hall houses and tiny cottages that bear the weight of centuries in their beams. So many of them are either passed on our walks or make destinations for them, adding something special to our days.
As for natural beauty - well, there's no shortage of that. Take the North Downs, for example. Curving round the north and east of the county, the Downs form a protective wall to the great expanse of The Weald – home of 'the Garden of England'. The Downs provide great opportunities for walking with views to dream over – especially above Wye. Time and again we make for that lovely old town that spreads along the banks of the Stour, and mounting the downland slope above it, find ourselves uplifted by the paths that draw us into what seems like a secret heartland.
A Wealden hall house, one of Kent's historic buildings
Chilham is one of Kent's most attractive villages
Historic corner of Penshurst
Then there's the Greensand Ridge that forms an inner lining to the Downs. The Greensand hills are very different hills, with a different soil base and vegetation unlike that of downland chalk. And the walking continues to surprise with orchard and meadow and sudden views that display a green and pleasant land unfussed by towns or major roads. The overcrowded south-east? Hardly. This is what Octavia Hill (that Victorian champion of the countryside and co-founder of the National Trust) called 'the healing gift of space'. Yes - and there's plenty of that.
Sometimes we take a walk beside a river. The Medway is a favourite; cutting right through the county from the Sussex border to its estuary downstream from Rochester, a towpath keeps the river company from Tonbridge to Maidstone, with locks and weirs and medieval bridges adding interest. Kingfishers flash past as we walk, and we'll stray sometimes to visit a neighbourhood church with stories to tell, or a village smothered in flowers and a pub with the local brew on tap.
Many walks lead through bluebell woods
Orchard country above Yalding in the Greensand hills
Kent's coastline – from the Thames to Romney Marsh
Kent has an extensive coastline that makes for some entertaining walks, no matter what the season. Go in winter along the banks of the Swale – the waterway that makes Sheppey an off-shore island – and thousands of waders poking the mudflats will be your only companions. Go in summer and you'll find dog roses in trailside bushes, and watch sailing boats speed past in a breeze. On Sheppey seek out the lovely old church of St Thomas at Harty; a Betjeman favourite lost, it would seem, to a very different age. Or wander across the White Cliffs of Dover with a view across the Channel to France.
I'm often out early in the morning before settling to work at the computer. There's nothing quite like the sniff of a breeze to wake me up, nothing quite like the brush of dew-damp grass against leg, the cry of a bird or the glimpse of a deer bouncing across a meadow to set me up for the day. And not more than five minutes from where I slip out of bed, I can lean on a gate and drool over a view that reaches out to a range of wood-crowned hills stretching from west to east as far as the eye can see.
I know every footpath between here and there, and no two days are alike when walking them. For fifteen years I lived on the southern slope of one of those hills, and as soon as I arrived home from an expedition in some far distant land, I'd dump my rucksack and go onto the summit and feast my eyes on a three-county view made up of a dozen shades of green, and know where I belong.
Go back to the Himalaya? You bet I would – at the drop of a hat. But until then the hills of Kent will keep me more than happy, for this county is no second best. Having said that, I think I'll grab my boots and go for a stroll right now. Won't you join me?
Kent gold - beechwoods in autumn
Footpaths lead through orchards in the Garden of England
From Faversham a creek entices a walk to the Swale
Quintessential Kent - Outridge Farm on the Greensand Ridge
To read more articles like this get our newsletter
Sign up today for a 20% discount on your next purchase. Join over 30,000 enthusiasts from around the world. If you don't love our mix of new books, articles, offers and competitions, you can unsubscribe at any time. We will never spam you, sell your data or send emails from third parties.