Trekking in Bhutan
22 multi-day treks including the Lunana 'Snowman' Trek, Jhomolhari, Druk Path and Dagala treks
A guidebook to 22 multi-day treks in the Himalayan Kingdom of Bhutan, including the Jhomolhari, Druk Path and Dagala treks. The trails vary from 2 to 23 days long. The routes are mostly in western and central Bhutan, and range from easy to strenuous depending on the length, altitude and difficulty. Includes advice on cultural awareness.
Seasons
The best seasons for most treks are spring and autumn. Low-altitude treks can be done in winter. Expect monsoon rains in the summer.
Centres
Most treks start in the western part of Bhutan, in Paro. However, the guide also includes routes starting in other locations, such as Bumthang and eastern Bhutan.
Difficulty
All treks in the guide are graded. Trekking routes in Bhutan are on good trails, though most cover ground at high altitude, meaning that extra time is needed for acclimatization. No specialist climbing equipment is required.
Must See
The classic Lunana 'Snowman' Trek; views of Gangkar Punsum, the world's highest unclimbed massif; birds and wildlife; the rich Bhutanese culture
Overview

Table of Contents

Updates

Reviews

Downloads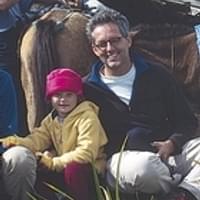 Bart Jordans
Bart Jordans has been guiding and exploring treks and trekking peaks in the Himalaya, Karakoram, Hindu Kush, European Alps and on Kilimanjaro since 1984. Originally from the Netherlands, he lived in Bhutan for over four years and in Vietnam for two. He caught the bug for mountain activities early in life on annual family visits to the Alps. Bart is now a freelance trekking guide for several well-known companies. When not in the mountains he works in the outdoor gear business and writes articles on the mountains of Bhutan, for which he is a noted expert.
View author profile