Trekking in Ladakh
Eight adventurous trekking routes
An essential guidebook to trekking in Ladakh. With detailed descriptions of eight treks in the Ladakh, Zanskar and the Markha Valley of north India, including details on combinations and alternative routes. Ladakh is a remote environment where trekking is extremely challenging, for adventurous trekkers only. Practical information is also included.
Seasons
Unlike other parts of the Himalayas, Ladakh is not normally hit by the Monsoon. Therefore summer (June to September) is the best trekking season.
Centres
Access is through Leh, the capital of Ladakh. The treks travel through towns and villages all over the Ladakh region, as well as the Zanskar sub-region and the Phukthal and Karsha monasteries.
Difficulty
High altitude, lack of lodges and restaurants as well as the remoteness of the region make trekking in Ladakh a rather challenging activity. Moderate to very demanding treks have been covered in the book. A number of local agencies can help organise the trip and make the trek much easier.
Must See
The rich Tibetan-style culture, remote mountains, high passes, serene monasteries and Ladakhi people. See K2 from the Kanji Pass. Cover the classic Darcha-Padum-Lamayuru trek. Trace snow leopards and venture up deep river gorges.
Overview

Table of Contents

Updates

Reviews

Downloads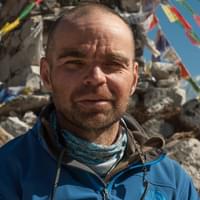 Radek Kucharski
Radek Kucharski was born in Poland. After graduating in Geography he worked for a small GIS company for over 12 years, which he would periodically leave every few years for months-long trekking trips to Asia. He trekked in Nepal, Iran, Pakistan and India, getting to know the landscapes, the people, their cultures and himself. After his first visit in 2004, Ladakh instantly became his favourite destination, and he made a promise to himself to return with the task of collecting data for a guidebook. A few years later he began this work.
Since that first visit to the Ladakh Range he has also changed profession. Now working as a tourist guide, which he has been doing since 2010, Radek lives in Warsaw and guides groups to India, Nepal and Scandinavia for one of Poland's leading adventure travel agencies.
View author profile