Trekking the GR7 in Andalucia
From Tarifa to Puebla de Don Fadrique
Pre-order
- Publishing 15 September 2021
This book is available to pre-order. Payment will be taken upfront and your book will be despatched from our warehouse as soon as it becomes available around the 15 September 2021.
Guidebook to the Andalucian section of the GR7 long-distance hiking trail in Spain, from Tarifa to Puebla de Don Fadrique. Includes a northern route via Cordoba Province and southern route via Granada Province. The whole 1225km trail takes 34-42 days to complete but can be split into shorter sections.
Seasons
As a general rule the best time to walk in Andalucía is from March through to mid June and from September to late October. In July and August temperatures regularly reach the high thirties and make walking far more of a challenge. Wildflowers are at their best in late April/early May.
Centres
(Common route) Tarifa, Los Barrios, Ronda, El Chorro, Antequera; (Northern variant) Rute, Priego de Córdoba, Alcalá La Real, Jódar, Quesada, Cazorla, Santiago de la Espada, Puebla de Don Fadrique; (Southern variant) Alhama de Granada, Lanjarón, Charches, Zújar, Cúllar, Orce, Huéscar, Puebla de Don Fadrique
Difficulty
A fairly challenging route requiring good fitness as there are some long stages, some involving 1000m of ascent. However, there is no technical difficulty and walking is on footpaths, country tracks and, occasionally, minor roads.
Must See
Striking mountains and gorges, attractive villages, forests, olive groves, cultivated terraces, semi-desert landscapes; (Common route) pretty Tarifa, Alcornocales Natural Park, hilltop 'white villages', Grazalema Natural Park, Moorish Ronda, the spectacular gorge at El Chorro; (Northern variant) Subbetica Natural Park, Sierra de Mágina Natural Park, Sierra de Cazorla Natural Park; (Southern variant) Sierra de Almijara, Álhama Natural Park, Lecrín Valley, Sierra Nevada - home to mainland Spain's highest peaks and some magnificent scenery, Sierra de Baza Natural Park
Availability
Not Yet Published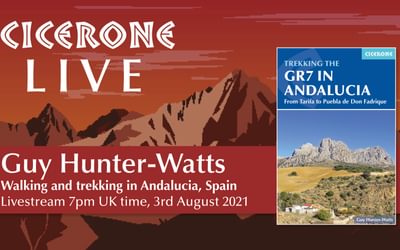 Live · 3 Aug 2021 7:00pm
Walking and trekking in Andalucia with Guy Hunter-Watts
In our August Cicerone Live event, join author and Andalucia-expert Guy Hunter-Watts to find out everything you need to know about walking and trekking in Andalucía.
Overview

Table of Contents

Updates

Reviews

Downloads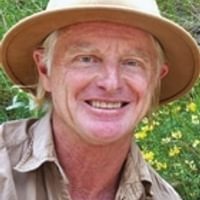 Guy Hunter-Watts
Guy Hunter-Watts has lived and worked in Andalucía since the 1980s. After studying at the universities of Santiago and Salamanca he taught English in South America before moving to the Ronda mountains where he has been leading guided walks for almost 30 years. His work as a walking guide and freelance journalist has taken him to many corners of the planet including India, Namibia, Tanzania, Latin America and Mongolia.
View author profile