Trekking with an infant 2: Before you go
Jen Lumanlan travelled from the USA and hiked the Tour of Mont Blanc with her daughter when Carys was only eight weeks old. This article is the second of three in which she shares her experiences of taking an infant trekking. Here she focuses on what to take and how to use it – for mum and for baby.
You may have read my previous article on long-range planning for trekking with an infant: you've picked a destination and have booked flights. How much more planning could possibly be needed? Well, quite a bit, as it turns out.
This article will discuss feeding, clothing, carrying, nappies (diapers) and all the other baby gear you might need on your hike – as well as how you can cut weight to make space for it all.
Feeding
By now you are likely to be in some kind of feeding rhythm, and you've decided whether to breastfeed or bottle feed. There's little doubt in my mind that breastfeeding is by far the easier method on-trail. The milk is always there when you need it and there's no clean-up! Bottle feeding is theoretically possible, but you'd better learn how to say 'could you please put this sterilization bag in the microwave for three minutes and then bring it back to me?' in the local language, and also carry a filter to make sure you have a good supply of clean water. And if you're camping, you'll have to carry a lot of fuel to boil everything on a daily basis.
Sleeping
My daughter Carys slept through the night from a very early age so I was very lucky, and reasonably confident that she would be unlikely to disturb other sleeping trekkers, but just in case we always opted for a private room whenever one was available. Traveling in the shoulder season gives you much more flexibility in this regard.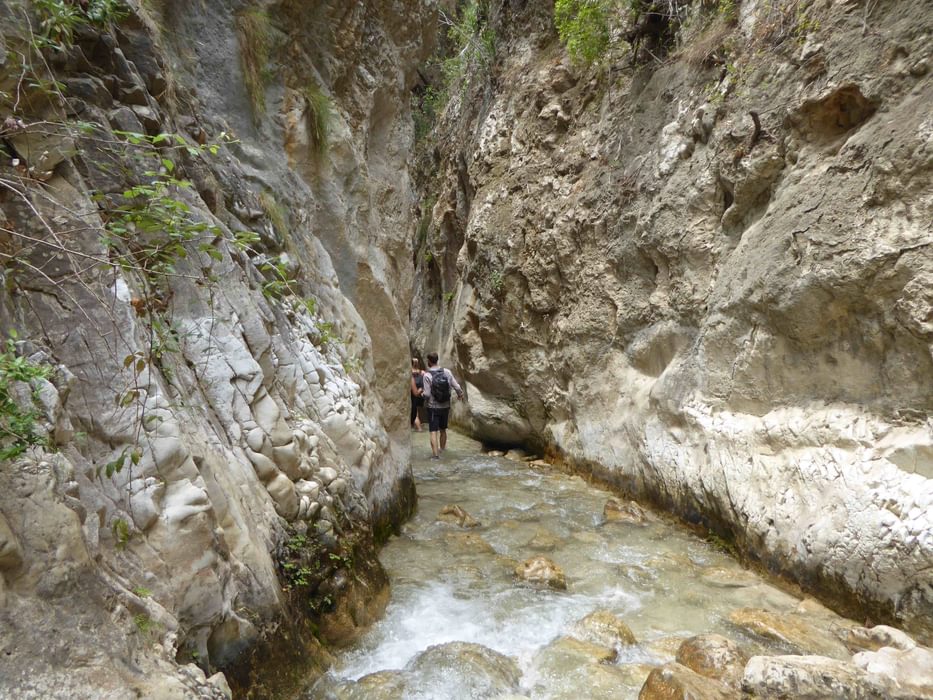 Water
It's critical to stay well hydrated if you're nursing to make sure the milk keeps flowing. We carried iodine pills to make sure we would always have access to clean water if we needed it, although we only planned to use them in case of emergency – and we only did use them once, on our 10hr day between Les Contamines and Refuge des Mottets. A filter system may be better, providing instant pure water, untainted with iodine, and will certainly be better if you are bottle feeding. Consider taking fenugreek and/or blessed thistle pills, which are thought to support lactation. Mum also needs to eat really well; now is not the time to try to lose those pregnancy pounds. Take seconds of dinner when it's offered or you'll be hungry in the night.
Clothes
You have a couple of options for Mum's clothing. A nursing tank top with a shirt over the top for sun protection will do the job, although I felt too exposed nursing this way on the trail. 'Mountain Mama' makes pregnancy/nursing tops but I wanted to move away from baggy pregnancy clothing as I was just starting to feel normally-shaped again. I made myself a couple of nursing tops (from this pattern) out of wicking fabric: I adjusted the frilly sleeves to be a more conventional cap. I went a couple of sizes up from my pre-pregnancy size and they fit me well. Then I made five onesies/babygrows out of wicking fabric, helping to keep baby comfortable when I was hot, and they wash and dry very quickly.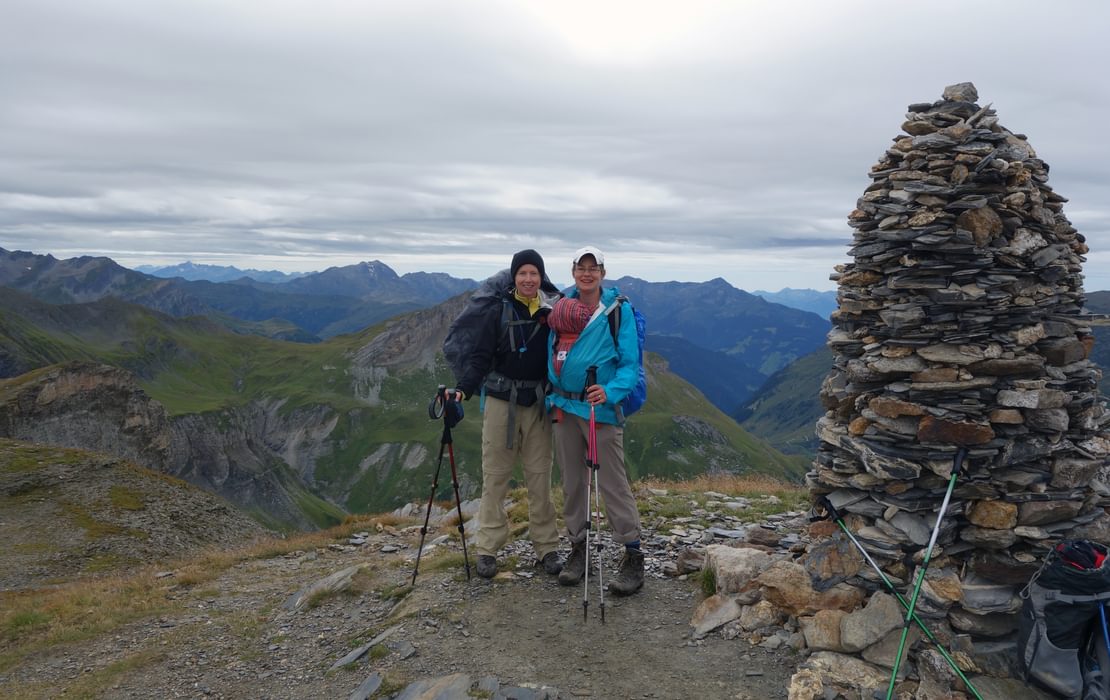 Carrier
So many baby carrier choices: which one to pick? Assuming baby isn't yet sitting unassisted, I think the 'Ergo Original' with the infant insert is your best bet for hiking. The insert supports even a very tiny baby, although you'll want to 'graduate' to just using the pillow under the baby's bum before the trip, as I found that I couldn't see my feet around the full insert – which made hiking a bit difficult! The Ergo has the best sun protection for a baby's head of all the carriers currently on the market, although I carried an 'Aden and Anais' muslin swaddle as an all-purpose nursing cover (knot two corners together and slip it over your head), muslin and sun protection for any body parts that might end up stuck outside the pack. The Ergo has a wide, supportive waist belt to carry baby's weight, which is also ideal for buckling a backpack around. I carried 5­–10kg in a Deuter ACT Trail 24 and was very comfortable because the weight was so well balanced between my front and back, although I had to safety pin a strip of non-slip shelf liner to the inside of both the Ergo and Deuter's waist bands to stop them from sliding on my hips and on each other. For babies who can sit unassisted I love the Deuter Kid Comfort II, which a geeky friend of mine assures me has the best weight:volume ratio of this type of pack.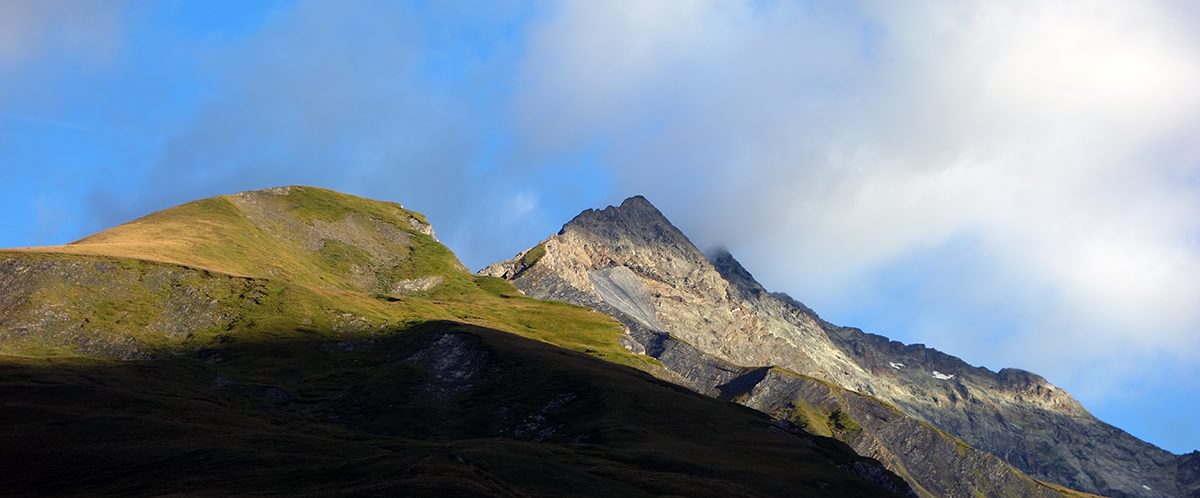 Nappies/diapers
By now you've probably decided if you're a disposables or reusables family. If you're using disposables and you're travelling somewhere with a rubbish collection service (like Alpine huts) then that's easy. Traditional reusables don't work well when travelling as they take too long to dry. If you can't easily dispose of nappies where you're going then gNappies (gDiapers in the US) are your best bet: they have a cotton outer that rarely gets wet or dirty, and a plastic-y liner with a compostable insert. Take compostable bags with you to collect the inserts in as you travel for easy disposal at the end of the day. You can bury the inserts if you're camping, or throw them in a composting or vault toilet. They work awesomely well for wee, but I really wouldn't recommend them for travelling with an infant not yet on solid food, unless you have no other options.

Packing
Remember right before you had the baby when you had mountains of gear in your house and no idea where on earth you were going to put it all? Well, now you have to carry it…so figure out what you really need and what you don't.
Important components of my kit included:
Nursing pads – wash out in the morning and safety pin them to your pack during the day so the sun can dry and at least partially disinfect them.
Breast pump, if you have one – I carried this mainly in case I needed to pump at night to bolster Carys' evening feeds, but it would also have been useful to get milk out in case of mastitis. Know how to recognize the symptoms of mastitis and consider obtaining a prescription for antibiotics if you'll be more than a day away from basic medical care so you can treat any infection quickly.
Sleeping pad for baby – a super-lightweight, half length Thermarest or similar is ideal. I wouldn't get one of the Neo-style ones with really thin, noisy fabric but otherwise any simple sleeping pad would do the job – babies sleep on pretty firm surfaces. Most of the time we had beds or cribs for Carys to sleep in but on three nights we needed a mattress for her so we were glad we took my old camping Thermarest.
Extra large rain jacket (men's size if necessary) that goes around you and baby in front, to keep you both dry in case of rain.
Arm warmers – I was particularly proud of this 'hack.' I found I would get too warm in a long-sleeved base layer because the backpack kept my back warm and Carys was like a little radiator on my front, but my arms got cold if we weren't in the sun when I just wore a T-shirt. I have a set of arm warmers that I wear for riding that worked like a charm on the trail: running ones would do just as well. Make sure they cover your whole arm, from the hem of your T-shirt to your wrist.
Some kind of stash pocket for snacks and your arm warmers. You won't believe how many calories you're going to need on this trip (I ordered a second packed lunch every other day, eating the extra sandwich the first day and the other bits the second day) and you don't want to wake the baby up by taking your pack off every time you need to eat. The Ergo carrier has a pocket on the front that works well for this; if you ended up with a different carrier you'll need something that clips onto the waist belt of your pack. I have an old case for a pack cover that does the trick.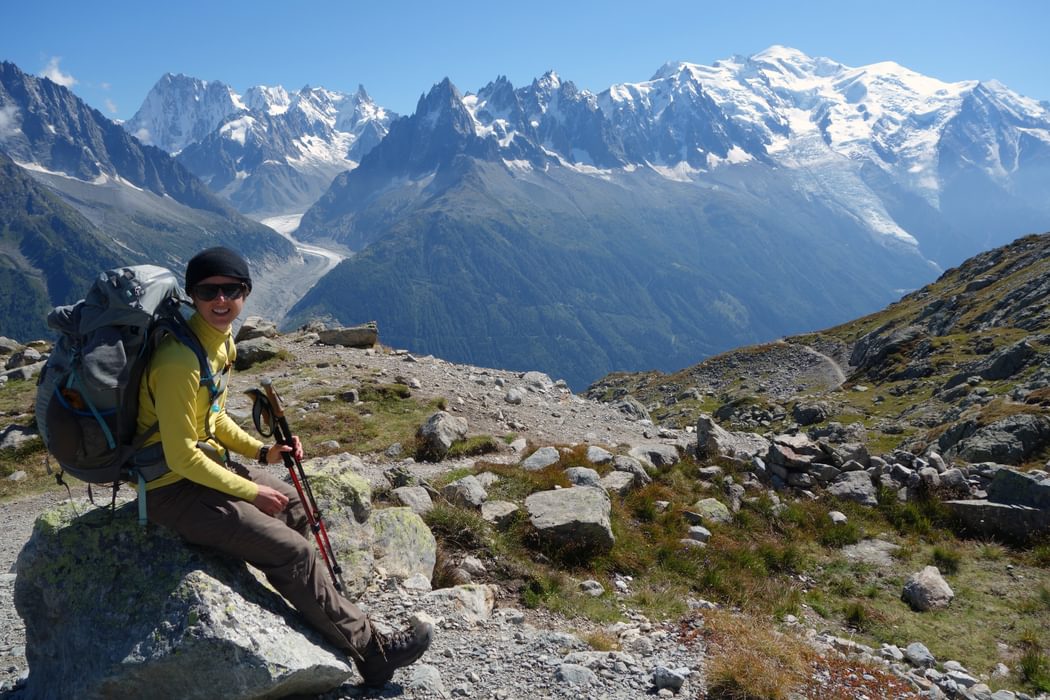 Since you're carrying all this extra gear you should also think about things you might be able to leave behind. We had two T-shirts and pairs of trousers each; both were 'hiking gear' and so could be worn for hiking, although we tended to have one set for day wear and the other set for evenings. We could wash the day wear every other evening or so and have it dry by the next morning. We didn't take any extra shoes or sandals, instead padding around the huts in our socks on the evenings and putting boots back on if we needed to go outside. I needed a new (extra-large) rain jacket because I'm not normally that big – so I picked one with fewer technical features but that weighed 2/3 what some of the fancier jackets do. And we didn't take what I call 'luxury items' like books (except the Cicerone guide); I kept a journal on the inside of a paper bag and I even borrowed the pens I used to write with!

I was lucky that my friend Sarah carried about 25lbs (11kg) of gear (in my REI Flash 52, which I highly recommend) – mostly mine – which made this trip possible. It wasn't as much weight as we would have had if we were camping, but her pack was definitely heavier than those the majority of the people on the trail were carrying. Make sure your companion knows what they're in for…
You're ready to go – have a great trip! In the next article I'll tell you about my Tour of Mont Blanc with an eight week-old baby on my front.
To read more articles like this get our newsletter
Sign up today for a 20% discount on your next purchase. Join over 30,000 enthusiasts from around the world. If you don't love our mix of new books, articles, offers and competitions, you can unsubscribe at any time. We will never spam you, sell your data or send emails from third parties.