Walking in the Azores - these photos will make you jealous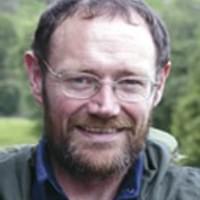 Hardy trekker and guidebook author Paddy Dillon is in the Azores doing some research. He is making us jealous with these amazing photos.
"Well... that's my first day in the Azores done. As you can probably tell from the pictures, it's a struggle to find walks with decent scenery, and by all accounts the weather isn't great in January!"
He started off at Sete Cidades, the western end of the largest island in the Azores, São Miguel. The volcanic caldera is full of water and fertile farmland. A dirt road around the crater rim offers these dreary views pretty much all the way round. As we said, he wasn't impressed.

Further exploration of São Miguel revealed an old lava flow at Ferraria with masses of natural rock pools. The building seen in the picture stands above geothermally heated spa water, where all kinds of pampering are offered. Sounds awful.
Zigzagging down to the rocky shore past the lighthouse on Santa Maria turned out to be a waste of time. This view was all there was to see....
Then there was the waterfall after the village of Maia after another hour or so of walking. We could only show the bottom half of it, with a picnic table for scale. Move along, nothing to see here!
The top of the waterfall can be viewed after an exceedingly tough climb to the top.
Paddy has sent us some more gorgeous, we mean vile, images of the Azores. Sorry. "A long day's walk today, but an amazing range of scenery was packed into just the morning part. First off was a dense forest with hidden waterfalls. Emerging from that, I walked straight into a 'red desert' landscape. After that, I was following a rugged stretch of coastline past the 'Fat Mountain' of Monte Gordo."
"I was wondering why the trail I was following went a rather circuitous way. It seems that they wanted to show off this rather fine led quarry at Poço da Pedreira. As ever, note the scale with reference to the picnic table." "A few hours later, I was on Pico Alto... the highest point on the island of Santa Maria, at 587m."
"It rained on the way back to the main town, Ponta Delgada, and I wondered how that might affect the 'Carnaval'. I needn't have worried, because it involved a massive water fight, and I don't think anyone even noticed the rain. The scene in one of the main squares afterwards is in the next picture I'm sending. Millions of wet plastic bags strewn around make it look like it snowed!"
For Paddy's suggestions on better places to walk have a look at his extensive book catalogue. Yorkshire features, and has better weather by the looks of it. ;-)
To read more articles like this get our newsletter
Sign up today for a 20% discount on your next purchase. Join over 30,000 enthusiasts from around the world. If you don't love our mix of new books, articles, offers and competitions, you can unsubscribe at any time. We will never spam you, sell your data or send emails from third parties.