What is a gravel bike? Chiz Dakin explains
Chiz Dakin has been enjoying riding a gravel bike for the new edition of Cycling in the Peak District. Here she explains exactly what a gravel bike is.
A new type of bike
Recently, a new sort of bike has come onto the market, and is gaining market-share very rapidly. It's called a gravel bike, and seems to combine the advantages of both road and mountain bikes – with a similar ability to lap up the miles on tarmac as a road bike, while still being very capable off-road. In re-riding the routes for Cycling in the Peak District with a gravel bike, I've come to realise that while a gravel bike isn't essential to enjoy these routes, they are a perfect match for such a bike!
Cycling Across The Tissington Ford
The fabulous Houndkirk Road - exciting terrain without being too rough
Chiz Dakin has been enjoying riding a gravel bike for the new edition of Cycling in the Peak District. Here she explains exactly what a gravel bike is.
What is a gravel bike?
Not heard the term before? Don't worry, it's still fairly new. But it seems to be gaining popularity very quickly as it's such a good idea.
In simple terms, a gravel bike is a hybrid bike which has wider (although moderately smooth) tyres and disk brakes like a mountain bike. But like a road bike, they tend to be relatively lightweight (especially when compared to many hybrid bikes) though still strong enough to venture off-road, and have drop-handlebars, which make longer distances (on and off-road) much more comfortable. (If you haven't tried them and think they don't sound comfortable, it's well worth giving them a go. You may well be surprised!)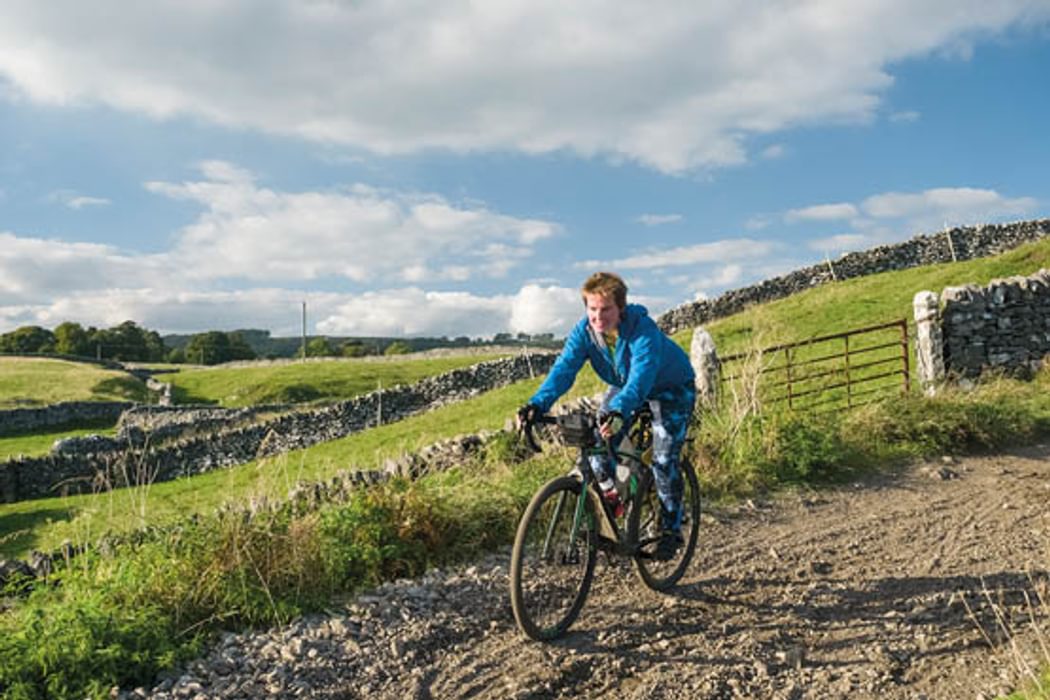 They also bear more than a passing resemblance to a cyclocross bike, but where the cyclocross bike's gears and geometry are optimised for an hour's race around a muddy field, gravel bikes are intended for all-day and multi-day use across a wide variety of terrains.

What is the best type of bike for cycling in the Peak District?
The ideal bike for the rides in the Peak District is a gravel bike (which is also known as an adventure road or adventure bike) – or any of its close variants such as a cyclocross bike, a hybrid (as long as it isn't too heavy) or a lightweight 29er mountain bike with semi-slick tyres. These bikes provide the best compromise between fast and efficient progress over tarmac and the strength to go off-road on easy-to-hard trails and into the easier reaches of pure MTB territory. However, most bikes will be capable of the routes, other than lightweight road bikes. These, with care and a reasonably lightweight rider, may manage some of the gentler off-road and most of the trail sections, but riders will probably wish to take the 'road detours' mentioned in the text – especially for those on ultralight performance machines!
Fancy going cycling in the Peak District?
Whichever type of bike you prefer try Chiz Dakin's Cycling in the Peak District for some great ideas of where to go.
To read more articles like this get our newsletter
Sign up today for a 20% discount on your next purchase. Join over 30,000 enthusiasts from around the world. If you don't love our mix of new books, articles, offers and competitions, you can unsubscribe at any time. We will never spam you, sell your data or send emails from third parties.