Wilderness amid the crowds in Alaska
Christine Gordon went on a trip of a lifetime travelling through Alaska in search of solitude and the remote and wild beauty it is famous for, but it wasn't as easy as it sounds.
I excitedly boarded my plane to travel to Alaska for a month-long holiday, imagining the beautiful scenery and the wild and remote places I had hopes of encountering on my trip. This was to be a trip of a lifetime. I was travelling with Mike Wells, who writes cycling books for Cicerone Press, and our plans were to travel from the south to the north of the state and include the most westerly point, Nome, in our schedule. With a population of 740,000 and a land mass that equals more than seven UKs, I knew Alaska had vast wilderness areas that remain largely unexplored. Being Scottish and being used to walking in remote areas of the Scottish Highlands, the sheer size of the remote areas of Alaska felt overwhelming.
We entered Alaska by local ferry from Prince Rupert in Canada. Choosing the local ferry, I was not aware that we were sharing the seas with a plethora of cruise ships or that I would be sharing my adventure with thousands of cruise ship passengers. (During the summer months approximately two million tourists visit Alaska and approximately half of these arrive by cruise ship).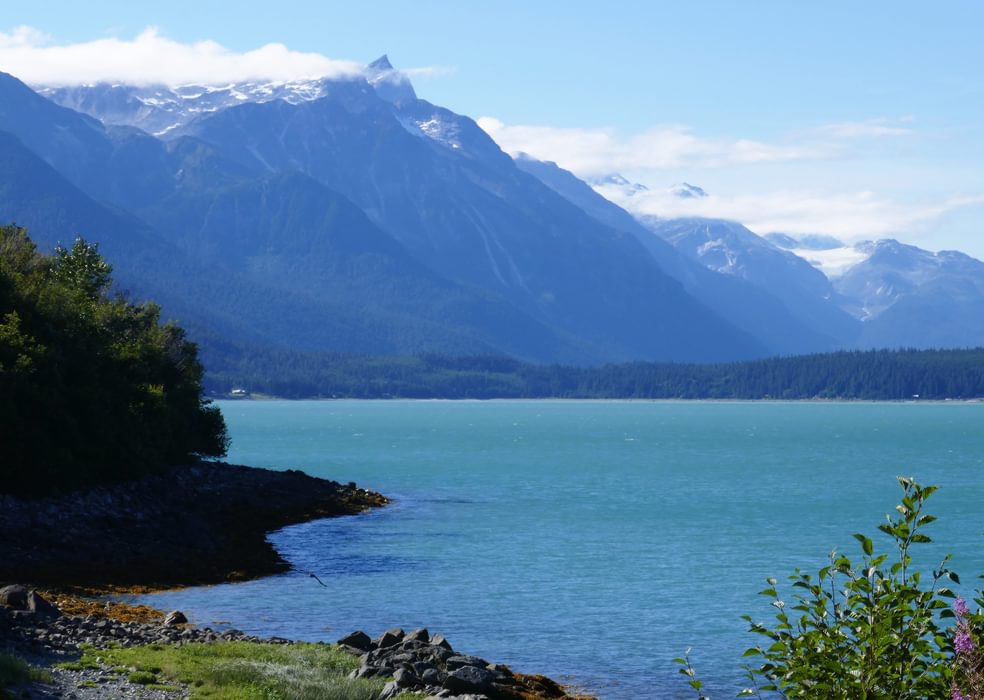 Juneau and the Alaska panhandle
The impact of this was most apparent in Juneau, the capital of Alaska. Juneau is reachable only by air or sea and sits below beautiful Mount Roberts, with the Mendenhall Glacier in its suburbs. It epitomises Alaska, combining a remote hard-to-reach city with stunning scenery, and we envisaged spending two days exploring the mountain and glacier area at leisure and in relative solitude. We set off along a forested trail up Mount Roberts, passing only a handful of other walkers.
We crested a ridge and were suddenly confronted with approximately 1000 people.
We had reached the top of a cable car route that gives direct access to the mountain from the Juneau cruise ship harbour below; the route that is used by most cruise ship passengers. This is not the top of the mountain and as we headed upwards we left the crowds behind, only about 50 people making it to the summit. However, even these smaller numbers made the mountain feel busy and populated.
Seward and the Harding Icefield
After a side trip by light aircraft to see bears feeding on salmon in Katmai National Park, we reached the small town of Seward, at the tip of the Kenai Peninsula. This is another place on the cruise ship circuit, with many passengers disembarking to take a short ride and walk to visit the Exit glacier. We took the short ride too, but chose not to visit the Exit glacier, instead taking an all-day walk on a well-graded trail into the surrounding mountains. This led us high above the glacier to a point where we could look out across the Harding Icefield, a vast landscape of ice that feeds several glaciers including the Exit. But, as you share the experience with many other people, there is little feeling of remoteness or wilderness.
Mount Roberts
Bear at Mendenhall Glacier
Caribou near Juneau
Harding Glacier
Mendenhall Glacier
People walking on Harding Glacier Path
Big city with wildlife in the streets
Anchorage, the most populous city in Alaska with nearly 300,000 residents, was, by contrast, relatively unpopulated and it is possible to wander around the city centre in relative peace and quiet; a strange dichotomy that epitomises the contrasts you find in Alaska. We rented bicycles to explore a local cycle route through the city's parks and along the seashore. Here we encountered moose beside the track and a bald eagle nesting in a tree only a few metres from the city centre. In Anchorage city centre it was possible to feel a greater sense of the remoteness of Alaska than in the mountains, glaciers and icefields of Juneau and Seward.
Mount Denali, the highest peak in North America
The highlight of our visit was Denali (formerly known as McKinley) National Park. We flew into the park to stay in Kantishna, a small, remote community at the end of a six-hour drive along a gravel road. On our way in we passed within 3km of Mount Denali, the highest mountain in North America. If anything epitomises the contradiction that is Alaska, it must be Kantishna, which comprises a small number of lodges within the national park. The park covers six million acres, most of which is unpathed wilderness inhabited mainly by bears, caribou, moose and myriad wildlife that have made Alaska their home. The national park has strict rules regarding access and this means that there is limited accommodation in Kantishna and therefore a limited number of tourists.
Walking opportunities abound and each lodge offers guests guided walking tours of differing lengths and challenges. It is also possible to walk independently, and this is what we elected to do, giving us a wonderful day climbing Wickersham Dome in glorious solitude, returning in the evening to the comfort of our lodge.
This was the Alaska I had fondly imagined as we planned the trip; walking in a beautiful and remote location in a wilderness where we might encounter a bear.
Kantishna was founded during the gold rush and it is possible to explore this historical aspect of Alaskan life, and lodge staff will offer you the opportunity to pan for gold during your stay.
Having elected to fly into Kantishna, we left by bus to drive the 92 miles of the park road. This again was a magical experience. Fifteen minutes into the journey we passed Wonder Lake and had the privilege of seeing a moose breakfasting on pond weed in the lake. A few minutes later we had to stop to allow a bear to cross the road and further along another stop was made to accommodate a caribou that was standing in the road. We were certainly embracing remote and wild Alaska at its best. However, as we continued we began to pass day-tour buses, which increased in number as we progressed towards the end of the road. While continuing to be a spectacular drive in incredible scenery, the feeling of wildness and remoteness receded.
Mount Denali
Wonder Lake
Moose on the cycle path in Anchorage
Cycling in Anchorage
Moose having breakfast in Wonder Lake
Bear at Denali Park Road
Tour bus on Denali Park Road
So where does this leave my experience of Alaska? Alaska is undoubtedly a remote and beautiful place where you can experience some incredible and awe-inspiring scenery. There are countless opportunities to go walking to places that you would not see anywhere else and, if you are prepared to camp and carry your own equipment, you can get away from it all and have a wilderness experience that would be hard to match. However, for the 'average' walker, by which I mean a walker who likes a challenging trek with accommodation at the end of the day, you may have to reconcile your wish for remoteness and isolation with the fact that many other people want to explore the areas.

As a Scot, when I reflect on my Alaska experience and compare it with the hills I love in Scotland, I am struck with the fact that, while Scotland is not as remote, does not have the extremes of weather, nor the possibility of close encounters with bears that you will find in Alaska, it has a feeling of remoteness that is hard to find in other places, including Alaska. Scotland, with its right to roam, has greater opportunities for the remoteness and isolation I want when I head out to explore the mountainous and beautiful areas the world has to offer.
Alaska was a trip of a lifetime and I feel very privileged to have been to this wonderful place. Travelling from the most southerly to the most northerly point, I experienced not only the nature I describe above, but the industrial landscape. Nome, with its gold mine, and driving the Dalton Highway to the Alaskan oilfield are parts of Alaska that cruise ship passengers don't visit but which are also the reality. My experience of wilderness among the crowds is as much a part of the 'real' Alaska as anything else. It has certainly made me reflect on what remoteness means to me, a reflection that will undoubtedly be enhanced when I next explore the mountains of Scotland that I call my back garden.
To read more articles like this get our newsletter
Sign up today for a 20% discount on your next purchase. Join over 30,000 enthusiasts from around the world. If you don't love our mix of new books, articles, offers and competitions, you can unsubscribe at any time. We will never spam you, sell your data or send emails from third parties.