Winter Climbs Ben Nevis and Glen Coe
Guidebook to the best winter climbing routes around Ben Nevis and Glen Coe, with nearly 1000 buttresses, ridges and gullies described, all illustrated with photo topos. The best routes and access points and a wide choice of options for all grades and types of climb. Scottish winter climbing on Ben Nevis, the peaks of Glen Coe and other mountains.
Seasons
from October to May with February and March offering the most reliable climbing and April the unique ice climbing that Ben Nevis is famed for
Centres
Fort William and Glen Coe on the west coast of Scotland
Difficulty
everything from first steps in grade I snow gullies to the hardest traditional winter climb in the world with information on how to judge the climbing conditions and choose the best route
Must See
from the classic climbs of Point Five Gully, the Aonach Eagach and Crowberry Gully to the modern masterpieces of The Secret and Anubis, on Ben Nevis, Aonach Mor and Beag, The Grey Coires and Mamores, Bidean nam Bian and Buachaille Etive Mor
Overview

Table of Contents

Updates

Reviews

Downloads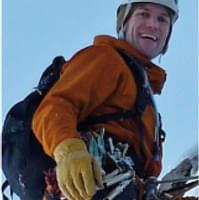 Mike Pescod
Having climbed on Ben Nevis and in Glen Coe for fifteen years, Mike Pescod has an in depth knowledge of the climbs, the weather and the conditions you can experience here. Working full time as a mountain guide here for ten years, Mike has been on Ben Nevis over a thousand times and regularly spends up to a hundred days climbing each winter both professionally and recreationally.
Mike has been on climbing trips right across Europe as well as to Russia, Tadjikistan, Nepal, East Africa and Peru but it is the unique quality of the climbing in Scotland that gives him the most enjoyment and satisfaction.
With his wife, Louise, he runs a mountain guiding and instruction company and has every intention of climbing in the hills here for many years to come.
View author profile