630 Miles Braver on the South West Coast Path
In this exclusive chapter from 'The Biggest Book of Yes: 49 Short Adventure Stories', Zoe Langley-Wathen relives stepping out of her comfort zone and facing her fears on her first long-distance walk, the South West Coast Path.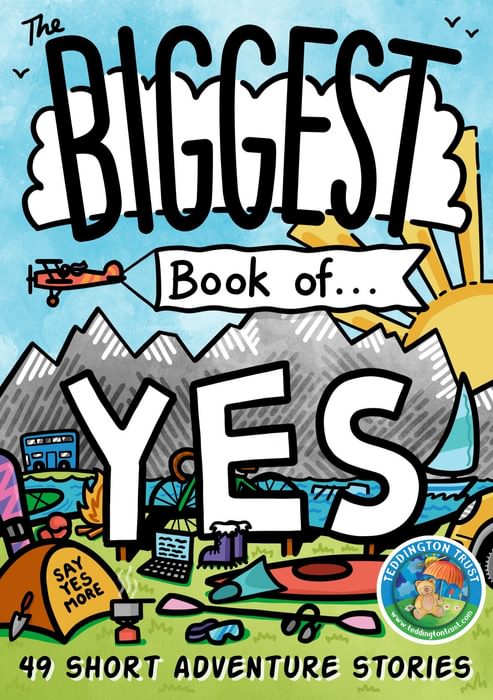 The South West Coast Path: 630 Miles Braver
I was desperate. I was alone. I had a tell-tale tingle in my bladder warning me of my impending predicament. I knew I needed to unzip the door and just go for it. But I was afraid.
Following hours of risk assessing, sweaty palms and tiresome bladder-squeezing, I finally faced my fears. Slowly, carefully I pulled down the zip of the tent door and ventured out into the inky blackness.
Instant relief. For the first time, I encountered the life-changing experience of peeing with a view and realised in both awe and acceptance that I should have stepped out of the tent sooner – in fact, I should have stepped outside YEARS ago.

My story begins with a moment of divine intervention. For fifteen years I had been telling myself, "It's not possible! I could never do that!"

I wasn't strong enough, I wasn't fit enough, I wasn't quick enough or perhaps I simply wasn't brave enough. So believing that I wasn't enough in any capacity, I didn't try. That goal I had dreamed of for so many years was not attempted, because I had crushed the idea from the moment it had begun to bloom.
The rite of passage into middle age is often a milestone to be acknowledged. I wanted to mark it in a manner that was both personal and demanding. For around eighteen months, I had been searching for ideal adventure inspiration. The Inca Trail and Kilimanjaro had both been on my bucket list but for this celebration, they lacked any significance. They didn't sit right with me at that moment in my life. I wanted to feel my choice.
It was around May 2009 when an impromptu decision to wander into the small branch of Waterstones led to my epiphany. It would prove to be the demise of my stalwart 'Not Tough Enough' belief system. As I entered the shop, a shaft of sunlight shone gloriously onto a single book on the shelf in front of me: The South West Coast Path Guidebook.
It immediately struck me that this was both the book and eureka moment I had been waiting for. It was like the church scene straight out of The Blues Brothers movie, where Jake and Elwood receive a message from God. Okay, so I didn't somersault down the bookshop aisle proclaiming, "I have seen the light!" but I did have an extra skip in my step as I turned to the counter to pay for this book that was about to change my life.
As I said, divine intervention.
Or perhaps it was simply an excellent example of great product placement. Either way, one of us was in the right place at the right time and now it was down to me to use this gift well.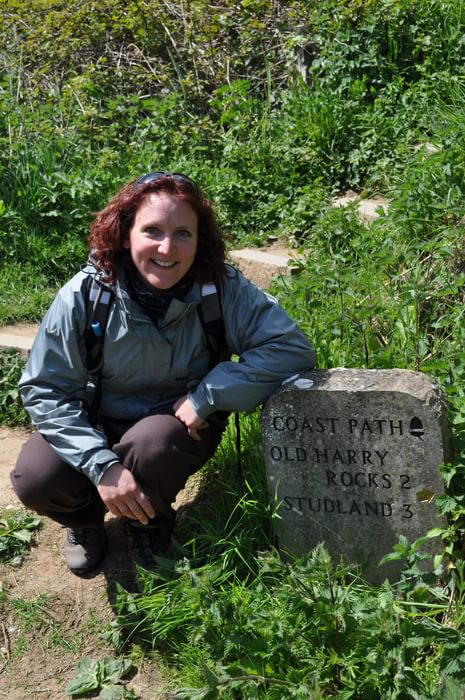 The 630 miles of the South West Coast Path, England's longest National Trail, resonated with every part of who I am.

I had grown up in North Somerset, close to the start of the path and holidayed around Devon for years. Ancestors had once been tin miners in Cornwall, before taking off up to Northumberland to the coal mines. Lulworth Cove in Dorset was my home for over three years and I had lived on the Isle of Purbeck for seven years before moving to Poole, the end of the trail. I was even employed in the Art department of a school when a commissioned artist worked with some students to design the base of the start/end marker. The whole trail fizzed with multiple connections and was exciting in a way that no other adventure had yet touched me. The spell had been cast and the magic had worked. I was committed to seeing this through.
There were mixed responses from family and friends when I shared my plans to challenge myself by walking solo with my backpack and tent. My parents were naturally concerned about the safety of a lone female. Many of my friends just thought I was bonkers and didn't really understand my need to do this. Everyone, however, supported me from start to finish and when I announced that I would be fundraising for three charities, they all stepped up to help raise sponsorship money.
Concerns grew that time was too short to make this epic journey. I only had the six weeks of my summer holiday as a teacher. That seed of doubt that I was incapable stuck, although thankfully my determination remained unfaltering. I would not be beaten. After a discussion with the governors, the headteacher of my school gave me permission for two and a half weeks of unpaid leave. Now I was reassured it could be achieved.
Although planning had begun, my challenge didn't actually feel real until I delivered an assembly in June 2010. I talked to the students about my plans.

The effect on both the school community and me was massive. From this point on, I had announced my intentions to the world; there was no backing out now.

In this girls' grammar school, students constantly asked questions about how I would face certain obstacles, fears and expectations. Parents would stop and ask me about the adventure during parents' evenings and school productions, with many claiming they wished they were in my shoes. My hair-brained plans were the topic of conversation in the staff room, as teachers and support staff would quiz me over the tea trolley about how my training or preparations were progressing.
Over the year, the fire in my belly burned constantly to ensure I raised enough money for my charities. I also needed something resembling a success story to bring back to my next assembly in September 2011 and had to ensure I trained for strength and endurance. I worked constantly to keep the community informed of my progress and kept my finger on the fundraising pulse, including organising a ball and charity auction, dubbed The Glitz and Grammar Ball. I had so much energy and never seemed to stop.
That is, until April 2011 when the mother of all coughs set up residence in my chest. It didn't let up; I coughed all night, retched in the morning and hacked constantly throughout the day. I felt lousy at my fortieth birthday in May and went through various tests, antibiotics and chest x-rays. For a time, I truly believed that my walk would have to be postponed until the summer of the following year. My family, friends, teachers and students all rightly thought the same.
The doctor I visited in June concluded that he would send me on my walk with an inhaler. I had never used one before this illness, but it was a tough bug and not quick to leave. I too was a tough cookie however, and decided to step out on July 3rd regardless and see how I fared. I sincerely do not remember using that inhaler once and by the middle of July, twelve weeks after the cough had started, it left me. I still believe that walking and the fresh air was the best cure; my outdoor medicine.
Nevertheless, as bold as I might have seemed to head off on my journey, it did not make avoiding my Nan any easier. It's not that I didn't want to see her. She'd been suffering from post-stroke ill health and was in hospital. Due to the acuteness of my cough, I had made the hard choice to stay away for fear of passing on my germs.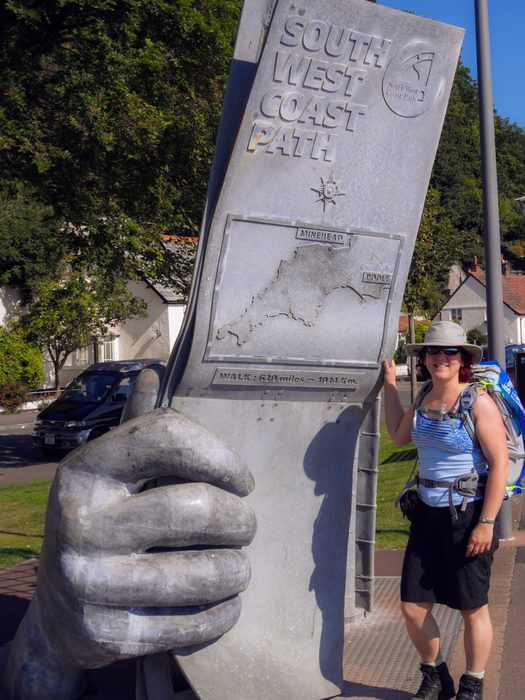 Striding out along the South West Coast Path that first day in July felt alien to me.

'A fish out of water' springs to mind. What on earth was I thinking? How could I possibly have believed that this was a feasible challenge? I should never have come and I was so far out of my comfort zone, I couldn't even see it on the horizon. You get the drift.
With a deep breath, I headed westwards along a standard tarmac path. The sea ebbed and flowed on my right, waves crashing ceaselessly onto the soft sand. I felt hugely conspicuous with my equally huge rucksack perched unnaturally on my shoulders like a builder's hod. Each time I saw people walking towards me, I puffed myself up as much as the weight of the pack would allow, just enough that they might be hoodwinked into believing my façade as a seasoned adventurer. That was until, less than half a mile from the start, I stood on a cast iron manhole cover and did my impression of Bambi on ice as I tried to keep my balance. My imaginary status was in tatters.
Imposter syndrome still veiled me. In those early days, I had constant doubts that I should never have embarked on the walk, though I enjoyed the welcome and support I received from the people I met.
And I totally devoured the scenery. The trees seemed to be so precariously planted on the sides of these impossibly steep cliffs, reminding me of an image I had once seen of a landslide capturing a collection of trees on a hillside. They were still vertical and yet mid-slide downwards after a storm. The sun was shining, however, making a great start to my adventure. Every few steps, the light peeped between the thick canopies of leaves above. It shaded me from the sun and created an enchanting effect, backlighting the variegated shades of green along these leafy, woody tunnels I had now entered.
The holloways soon opened out onto high moorland between Minehead and Porlock Weir. The route towards Selworthy Beacon was filled with the purple haze of summer heather, punctuated every so often with a lone tree, bent and worn with tired complicity towards the northeast. My regular, sharp intake of breath was not due to the tight chest and persistent cough that I reluctantly still carried. It was at each new visual excitement that cropped up.

The coastline on the horizon, which was now visible, faded into a pale, watery palette that, although lacked the vivid sharpness and colour of the landscape in the fore and middle ground, gave me a good idea of what to expect in the next day or two.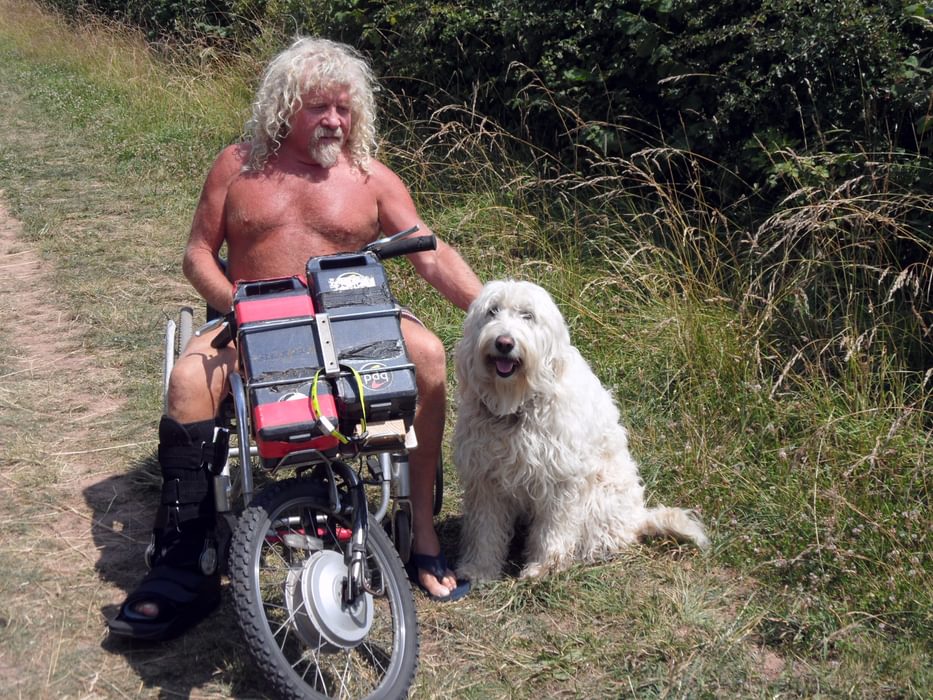 As I dropped down into Bossington, I spotted a character with blonde-grey, rock star-style curly hair blowing in the wind, riding a motorbike across the lowlands towards me. Or was it a wheelchair? On second glance it definitely was a wheelchair. I couldn't quite make it out but was completely taken by the similarity between this hairy figure and the giant hairy dog that lolloped alongside this motorbikeywheelychair. Frankie stopped and, after showing an interest in what I was doing, he introduced himself. I quizzed him as to the nature of his vehicle and then spotted the plastic boot, strapped around his right leg and foot. He informed me that he had had Achilles surgery but was also dog-sitting the friendly Frankie look-a-like they called Nonny, so he had needed to create something to allow him to 'walk the dog'.
Frankie talked me around his Heath Robinson affair for a trike. It was actually pretty ingenious, if a little crude. He had taken the seat and large wheels of a regular wheelchair, joining it to the front fork of a motorbike. Ahead of the handlebars sat two large batteries, generously gaffer-taped and nestled neatly in a welded basket overhanging the front wheel. I appreciated it for both its engineered beauty and comical value. Not to mention that Frankie wore the smallest suggestion of shorts and when I asked to take his photograph, it truly appeared as though this sun-kissed hairy-goatee guy was sat on a motorised contraption, wearing nothing but his curly locks! He somehow plucked a crisp twenty-pound note from those tiny shorts and became my first on-trip sponsor.
He could never have known how much that gave me a confident spring in my step for the rest of the day, particularly now feeling credible as a genuine backpacker.
Carried into the second day by my new-found conviction in my capability as a solo hiker, I strode off without allowing myself to begin the destructive self-talk of doubt. Instead of feeling alone, which I believe deep in my heart did actually concern me, I absorbed and appreciated the wide variety of quaint cottages adorned with climbing roses and thatch. There were grand gatehouses, cleverly engineered chimney pots and a remote church topped with a petite, semi-truncated spire, tucked away in a valley inaccessible to most four-wheeled transport.
I wondered how I would ever finish the walk in time if I kept stopping to 'absorb', take photos and take pleasure in the sights being offered to me around every corner. This day not only filled me with the need to pinch myself to ensure I was indeed walking my dream path, but it also came with the realisation that, although I was following a coast path, it wasn't simply a case of keeping the sea on my right all the way to Poole. So many people had joked that at least I wouldn't need a map and that, "There's not much chance of getting lost then."
At Golden Cap in Dorset, on the South West Coast Path
Somerset Gatehouse, one of many thatched buildings on the route
There were many occasions where I had to refer to the map and the guide book. I would study it closely, and then study it some more just to be sure. With no hiking buddy to confer with, it was my own decisions that counted now. Increasingly, I became aware that the sea was disappearing and the views across the twinkling water and craggy coastline were being replaced with over-sized rhododendron bushes and tall, delicate ferns. Gunnera patches spread with their tightly-packed army of wide, umbrella-like leaves. Steep banks dominated these dense, almost sinister woods. My over-active imagination began to take hold and I experienced my first moment of 'real fear'. In hindsight, this was not truly warranted. It was simply li'l ole novice backpacker me, a never-ending wood… and a man.

The estate management had cordoned off an area of trees with red and white tape. In my head, I began to question why, though it didn't occur to me that it may be to mark an area for proposed cutting back or tree-felling. Instead, I continued my silent storytelling to imagine a crime scene, a grisly murder perhaps. I soon sensed I was not alone – in this wood where it had been only me, the trees and my thoughts. I turned and saw a man a few minutes behind me. I am not sure why but I felt uncomfortable. To my knowledge, it certainly wasn't the body language the man was presenting. Being enclosed within a wood, with miles left before returning to open space and not a soul around me, except this guy, was unnerving. 
Like a learner driver, I was still learning about this solo walking malarkey. Then came a diversion due to a landslide and I felt the alarm of being lost.
After much internal debate about how to handle the situation, I decided to slow down and stop trying to race towards the end of the wood. Carrying nearly eighteen kilograms meant that I was incredibly slower than my usual walking pace and slower than any two-legged being I met on the path! I would let the man catch up, say hello and let him pass. As it turned out, he was not wielding an axe and turned out to be a normal, friendly man who was interested in my adventure. After a few minutes of discussing the diversion and then strolling together, I think my snail's pace was too much to bear, he bade me farewell and I heaved a sigh of relief while scolding myself for being fearful.
As I stepped out into the open moorland once again, the views reappeared along with the severity and close proximity of the path to the cliff edges. My thoughts soon took a new focus. Following nearly two full days of slow walking, I was learning that my back and shoulders were suffering greatly. The sixty-eight-litre rucksack I had crammed full of necessities for my six-week expedition was laughable. I wobbled a little on the narrow tracks, feeling vulnerable and unsteady, partly due to my issue with heights but mostly owing to my inexperienced insistence on packing gear that I thought would be essential for such a long trip. I would monitor my kit use and aim to begin the culling of items from my pack if my body had any chance of surviving the next 610 miles.
I think the first items to leave were my yellow plastic, two-egg caddy and a miniature frying pan. I'd had this dreamy notion of calling at farmhouses to buy freshly laid eggs to cook my own breakfast or supper of Eggs Benedict or Scrambled à la Coast Path. Some ideas, as lovely as they might seem, are simply not practical.
Glorious views of the Somerset coastline
Solo walking through steep wooded banks
The desire to capture and experience picture-postcard views continued. Day three brought me much in the way of rugged beauty, through the Valley of the Rocks; packaged complete with a family of posing mountain goats with long horns and even longer goatee beards grazing the land.
The level of ascents and descents were increasing and I could feel my body working ever harder, particularly as the cough I mentioned earlier was still with me at this point. For the first couple of weeks, my (then) partner had agreed to drive my Bongo campervan, so I would have somewhere familiar to sleep for a while. After that, I would be on my own for the last five weeks. That evening, we met at Heddon's Mouth where the duty manager in The Hunter's Inn kindly agreed to a discounted room for the night for us. It had begun to rain hard and it was a fair distance back to the campervan.

As events unfolded, it would appear that serendipity had played a large part in us staying under a roof in a lovely room that evening.
Following a well-deserved, hearty dinner and a quick update to family and friends as to my location, I received a call at the inn from my daughter. Laura by now was sixteen years old and for the first time was 'home alone' and doing a great job of being independent. The task then sadly fell to her to inform me of the death of my dear old Nan. At ninety-two years old, her struggle with health was finally over. I wept for her. I wept for my birth mother, Lorraine, who was due to fly back into Heathrow four days later to move back to the UK after nearly forty years in the States. She had missed her farewell.

I also wept selfishly for me. My decision to stay away had prevented me from saying goodbye, although I had hoped in my heart that Nan would hold on until the end of August when I returned and I would surely be well again. My resolve was now to dedicate the following day's walk to the memory of Mary – my longest-serving grandmother who inspired me with her ability to say, "Yes!" to so many opportunities; such as visiting and walking part of the Great Wall of China, solo and seventy.
As I ascended the steep valley towards the hill known as Great Hangman the next morning, it poured with rain. Enormous blisters had formed on my heels and I continued to weep. I sniffled and wiped my wet face. Picking up a rock that was shaped like a heart, I called into the sky, "This is for you, Nan!" A skylark directly above me replied to my call with its majestically repetitive, high-pitched notes. I reached an enormous cairn at the top of the hill and set my stone into the pyramid-style structure. From this point on, whenever I hear a skylark it brings Nan to mind and it makes me smile.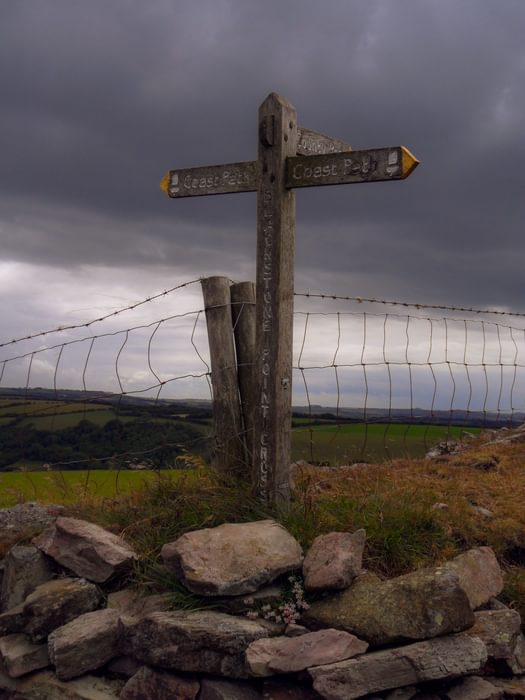 My bravery levels were being tested a little more each day. I now approached campsites and talked to proprietors about my charity walk and found that, nine times out of ten, they were keen to support my cause by allowing me a free or extremely cheap pitch for the night. 
Total strangers stopped me to ask about my adventures as it seemed unusual to them to see a female walking and camping solo. I received so much positive energy and help from every person I met.

A taxi driver gave me a free ride from a campsite to the start of the day's walk. A campsite owner collected me in her car at the end of a long day hiking. People stopped me to give sponsorship money or buy me drinks when I had finally started to feel comfortable going into a pub alone.
It still bugged me, however, that I had yet to face my two innermost fears: wild camping solo and tackling river crossings, specifically those that required wading. I was too nervous about pitching my tent outside of the safety of a campsite. I seriously did not understand how I could do it but knew I had to. Much of this was almost certainly projected fear from others, although I had not recognised this at the time.
By the time I reached Falmouth, I had continued to be treated like royalty. Although I'd only planned for a one-night stop, I had stayed on at the home of old family friends for a further eight nights and Lea and Steve, who were now retired, ferried me to and from my start point and destination each day between Redruth and Falmouth. They lavished me with a comfy bed, amazing food, foot massages and such heartfelt generosity. I can never be thankful enough for their encouragement and help. All this and yet something was missing which I was unable to pinpoint.
During my hike, I had periodically met with other walkers. I never felt lonely, as I had once thought I might, due to the constant stream of tourists and locals wanting to stop and chat. Walking alongside other hikers was different, however, as they totally understood the need to challenge oneself and the acceptance of pain and endurance that is likely across such an epic distance. I maintain to this day that I have never met with such a special and connected group of individuals who made this journey so extraordinary. It is common to meet with others but perhaps not so usual to meet and keep in regular contact post-walk.
First solo wild camp between two gates
The joys of camping wild: illustration by Zoe Langley-Wathen
I confided with individuals within this group about my need to conquer my solo wild camp fear. I was actively encouraged and given various personal hints and tips from each of them during those times we walked together; their positive messages were gradually sinking in.
Every day I continued to walk and assess possible suitable camp spots but kept finding excuses, like other places to camp or stay. Finally, by Day Thirty-One, I knew avoidance was pointless, so I took the plunge. After searching for an hour or more, I pitched my tent in the place that I thought looked the most sensible and safe. I look back at my photographs now and roll my eyes, as pitching snugly between a five-bar gate and a kissing gate clearly was not the best wild camp of my quest! Had I wandered a few more metres ahead I would have found a spot on Gribben Head, with a wide vista and a day mark tower emblazoned with red and white horizontal stripes. I maintain that I subconsciously chose the gates for the security of a boundary, rather than a wide-open space in which I might feel vulnerable.
After the lengthy bladder-squeezing described earlier, stepping out of the tent was a pivotal moment in my adventure life. I gasped at the sheer volume and beauty of stars decorating that sky. Never in my life had I come across heavens like these.
I felt liberated and once again found myself being scolded by the other me… the new, braver me.
As I breathed in the splendour, at last I understood what had been missing that previously I was unable to identify. Unlike when I was staying indoors being treated to all manner of luxuries, I was now outside, free and grubby, connected to the wildness of the natural world. Earlier, I had experienced a sunset, and a few hours later I would encounter a sunrise, first hand and intimate – just me and the magnificence of the spectacle. I guess I perceived it as a meditation, a means of being in the moment. I promised myself there and then that I would not pass up the opportunity to solo walk or wild camp ever again.
Thankfully, this eventual 'yes' to find my courage filtered into the rest of my South West Coast Path adventure.

There had been many river crossings but none so scary as the River Erme, my nemesis. All the other rivers were served by footbridges, ferries, tidal causeways or, at the very least, stepping stones. Erme was an estuary of wide proportions and required careful planning. I had spent months reading about it and fearing the worst – me being carried out to sea on a raging tide. Arthur, Mike, and Steve, all solo hiking the path, had met up on the bank of the river. We decided to wait for low tide and make the crossing together. For this I was grateful, as the mouth of the river looked as terrifying to me in reality as it had done in photographs. I kept thinking of young Jinni, another walker we had met who was a day or two ahead of us. She must have conquered this unaccompanied. I was both in awe of her courage and a little embarrassed that I had not insisted I go it alone. In retrospect, I realise this would not have been practical or polite as my new tribe and I had a great rapport and we did well supporting one another.
It was a wait of seven hours on the west beach of the River Erme. I could see the slipway on the far side, diagonally across the water. We set up a little camp while awaiting the low tide window, due around 9.15pm. A small fire was lit and the guys poked sticks into the sand, hanging their socks over to dry. We shared stories, drew in the sand and ate our flapjacks and free pasties donated to us by the lady in the local tea shop. But all the while we were eager to get the crossing done and dusted.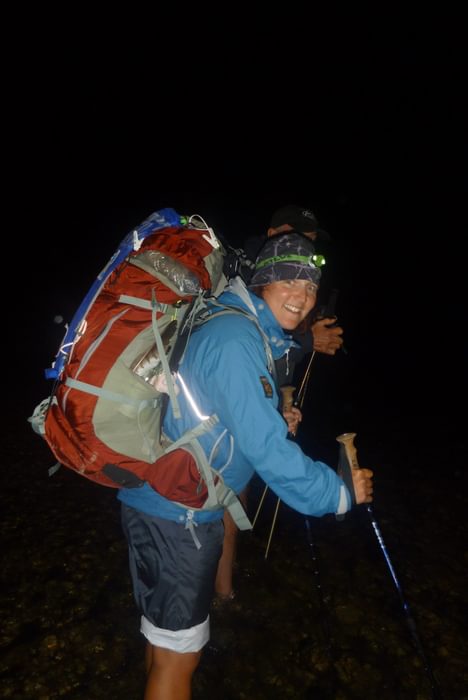 I knew from my research to expect to wade across knee-deep. I put my waterproof sandals on and tied my boots to my rucksack. Arthur left to begin the crossing, perhaps a little too early. Mike soon followed, concerned that Arthur had stopped dead in his tracks and was looking out of his depth. Steve followed, so I took a deep breath and coached myself across.
No amount of reading and researching prepared me for the experience of crossing the Erme.

The tide was receding fast and as it ebbed, it pulled with such force I felt it would pull me off my feet. I could sense the water depth was increasing as the river bed banked away and anxious at the rushing of the tide, I dug my walking poles into the bed to give myself the chance of a double anchor point against the pull. As the water suddenly became deeper still, I fought my poles in and out of the water and my stomach knotted with fear. I felt a strong grip on my arm. It was Mike – he had reached and held onto Arthur for a short part of the crossing and now reassured me too. He could see that I was battling with the strong current and though I would never have asked for help unless it was an emergency, I was genuinely appreciative of that gesture.
It took around half an hour to cross and was dark by the time we set foot on land. I heaved a sigh of relief and once again felt liberated at the conquering of yet another nightmare. The effect was to change my approach to life forever. I sang, 'Somewhere Over the Rainbow' as we plugged on for another two and a half kilometres before pitching. Spotting six glow-worms going about their nocturnal-illuminating business on the way up to Scobbiscombe simply held my moment of triumph higher and longer.
Forty-seven days after beginning my first ever long distance path, I walked the final seven miles from Swanage to South Haven Point; the end of the South West Coast Path. Students, colleagues, family and friends all rallied together to make the final stretch of that 630 miles special. The welcoming party waiting for me at Swanage, along the sands at Knoll Beach and Studland are all moments I will cherish, as I crawled comically to the finish, two dress sizes smaller.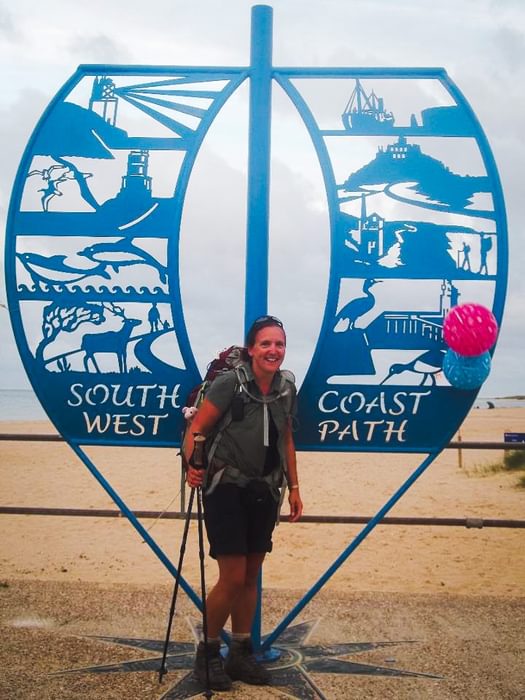 Strangely, for a big birthday challenge event that was only meant to be a one-off, I have found myself incorporating new challenges into my annual calendar every year since.
Every year then extended to every day, where I now find myself confronting fears and pushing myself to say, "Yes" to those activities I would normally say, "No" to.
You could call it a 'micro-bravery': couch to 5k; stepping out and taking daily risks on a smaller scale.
Increased removal of my comfort zone culminated last year with a move away from the security of my thirteen years in permanent contract teaching. Instead, I now walk into the unknown, stepping into different schools most days.
Ultimately, I have reclaimed my spare time and am devoting it to being outside more by embarking on a one hundred day map challenge and setting up my new venture 'HeadRightOut'. I aim to encourage others to HeadRightOut of their comfort zone, do something that scares them every day and use every opportunity to help build their resilience and self-belief.
100MappyDays and 100ScaryDays seem far removed from a big birthday trundle along a coast path, yet the journey has evolved into something far more than simply ticking off one hundred walks or scary activities. I have discovered a true passion for fostering a love of the outdoors in others. I could never have known how my own wellbeing would be affected so positively, simply with that decision to say "yes" to an impossible dream that carried me along a profoundly long path.
To read more articles like this get our newsletter
Sign up today for a 20% discount on your next purchase. Join over 30,000 enthusiasts from around the world. If you don't love our mix of new books, articles, offers and competitions, you can unsubscribe at any time. We will never spam you, sell your data or send emails from third parties.