Aconcagua – a taste of the big mountains
A reputation for ugliness is not the greatest accolade for a mountain to have. What brings people to Aconcagua (6962m) is its status as the highest mountain in South America, the highest peak in the western hemisphere and one of the Seven Summits. It's a shame, however, to reduce any mountain to statistics, to a summit bagged and ticked off a list before moving on to the next. Expedition leader Becky Coles describes the challenges of high altitude trekking.
The team settled into a steady plod as we progressed towards our goal. After about an hour a large team descended towards us, followed by others. They had got too cold and, worried about their fingers and toes, they'd turned around. A small wave of relief came over me: an earlier start wouldn't have been useful. But the worry soon returned: would we also get too cold? Would people tell me if their toes had gone numb? When would the winds strengthen? If a storm was coming, would we have enough warning to get back to the safety of our camp in time?

We continued, the team now stretched out, members finding their own pace. We passed the rarely used Independencia Camp and carried on to Windy Col above. A long traverse past a finger of shattered rock gave a reprieve from the ascent before the route began to gain altitude again. The innocuous-looking ascent to The Cave is particularly tough.
La Cueva, at 6650m, is high up, but is not the summit. On arriving at this relatively flat, sheltered spot team members slumped to the ground, but the infamous Canaleta still lay ahead. This year, full of snow, the Canaleta was not the obstacle it can be, but was definitely not a place to slip. The Cave was the high point for two members of our team, who had pushed themselves far enough. As I needed to ensure they could get themselves back down a local guide, Ilan, and I continued with the four remaining team members whilst Mauri descended with the others.
The weather was holding but we couldn't move any faster: we just hoped that it would stay fine.
It did, and we did. Finally six of us stood on the summit, looking across the High Andes below us.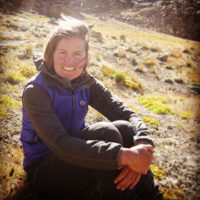 Rebecca Coles
Rebecca Coles is an International Mountain Leader, Mountaineering Instructor and writer. She has lead expeditions, travelled and had many an adventure in over 75 countries and on all 7 continents.
View Articles by Rebecca Coles