An Introduction to the Adlerweg (Eagle's Way)
Austria has alot to offer walkers and trekkers - it's a mountainous country comprising of peaks and valleys of the eastern Alps. The Adlerweg, or Eagle's Way, runs from St Johann to St Anton following established mountain and valley tracks. Find out more about this fantastic walk here.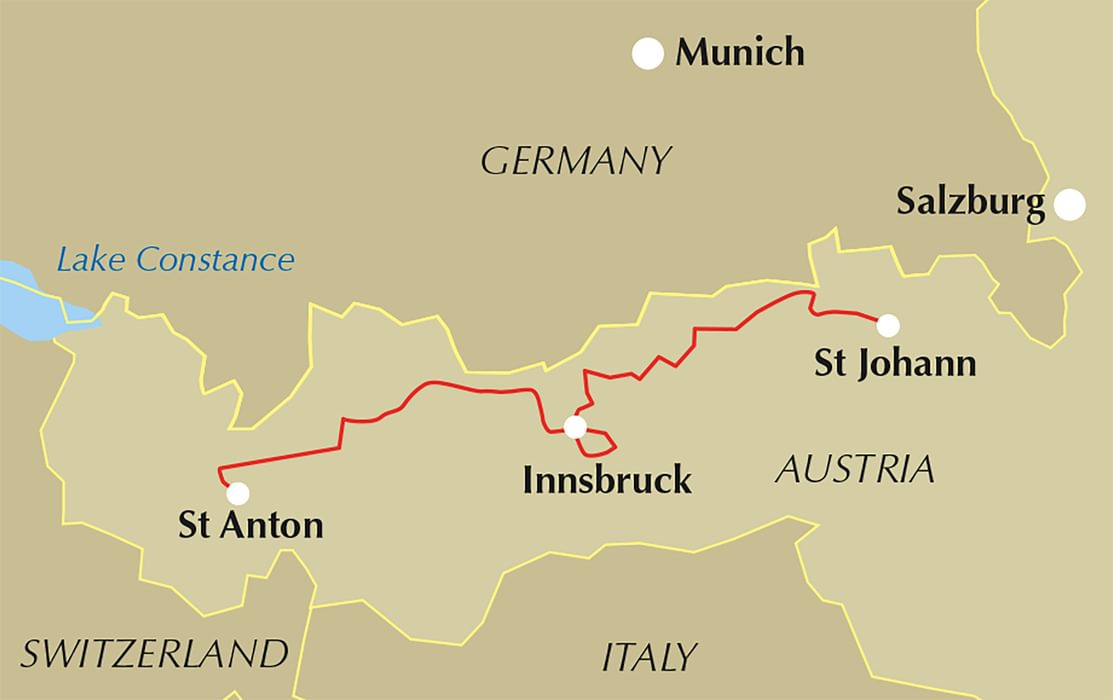 The Adlerweg was conceived and implemented by Tirol Werbung, the regional tourist promotion agency, who named it the Eagle's Way (adler being German for 'eagle') as, when overlaid on the map, its silhouette appears in the shape of an eagle, the outspread wings of which reach from one end of the Tyrol to the other, with Innsbruck, in the middle, as its head.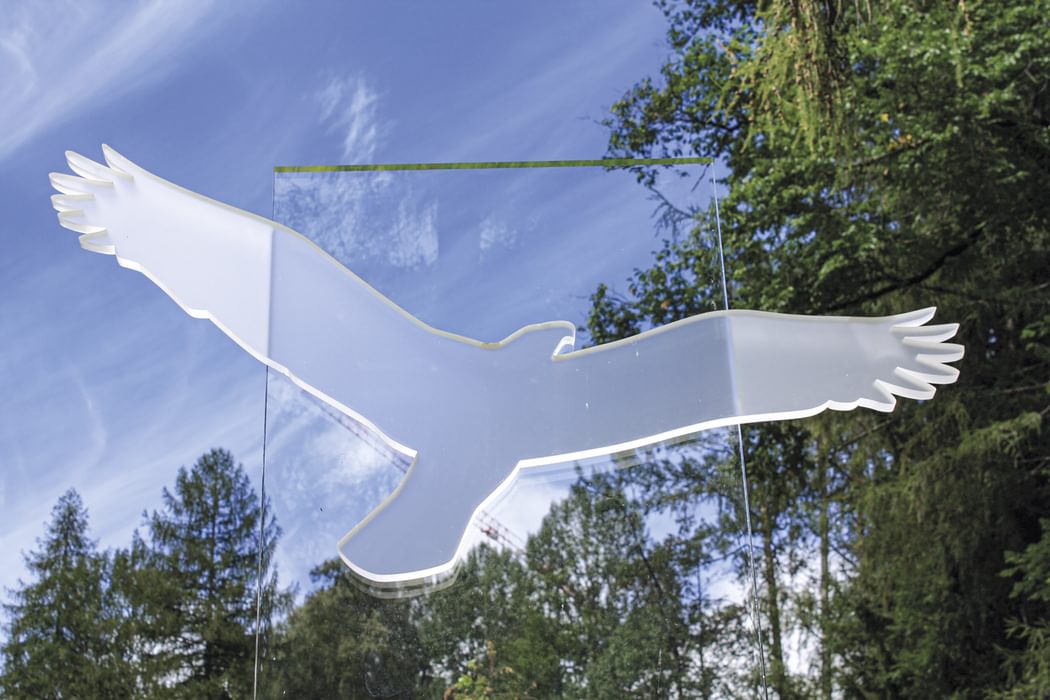 How long is the Adlerweg?
The main route of the Adlerweg is a 300km (188-mile) long-distance path traversing the Austrian Tyrol, keeping mostly to the mountains that form the northern side of Inntal, the Inn valley.
Well maintained and waymarked throughout, the Adlerweg follows established mountain and valley tracks and allows you to reach the tops of two mountains, Rofanspitze (2259m) and Birkkarspitze (2749m).
How difficult is the Adlerweg?
Accessible to walkers of all abilities, it can be completed by a fit walker in 15 days, although if you wish to take things more gently, and allow time to visit attractions en route, it would be best to allow three weeks.
The Adlerweg can be as difficult or as easy as you wish to make it, and Trekking Austria's Adlerweg provides several options, with lots of variants to the routes to fit your desired journey.
The walk is made up of 23 principal stages, with a total height gain of nearly 17,000m. In addition, there are six easier variant stages for walkers and trekkers that avoid the more airy parts, and eight more difficult 'Alpine' stages that provide an alternative high-level route through the Lechtaler Alps.

Most of the stages are well connected by public transport (train, postbus, cablecar and chairlift), making it possible to tackle shorter trips as day excursions or weekend overnight breaks.

Adlerweg Accommodation
Hiking in the Tyrol would not be complete without Austria's legendary hospitality and native cuisine. Since overnight accommodation in the form of serviced mountain hutten, inns, guesthouses or hotels can be found at the end of each day's walk, all you will need to carry is a sheet sleeping bag. Everywhere along the way there are convenient places to eat and drink.

These range from simple alpine pasture huts in the mountains, offering locally produced fare, to award-winning restaurants in the towns and valleys. Indeed the accommodation and refreshment opportunities are so well spaced that, with a little forward planning, it is possible to walk the whole route without once needing to take a picnic lunch. On most stages, frequent water fountains and springs provide a safe source of drinking water.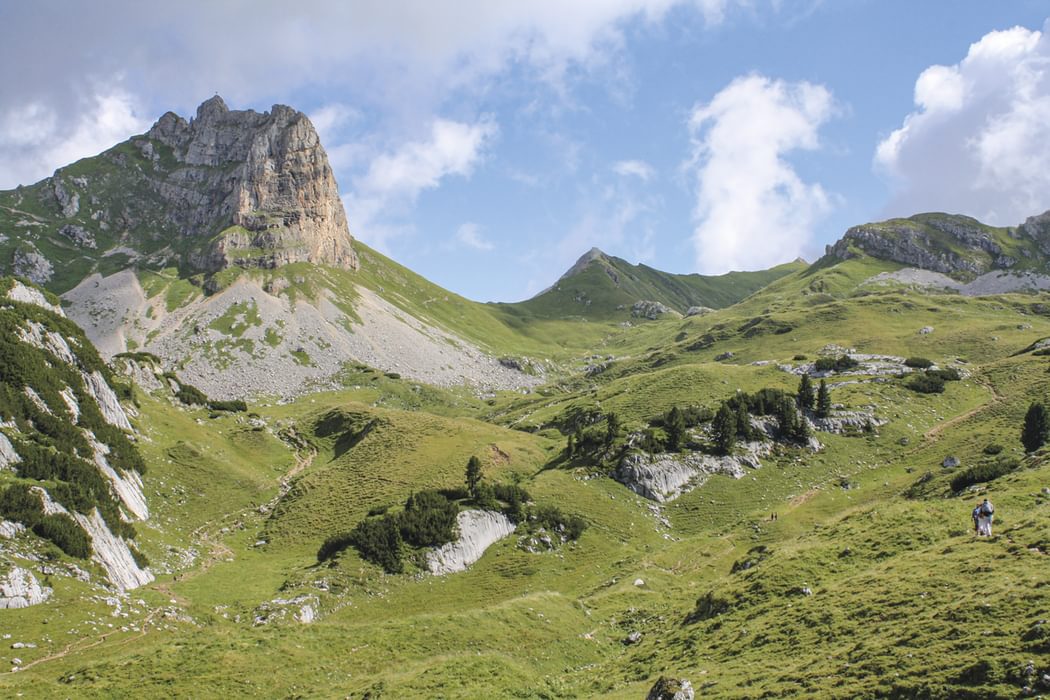 Walking Schedule and In-depth Overview - The Adlerweg
The Cicerone Guide is split into Sections and Stages, for ease of segmenting the journey. The Way can be walked in varying schedules, a 21 day schedule has been included below.
Day
Start - Finish
Distance (km)
Time (h:m)
1
St Johann in Tirol - Gruttenhütte
14.5
06:30
2
Gruttenhütte - Steinbergalm
19.0
07:00
3
Steinbergalm - Buchackeralm
16.0
07:10
4
Buchackeralm - Pinegg
16.5
06:30
5
Pinegg - Steinberg am Rofan
18.0
05:30
6
Steinberg am Rofan - Mauritzalm
18.0
07:00
7
Mauritzalm - Lamsenjochhütte
17.0
05:00
8
Lamsenjochhütte - Karwendelhaus
21.5
08:00
9
Karwendelhaus - Hallerangeralm
14.0
08:00
10
Hallerangeralm - Innsbruck
13.0
05:30
11
Innsbruck - Solsteinhaus
15.0
05:30
12
Solsteinhaus - Weidach
18.0
06:30
13
Weidach - Lermoos
27.5
07:15
14
Lermoos - Loreahütte
15.5
05:45
15
Loreahütte - Anhalter Hütte
16.0
06:30
16
Anhalter Hütte - Hanauer Hütte
12.5
04:15
17
Hanauer Hütte - Württemberger Haus
11.0
07:00
18
Württemberger Haus - Memminger Hütte
7.0
05:00
19
Memminger Hütte - Ansbacher Hütte
10.0
06:00
20
Ansbacher Hütte - Leutkircher Hütte
12.5
07:00
21
Leutkircher Hütte - Arlbergpass
13.5
05:00
In Depth Overview
Section 1: Kaisergebirge
Stage 1: St Johann in Tirol - Gaudeamushütte
A quiet country road leads to a forest path climbing through the Niederkaiser foothills to Diebsöfen cave and Schleierwasserfall, where the 60m sheer rock face behind the waterfall is popular with climbers. Emerging above the trees, you get your first close-up views of the jagged Wilder Kaiser peaks. The path crosses the heads of two valleys to reach its highest point at Baumgartenköpfl before descending steeply to Gaudeamushütte with spectacular views of Ellmauer Halt.
Stage 2: Gaudeamushütte - Schiesti (Hintersteinersee)
After a steep assisted climb to Gruttenhütte, this stage becomes a mid-level walk on forest and meadow paths contouring well below the Wilder Kaiser summits before descending to Hintersteinersee lake, a popular tourist spot, where it is possible to cool off with a refreshing swim.
Stage 3: Schiesti (Hintersteinersee) - Kufstein
This short stage climbs over the western tip of the Wilder Kaiser using a mixture of vehicular tracks and paths through forest and alpine meadows. Dropping down past the hamlet of Steinbergalm, the route crosses a gorge before climbing again to end at the top station of the Kaiserlift chairlift, which the Adlerweg uses to reach Kufstein.
Section 2: Brandenberger Alpen and Rofangebirge
Stage 4: Langkampfen - Buchackeralm
From Langkampfen the path climbs steeply through forest to the meadows above. Another steep climb follows, through forest to the summit of Köglhörndl. The section along the ridge to Hundsalmjoch is graded difficult because of a descent into a notch that requires some scrambling. This can be avoided by using a parallel 4WD track through Köglalm.
Stage 5: Buchackeralm - Pinegg
This stage through part of the Brandenberger Alpen follows a mixture of forestry roads, forest trails and mountain paths. It starts by descending into the Hasaltal valley, then climbs through forest up and over Plessenberg mountain. It continues past a series of remote farms on the Brandenberg plateau before descending to Pinegg in the Brandenberger Ache valley. There are no facilities until Pinegg.
Stage 6: Pinegg - Steinberg am Rofan
This stage of the route crosses the rolling wooded hills between the Brandenberger Ache and Steinberger Ache rivers, mostly on forestry tracks or footpaths. The going is easy, although a few very steep sections make this a red stage.
Stage 7: Steinberg am Rofan - Mauritzalm
This stage takes in a crossing of the Rofan mountain range, approached via the Schauertal valley and a stiff climb to the mountain-enclosed Zireinersee lake. The ascent of Rofanspitze, aided by cables, is graded difficult. The descent to Mauritzalm over high alpine pastures, by contrast, is easy.
Section 3: Karwendelgebirge
Stage 8: Maurach - Lamsenjochhütte
This very easy walk along a valley finishes with a steep ascent. The route descends from Erfurter Hütte by the Rofan cable car (or you can walk down) and follows the lakeside path along Achensee to Pertisau. It continues on a good path through the meadows of Falzthurntal to Gramaialm before climbing steeply to Lamsenjoch.
Stage 9: Lamsenjochhütte - Falkenhütte
This section of the route is the first of four high-level stages taking the Adlerweg through the highest part of the Karwendel range. The path drops into Engtal valley, where Grosser Ahornboden is the home to over 2000 alpine maples (some more than 600 years old). It then climbs to traverse Laliderer Reisen below the 1000m rock wall of Laliderer Wände, the highest perpendicular rock wall in the Eastern Alps.
Stage 10: Falkenhütte - Karwendelhaus
After a gentle descent to Kleiner Ahornboden, this stage becomes a steady climb to Hochalmsattel and Karwendelhaus, with Birkkarspitze, the highest mountain in Karwendelgebirge, rising on the left.
Stage 11: Karwendelhaus - Hallerangeralm

This is the most challenging stage of the whole walk, with cable-aided sections, some scrambling, seasonal snowfields and loose scree. It is also one of the most scenic. A steep 900m ascent, straight from the start, takes the path to a col just below Birkkarspitze, from where there is a short detour to the summit. This is followed by a long descent into the Birkkarklamm gorge to reach the pastoral Hinterautal valley. A final easier ascent brings the path to Hallerangeralm.
Stage 12: Hallerangeralm - Hafelekarhaus
An ascent, followed by a traverse along the Wilde Bande Steig, leads to the challenging ascent of Stempeljoch. Here an aided section (using roped planks and rubber steps) often needs renewing after winter damage. From Pfeishütte the route follows the Goetheweg, meandering from side to side of the Nordkette ridge, giving alternate views of Bavaria in Germany north, and the Inn valley south. Descent to Innsbruck is by the Nordkette cable car.
Section 4: Innsbruck and Patscherkofel
Stage 13: Patscherkofel - Tulfeinalm
The head of the eagle is a short walk along the Zirbenweg, overlooking Innsbruck from high on the slopes of Patscherkofel, south of the Inn valley. This stage provides a wonderful opportunity to look back at the mountains already visited and a chance to preview some of those to come. Zirbe is German for stone pine, and the Zirbenweg traverses one of the best natural pine forests in the Eastern Alps.
Section 5: Wettersteingebirge and Mieminger Gebirge
Stage 14: Hochzirl - Solsteinhaus
This short stage starts at Innsbruck Hauptbahnhof station with a train journey on the Mittenwald line to Hochzirl. This is followed by a steep ascent on 4WD tracks and paths to Solsteinhaus, which can be seen on the ridge above when emerging from the forest.
Stage 15: Solsteinhaus - Leutasch (Weidach)
This challenging farewell to the Karwendelgebirge requires a steep ascent up scree and rock to Eppzirlerscharte notch. A long descent through meadows and the Giessenbachklamm gorge follows, to cross the railway and main road at Giessenbach. The final part brings a straightforward ascent and descent on forest tracks through the foothills of the Wettersteingebirge, ending in the sprawling resort of Leutasch.
Stage 16: Leutasch (Weidach) - Ehrwald
With a long gentle ascent through meadows, this stage follows the Leutascher Ache river to its source at Igelsee lake before making a steeper (but still easy) descent. The path connects two ski resorts: Leutasch, which extends for 6km along the valley, and Ehrwald, standing below the towering SW face of Germany's highest mountain Zugspitze (2962m).
Stage 17: Ehrwald - Loreahütte
In reality, this stage comprises three walks and two cable-car rides. The first walk, which crosses the flat Lermooser Moos dried-up lake bed, is followed by two cable cars that whisk you up to Grubigstein. The second walk winds over the Fernpass through forest, partly following the route of an ancient Roman road, with idyllic views of Blindsee and Fernsteinsee lakes far below. The third walk is a steep ascent that climbs above the forest to Loreahütte.
Section 6: Lechtaler Alpen
Stage 18: Loreahütte - Anhalter Hütte
From Loreahütte, the path ascends to Loreascharte notch. It then drops into remote Haimbachtal and turns SE to reach the Tegestal valley, which is followed to Tarrentonalm. The route continues up Rotlechtal, with the sheer north face of Heiterwand dominating the view, and crosses the glacial cirque below Hinterbergjoch saddle before descending slightly to Anhalter Hütte.
Stage 19: Anhalter Hütte - Hanauer Hütte
The route climbs steeply S over Steinjöchle col and descends to meet the road from Lechtal at Hahntennjoch. It follows this road W down Pfafflartal valley through the remote communities of Pfafflar and Boden before turning S again to ascend Angerletal to Hanauer Hütte, high above the head of the valley.
Stage 20: Hanauer Hütte - Württemberger Haus
From Hanauer Hütte a steady ascent over scree slopes to Hintere Dremelscharte notch takes the route over the main Lechtaler Alpen ridgeline. A steep descent to tiny Steinsee lake is followed by a series of long contouring traverses on scree or tussock grass along the south side of the main ridge, rising and falling to cross two radial ridges. One of these crossings, Rosskarscharte, is the second most challenging part of the Adlerweg.
Stage 21: Württemberger Haus - Memminger Hütte
This challenging high-level stage requires mountain-trekking experience and a good head for heights. Ascending over tussock grass, scree and bare rock, with sections aided by fixed cables, the path climbs onto the Lechtaler Alpen ridge. Following the ridge over a series of crests, including Grossbergspitze, the path provides awesome views in all directions. This stage finishes with a final steep climb to Seescharte notch and a descent to Memminger Hütte.
Stage 22: Memminger Hütte - Ansbacher Hütte
This is another challenging stage. A steep descent into Parseiertal valley is followed by an ascent up the screes of Langkar cirque (where snow may remain all year) and through a narrow chimney with fixed cables to Griesslscharte notch. The path then follows the main Lechtaler Alpen ridge, running just below the ridgeline, and crossing it two more times, before a short descent S to Ansbacher Hütte and a first distant view of St Anton.
Stage 23: Ansbacher Hütte - Leutkircher Hütte
This is another challenging high-level route with stiff ascents, vertical drop-offs, scree and rock. The path rises and falls over two cols before following the Theodor-Haas-Weg across the SE face of rugged Vorderseespitze, with steep drop-offs protected by fixed cables. The route crosses two more cols as the path wanders from side to side across the Lechtaler Alpen ridge before descending across scree to Kaiserjochhaus. After a short but steep ascent to Schindlescharte, with some aided sections, the route goes downhill to Leutkircher Hütte.
Stage 24: Leutkircher Hütte - Arlbergpass
The route starts by contouring the south-facing slopes of Bacherspitze and Weissschrofenspitze, including a steep descent aided by chains and rungs, to reach Ulmer Hütte, which sits below Pazüelfernerspitze. The final descent to the Arlbergpass summit follows a combination of 4WD tracks and good mountain paths through the Arlberg ski area, passing ski runs above St Anton and St Christoph. For most of this decent, St Christoph is visible in the valley far below.
Section 7: Lechtal Valley
Stage 19A: Boden - Häselgehr
The route undulates gently as it descends on 4WD tracks and forest paths through the forests that line Hölltal and Bschlabertal, with views of Bschlabs across the valley. After emerging from the forest, the route crosses meadows to end at Häselgehr in the Lechtal valley.
Stage 20A: Häselgehr - Steeg
This almost level walk along the pastoral Lechtal valley passes villages famous for the use of a distinctive form of wall painting known as Lüftlmalerei, which adorns many houses. The route is mostly along surfaced paths through fields, sometimes along the banks of the Lech.
Stage 21A: Steeg - St Anton am Arlberg
This stage follows forest paths and a surfaced road ascending from Steeg to Kaisers, then continues along a 4WD track and steeply up a path through forest and alpine meadows to Leutkircher Hütte. From here your final objective, St Anton am Arlberg, is visible in the valley below, and a straightforward descent on a mix of paths and forestry roads takes you 1000m down to the town.
To read more articles like this get our newsletter
Sign up today for a 20% discount on your next purchase. Join over 30,000 enthusiasts from around the world. If you don't love our mix of new books, articles, offers and competitions, you can unsubscribe at any time. We will never spam you, sell your data or send emails from third parties.