Trekking from Munich to Venice: Der Traumpfad
Der Traumpfad is a must-do trek for walkers looking for an epic trans-alpine adventure between Munich and Venice, combining challenging terrain, spectacular scenery and culture.
Ever since Hannibal crossed the Alps the challenge of traversing Europe's biggest mountain range has attracted walkers from across the planet. Despite this, the Munich to Venice backpacking route – one of the most popular trans-alpine routes – is little known outside the German-speaking world. In Germany walkers regard it as the hiking experience of a lifetime. Each year hundreds of walkers of all shapes and sizes leave Munich's Mariënplatz, to arrive one month later in the Piazza San Marco in Venice.
The walk is known as Der Traumpfad – the Dream Way – and its attractions are immediately apparent. It links two of Europe's most iconic destinations with a journey across some of the best scenery in the Alps. From the heart of Bavaria, from beirgartens, wurst, and lederhosen, to the Adriatic and prosecco, fritto misto and tiramisu – it's a journey across cultures as well as mountains.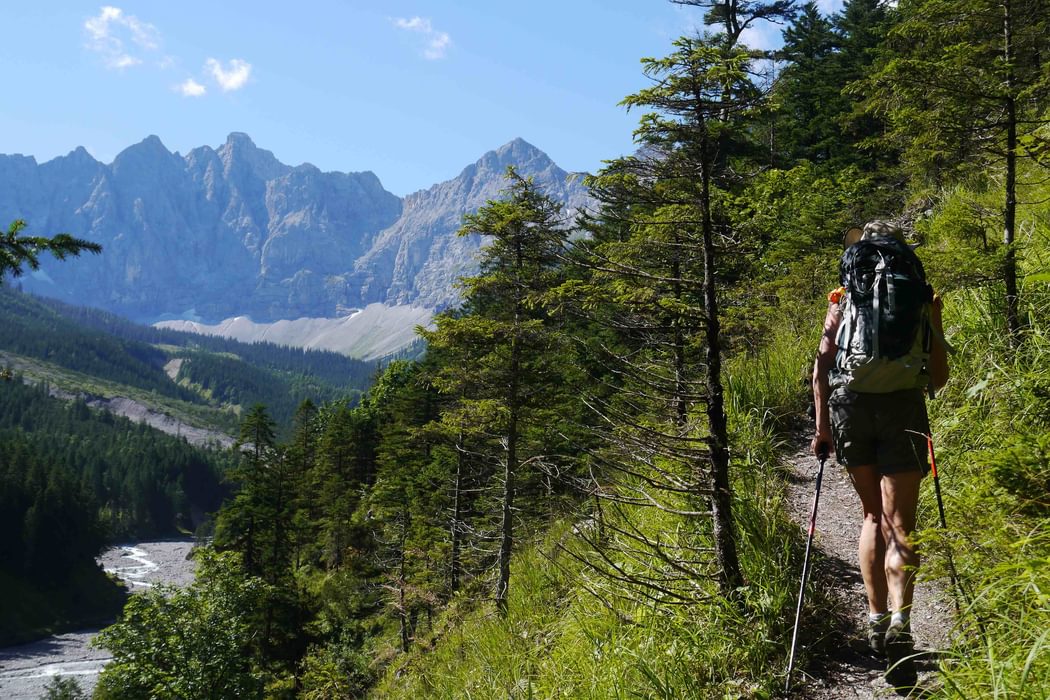 The attractions of Der Traumpfad are immediately apparent. It links two of Europe's most iconic destinations with a journey across some of the best scenery in the world. From the heart of Bavaria – beirgarten, wurst and lederhosen – to the Adriatic coast's prosecco, fritto misto and tiramisù, it's a journey across cultures as well as mountains.
Like Wainwright's Coast-to-Coast, Der Traumpfad is largely the product of one man's vision (although a similar route across the Alps is said to have been used centuries earlier by aspiring Northern European artists seeking rich patrons in Italy's city states). Der Traumpfad was developed by German alpinist Ludwig Grassler in 1974 and Grassler's first guide was published in 1977. As an experienced mountain walker he was careful to construct a route that was direct, spectacular and accessible.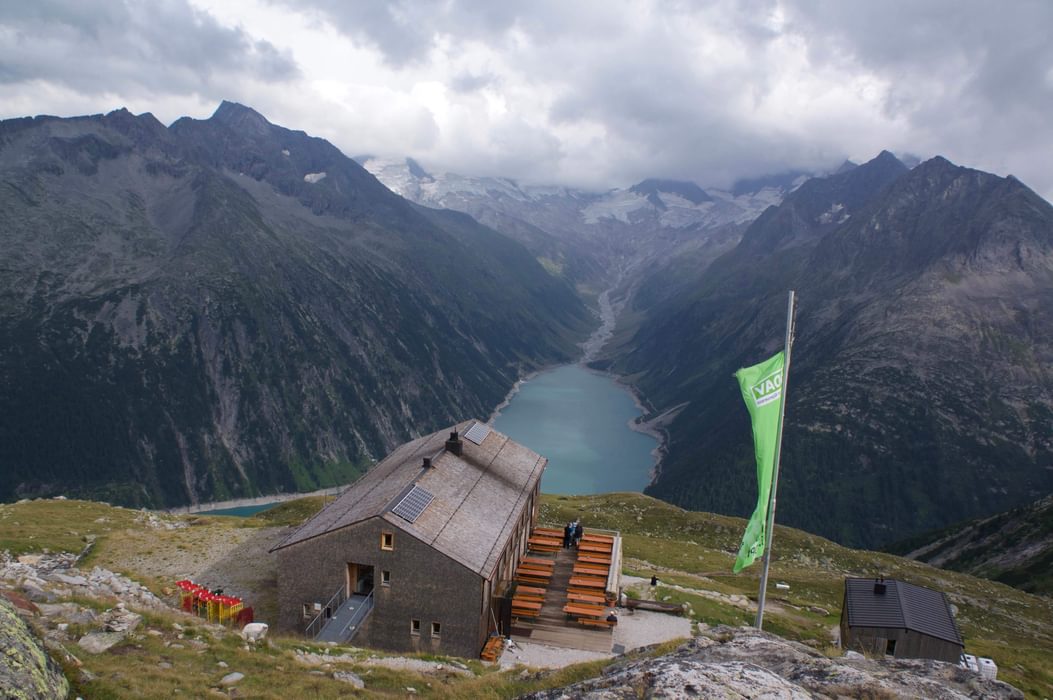 What's the walking like?
Most long-distance treks involve some scenic compromise. Breathtaking scenery doesn't usually organise itself along a line from A to B, especially when the line is 570km long. Although the last four days, the approach to Venice, are less than perfect, the rest compare with the best in the Alps. The scenic fireworks start on days three and four with the climb up to the Benediktenwand 'pre-alps' and an amazing ridge walk. They continue on days five to seven through the Karwendel, to the highest point in the range, the Birkkarspitze. Without time to draw breath, days eight to 12 cross the Alpine spine itself on a high traverse through the Tux and Zillertal Alps. In Italy now and more fireworks explode, with arguably the most beautiful mountains in the world – the Dolomites. Days 14 to 23 are spent crossing the Puez and Sella mountains, skirting the north face of the Marmolada to then traverse around the famous west wall of the Civetta group.

As well as passing through superlative scenery the Munich to Venice trail neatly combines challenge with accessibility. Although it stays within the magic zone between treeline (1800m) and snowline (2800m) for much of the way, valleys do have to be crossed and descents made, with varying levels of ease. It's a safe and accessible route, providing sensible caution is taken with the weather, and largely avoids the skiing areas which scar the landscape in many places (the chief exceptions being the Sella massif and the Hintertux Glacier). Although the route is rarely crowded, this is not a walk for those seeking solitude, despite spending so many days above 2000m.
As well as these scenic wonders, Der Traumpfad neatly combines a challenge with accessibility. It's designed for any able-bodied walker who can sustain daily ascents and descents of around 1000m. It will provide interesting moments for those who haven't yet experienced the steps and fixed steel ropes that are common in the Alps and you will need a head for heights. With these caveats, and providing you keep an eye on the weather, this is a safe route and loaded with memory-etching highlights.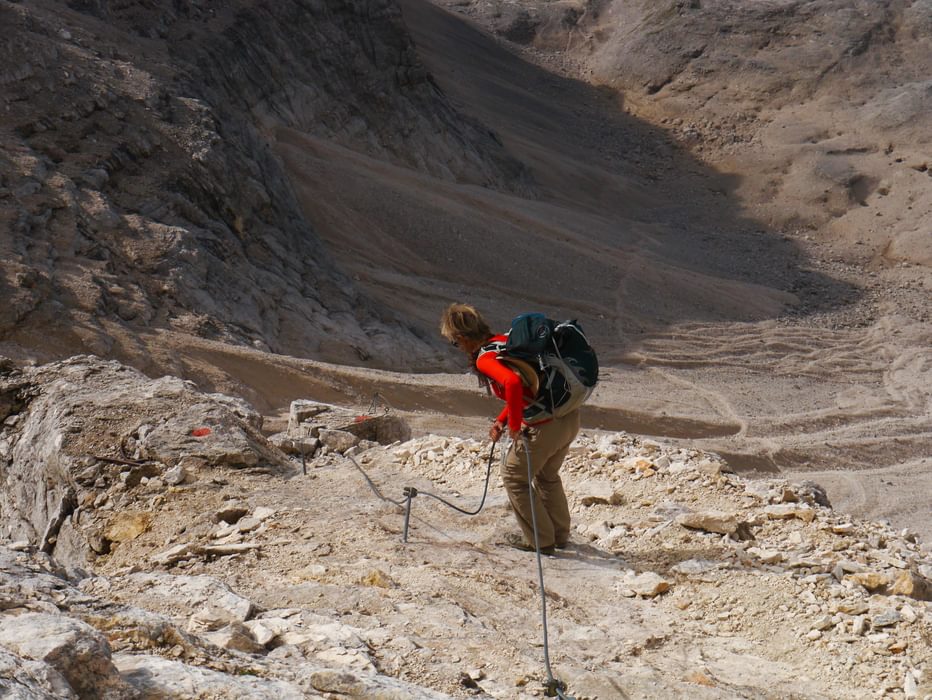 How hard is it?
Ludwig designed his Munich to Venice backpacking route for 'any able-bodied walker'. By this he meant walkers who were happy to walk for around thirty days, carrying seven kilogrammes for around seven hours a day and climbing an average of a thousand metres a day. Ludwig was a German and an Alpinist so he assumed walkers would have a head for heights, which is an essential requirement on several short exposed stretches. On the most exposed sections there are fixed steel ropes and pegs driven into a rock face to help you progress. This is a common feature of Alpine walking and something the average German or Austrian takes for granted but which you might find challenging the first time you come across it. Most of these stretches are near the most spectacular sections of the route, however, and it would be a shame to miss them.
While a reasonable level of fitness, a head for heights and a desire for adventure are all essential requirements for anyone tackling the Traumpfad, it does make a good choice for walkers planning their first independent trek in the Alps. Experience of mountain walking is an advantage but it is not necessary and this guide makes no assumptions about previous experience.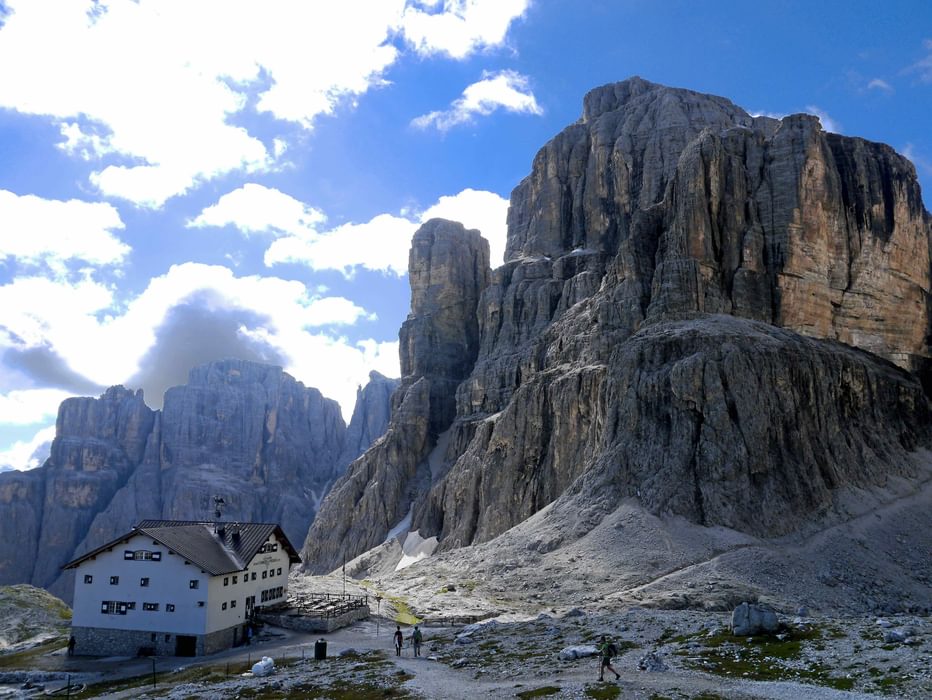 Sleeping and eating in alpine huts is a feature of Der Traumpfad, and without the huts parts of the route would be difficult to do. If you haven't experienced the mixed pleasures of sleeping in a densely packed dormitory or 'lager', it may come as a shock. However, many of these huts are in stunning locations and their friendly ambience more than compensates for any initial sense of discomfort (and sleep deprivation). The numerous huts, together with other accommodation options (small hotels are very reasonably priced in the summer), make planning the journey particularly easy.

The Traumpfad is 569km long and involves 27,000 metres of ascent. The guide breaks the journey down into 30 stages, with each stage equating to a six to eight-hour walking day. However, the availability of plentiful accommodation and public transport links allow for a wide range of options when it comes to individual itineraries. Not everyone will have the time to walk Der Traumpfad in one go, but it's easy to break it into sections and complete the route over a number of years (many Germans take this approach).
Stages are designed to start and finish where accommodation is available. The daily walking times are between 5hrs 30mins and 9hrs. Matching these times will be harder at the beginning of the walk than at the end, and options for merging days start to increase as the walk progresses.

A key consideration will be your attitude to chairlifts and the closely linked question of 'purity' when it comes to walking every step of the way. There are at least four big climbs that could be replaced by a chairlift and the time saved could either be spent with a beer in a mountain hut enjoying the views or walking further along the path and saving a day – the question is whether you will still be able to claim that you walked from Munich to Venice!
Marmolada in the Dolomites
The Junnsee in the Tux Alps (Austria)
For most of its journey the Traumpfad follows well-defined footpaths. The last section, from Belluno to Venice, involves some road walking but mostly on quiet roads with little traffic. There are occasional Munich–Venice (München–Venedig) signs but the route is not officially waymarked. It is, however, easy to follow and navigation should not be a problem.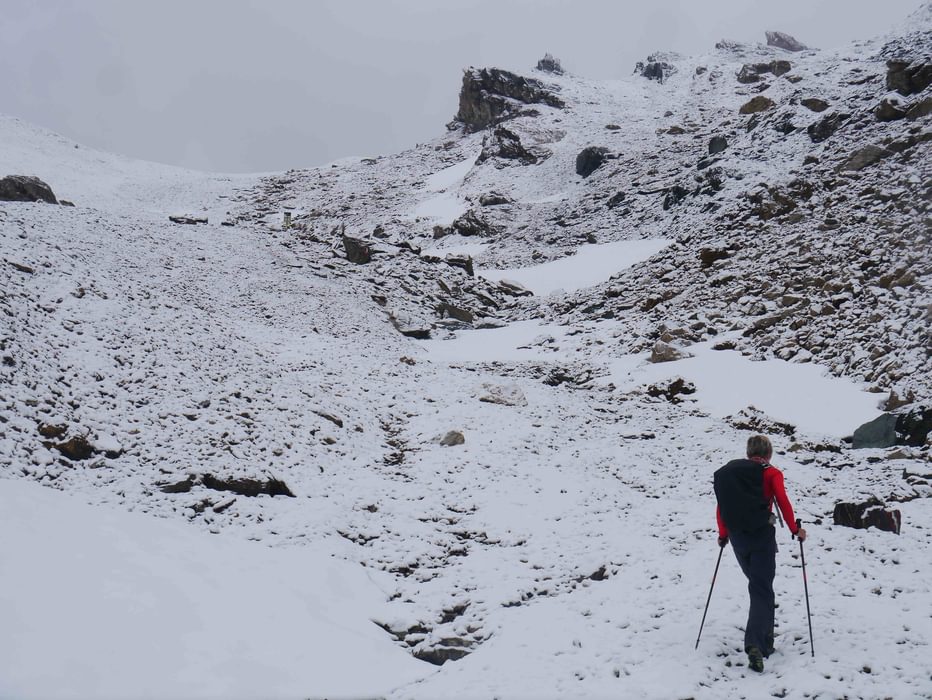 To read more articles like this get our newsletter
Sign up today for a 20% discount on your next purchase. Join over 30,000 enthusiasts from around the world. If you don't love our mix of new books, articles, offers and competitions, you can unsubscribe at any time. We will never spam you, sell your data or send emails from third parties.