Trekking from Munich to Venice: Der Traumpfad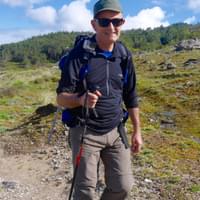 Der Traumpfad is a must-do trek for German walkers looking for an epic trans-alpine adventure between Munich and Venice, combining challenging terrain, spectacular scenery and culture. Now, thanks to a new guide by John Hayes it's accessible to everyone.
If yo­­­u ask a German hiker how to get to Venice, the chances are they will tell you to go to Munich, find the Marienplatz, then head south across the Alps on Der Traumpfad (the Dream Way). Thirty days later, after the trip of a lifetime, you'll have swapped the crowds of Munich's busiest square for what Napoleon described as the 'drawing room of Europe', the Piazza San Marco.
Der Traumpfad has the same must-do status for German walkers that the Coast-to-Coast has for the British. Each year hundreds of people take up the challenge and set off from Munich on a trans-alpine adventure.
Although there are a number of German language guides, the absence of an English version has left Der Traumpfad virtually unknown outside central Europe. Putting this anomaly right has been an absolute pleasure. My guide to the Traumpfad, published this autumn in good time for next year's trekking season, opens up one of Europe's most epic walks to English speakers everywhere.
The attractions of Der Traumpfad are immediately apparent. It links two of Europe's most iconic destinations with a journey across some of the best scenery in the world. From the heart of Bavaria – beirgarten, wurst and lederhosen – to the Adriatic coast's prosecco, fritto misto and tiramisù, it's a journey across cultures as well as mountains.
Like Wainwright's Coast-to-Coast, Der Traumpfad is largely the product of one man's vision (although a similar route across the Alps is said to have been used centuries earlier by aspiring Northern European artists seeking rich patrons in Italy's city states). Der Traumpfad was developed by German alpinist Ludwig Grassler in 1974 and Grassler's first guide was published in 1977. As an experienced mountain walker he was careful to construct a route that was direct, spectacular and accessible.
Scenic fireworks
Most long-distance treks involve some scenic compromise. Breathtaking scenery doesn't usually organise itself along a line from A to B, especially when the line is 570km long. Although the last four days, the approach to Venice, are less than perfect, the rest compare with the best in the Alps. The scenic fireworks start on days three and four with the climb up to the Benediktenwand 'pre-alps' and an amazing ridge walk. They continue on days five to seven through the Karwendel, to the highest point in the range, the Birkkarspitze. Without time to draw breath, days eight to 12 cross the Alpine spine itself on a high traverse through the Tux and Zillertal Alps. In Italy now and more fireworks explode, with arguably the most beautiful mountains in the world – the Dolomites. Days 14 to 23 are spent crossing the Puez and Sella mountains, skirting the north face of the Marmolada to then traverse around the famous west wall of the Civetta group.
As well as these scenic wonders, Der Traumpfad neatly combines a challenge with accessibility. It's designed for any able-bodied walker who can sustain daily ascents and descents of around 1000m. It will provide interesting moments for those who haven't yet experienced the steps and fixed steel ropes that are common in the Alps and you will need a head for heights. With these caveats, and providing you keep an eye on the weather, this is a safe route and loaded with memory-etching highlights.
Der Trampfad does not have its own specific set of waymarks. Instead, most of it follows existing routes and some of these (such as the Alta Via 1 and 2 across the Dolomites) are famous in their own right. The actual route is dynamic, with slight differences between guidebooks and changes to reflect new circumstances. When accommodation closes, when a landslip destroys a section of the route, or when a new footpath is opened, Der Traumpfad responds to these changes. In developing the recommended route for this guide, this evolutionary approach has been adopted. Instead of following every step of Ludwig's original journey, this guide follows Ludwig's dream of finding the best way from Munich to Venice.
Despite spending days at altitudes of between 2000m and 3000m, Der Traumpfad is not a walk in the wilderness. The Alps are where adventure walking with mass appeal was invented, and alpine walkers in their thousands have enjoyed 'Europe's playground' for well over 100 years. As a consequence, the Alps have some of the world's best walking infrastructure, enabling ordinary people to go to extraordinary places. Whether it's the paths themselves, the waymarks, the steps and fixed ropes, or the high altitude hut accommodation, there is nothing quite like it anywhere else.
Mixed pleasures
Sleeping and eating in alpine huts is a feature of Der Traumpfad, and without the huts parts of the route would be difficult to do. If you haven't experienced the mixed pleasures of sleeping in a densely packed dormitory or 'lager', it may come as a shock. However, many of these huts are in stunning locations and their friendly ambience more than compensates for any initial sense of discomfort (and sleep deprivation). The numerous huts, together with other accommodation options (small hotels are very reasonably priced in the summer), make planning the journey particularly easy.
The guide breaks the journey down into 30 stages, with each stage equating to a six to eight-hour walking day. However, the availability of plentiful accommodation and public transport links allow for a wide range of options when it comes to individual itineraries. Not everyone will have the time to walk Der Traumpfad in one go, but it's easy to break it into sections and complete the route over a number of years (many Germans take this approach).
Given my recent experiences in the Alps I'm starting to think that bad weather follows me there. After years of wonderful weather I've enjoyed significant snow on my past three visits during the month of August. Although there is a sacrifice to be made in terms of missing the best alpine flowers, the general consensus is that the best time to leave Munich is towards the end of August, making the traverse of the Alps in September (before the huts shut), when the weather is generally more settled. This means you miss the busiest month (August) in the huts and, if you're lucky, will get your own room. You will also cross the Venetian plain in late September, when the heat is less intense and when the prosecco harvest is in full swing.
Social walking
Walkers who enjoyed Spain's GR1, the subject of my first guide, shouldn't expect the same thing from Der Traumpfad. The two are like chalk and cheese. While the GR1 traversed beautiful countryside with a huge historical back catalogue, I hardly saw another person when I was walking it; the paths were empty. Der Traumpfad, on the other hand, is a social walk. Soon after leaving Munich you will meet other walkers who are heading for the same destination and following a similar schedule. A loose group will quickly form, which eat together in the evenings and share information, stories and gossip. It's a great walk if you're walking solo or as part of a group. Of course some people will be attracted by the social nature of the Der Traumpfad; others appalled, but I found it one of the pleasures of the journey. So if you fancy an iconic modern day pilgrimage, with far better scenery than the medieval antecedents and without the religion, then Der Traumpfad is for you.
To read more articles like this get our newsletter
Sign up today for a 20% discount on your next purchase. Join over 30,000 enthusiasts from around the world. If you don't love our mix of new books, articles, offers and competitions, you can unsubscribe at any time. We will never spam you, sell your data or send emails from third parties.