Bikepacking New Zealand's Tour Aotearoa
Stephen Dunnett believes that an 'impossible' bikepacking trip of a lifetime may not be beyond the reach of the average fit and experienced cyclist. Here, drawing on his experience of completing the Tour Aotearoa in 2020, he suggests how you could turn the dream into reality and what you could expect along the way.
What is the Tour Aotearoa?
Back in 2016, Jonathan Kennett, well known in New Zealand for his books on mountain biking and organising mountain bike events, decided it would be good to put together a ride from the top of the North Island to the bottom of the South Island, linking together as many National Cycle Trails as possible.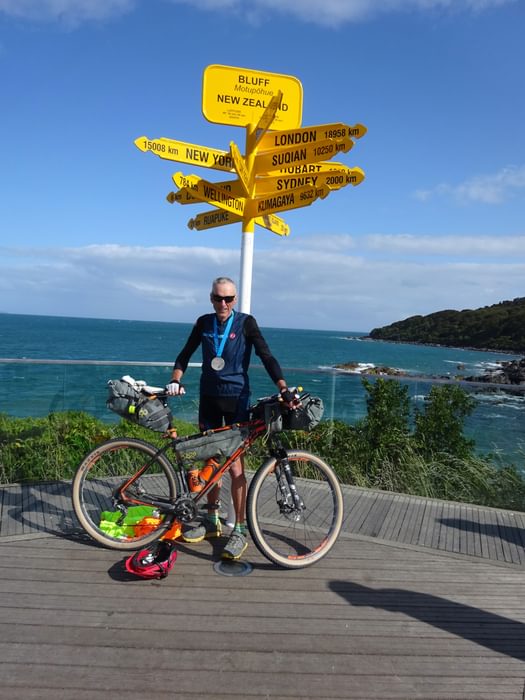 He advertised the event as a Brevet and around 300 people, mainly New Zealanders, joined him for the ride. The rules of the Brevet mean that you have between 10 and 30 days to complete the 3000km distance, unsupported and following a set route.
There are 30 photo checkpoints along the route that need to be visited. Aotearoa is the Māori name for New Zealand, meaning 'long white cloud' and the New Zealand Cycle Trail Great Rides are also known as Nga Haerenga, Māori for 'the journeys'.

After the success of the inaugural event, the Tour Aotearoa rapidly became a must-do event on the bikepacker's wish list and Jonathan decided to repeat the event every two years.

How did I get to ride it?
My wife and I were in New Zealand in 2016 having recently taken early retirement from our teaching careers. Our younger son and his girlfriend were also there and as we are all keen cyclists, the cycle event taking place was of immediate interest.
Me and my son thought 'yes, that may be fun to do' but nothing got put into place before the 2018 event, when we were in New Zealand again as, by this time, both sons had decided to live there permanently.
I decided that if I did not get sorted to enter in 2020 (going the wrong side of 60!) I might miss out. I had a fairly solid background of cyclocross, mountain biking and was fit from running, but I had no real experience of multi-day bikepacking.
This is my first suggestion – if you wait until everything is perfect you will probably never do it – ensure you have the key qualities and then work on the other bits.
The start is in waves over several days, partly to ease pressure on available accommodation and ferry crossings during the first few days and also because the first day is mainly spent riding along a beach that is not too clever at high tide!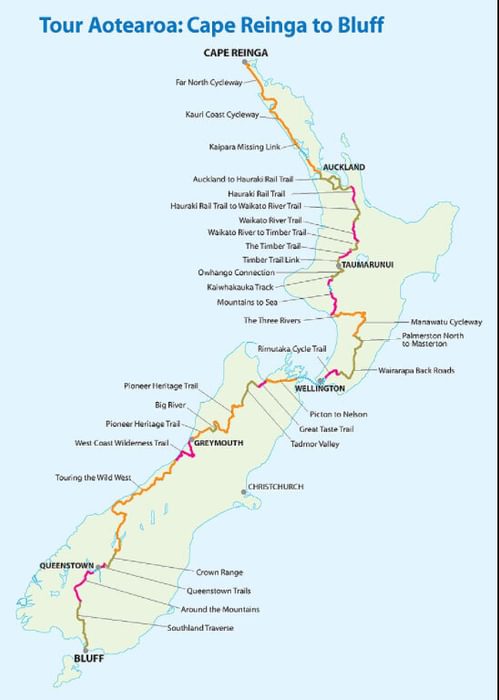 As a mathematician (sad love of numbers), there was an attraction to an available wave start on 20 February 2020 (20-02-2020 looks rather cool) so my entry went in and not to be left out, so did my son's.
Getting to the start
More specifically, how could you get to the start? Many people plan a dream trip to New Zealand when they retire. Many people cycle. Why not combine the two and have a really memorable trip?
3000km sounds a long way and, yes, there is around 40,400m of accent but you have up to 30 days to complete it so do not fix this in your mind as a 'can't do' reason.
I suggest that to put this into context you could use the cicerone guides (The C2C Cycle Route – Jeremy Evans, Hadrian's Cycle Way – Rachel Crolla and Carl McKeating, Cycling the Reivers Route – Rachel Crolla and Carl McKeating) and plan a double crossing of the country.
I completed the Tour Aotearoa in 25 days and the greatest distance I rode in a day was 136km, so plan for around this for a double crossing and this would give you a feel for the required distance each day, allowing for the fact that these routes are on road.
Maybe head for the Pennines (Cycling the Pennine Bridleway – Keith Bradbury) with a mountain bike and work out a route to cover around 100km per day for 3 days. If you are competent with this sort of riding, you will have no problems.
I was not experienced at multi-day bikepacking routes so for the first few days on the TA, I rode 103km, 89km, 86km, 70km and only after that, most days around 120 – 130km. Start with plenty in reserve and you will be fine. Don't try to match those on a mission – my son did it in 10 days!! – but I got to drink more coffee.
Equipment
So, you are reasonably confident that you will be OK physically, but what about the equipment? Obviously, a bike is essential! I used a KTM Myroon Master 29er hardtail mountain bike, which I found fine. Some used full suspension bikes, cyclocross or gravel bikes.
Whatever the bike, it needs to be in perfect condition. That may sound obvious but I was amazed by the number of people who started on part-worn tyres and chain and were searching out cycle shops within the first week – incredible!
I used Maxxis Ikon tyres and a light-weight drive chain and both lasted the full distance, although I wouldn't have wanted to ride much further on them.
An Apidura bar bag, small frame pack and tail pack held my minimal kit including a very light Terra Nova tent. There are so many set-ups to choose from but whatever you choose, try it out first – again, obvious, but not for some it appeared!
Good to go?
This is the difficult bit with current Covid restrictions on travel. There is a February 2022 addition but I think travel is too big an unknown to plan for that. The good news is that the event is now held annually so all things being well, 2023 could be an aim.
Entry is easy via the Tour Aotearoa website, and as the whole event is run not for profit, there is no entry fee as such; you are expected to make a charity donation of a minimum of NZ$100 (about £50) and pay the carbon offset for your journey to and from the event, which from Heathrow to Aukland was NZ$300 in 2019.
You also have to have a Spot tracker for rider recording (keeping to the route!) and safety. These can be hired from the organisers or you can buy your own. After that, what you spend is up to you. Some camp all the while; I mixed it with half camping and half in accommodation.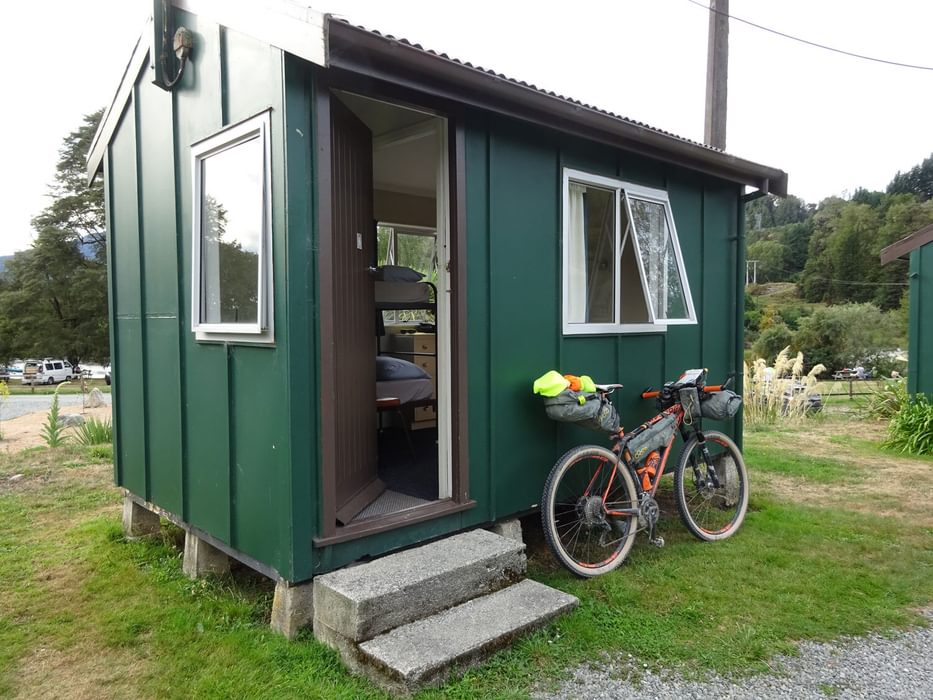 Most campsites in New Zealand have cabins for hire and smart camp kitchens to cook in – they are a world apart from most sites in the UK. Some people stay in hotels, eat huge meals and drink fine wine every day but the choice is yours but don't expect to cycle too well if you go for this option!
All the other information you need plus the official guide books (superb) are available on the website.
Ninety Mile Beach, a Bridge to Nowhere, jet boats and Cowboy Paradise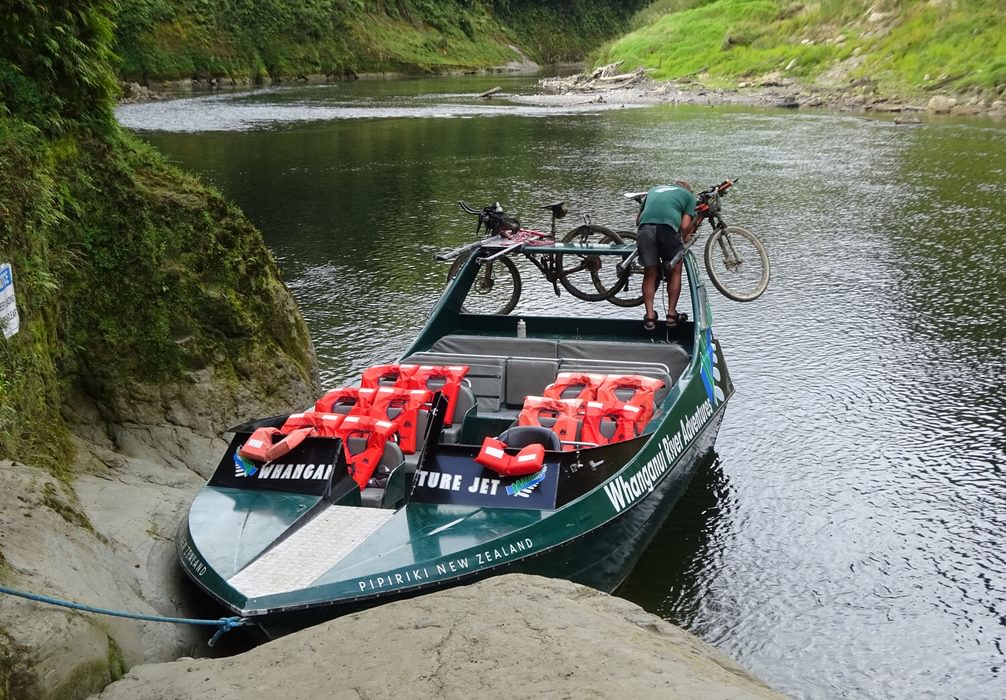 If you need further persuasion that all of this might be a good idea, here are just some of the highlights to further whet your appetite. The start at Cape Reinga has all the atmosphere expected when 100 riders are getting ready for the adventure of a lifetime – a mix of nerves, excitement and waves goodbye from supporters.
I can guarantee that the first day will be a day like you have never ridden before – just look at the route description – 22.6km: Turn left onto Ninety Mile Beach. The sand is hard 3hrs before low tide to 4 hr after low tide. Carry enough water for several hours riding! 103.3km: Ride off the beach at Ahipara. That's right, 80km along the beach beside the ocean. Just pray the wind is not against you!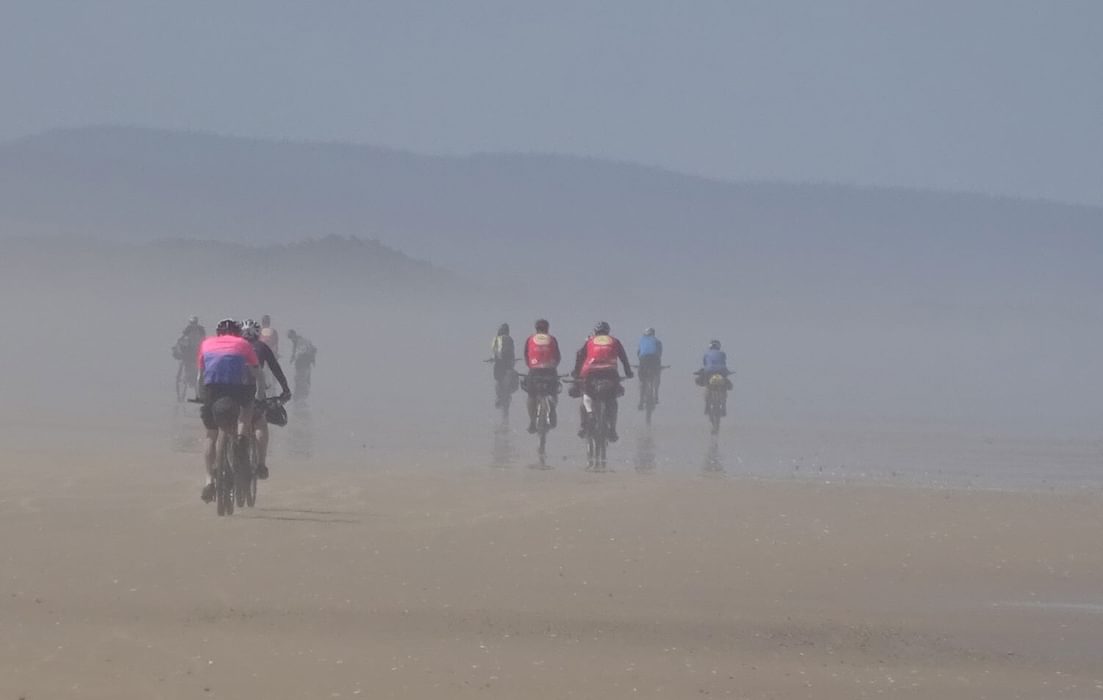 There are two ferry crossings that have to be planned for before you reach Auckland and not part of your average day ride out. The Kauri Forest and Tane Mahuta, (Lord of the Forest) is one of New Zealand's largest trees and simply awesome.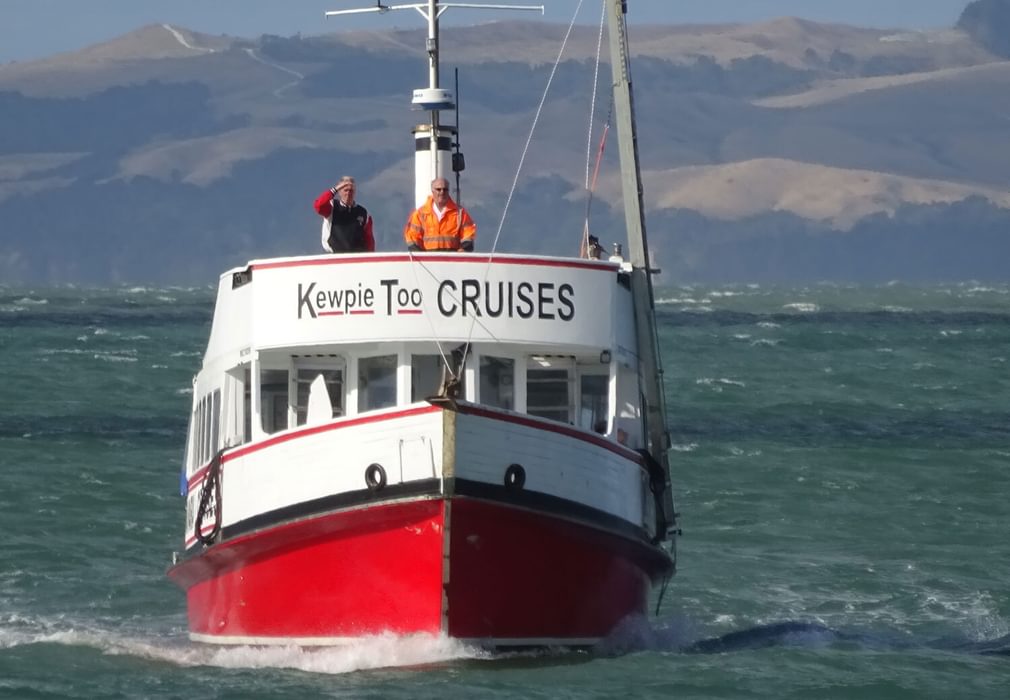 The Timber Trail is the first of the NZ Cycle trails that will really take your breath away and leave you wondering how a small country can create such amazing trails for bikes – 87km, 30 bridges, several of them suspension bridges (swing bridges) over huge river valleys including one of the longest (141m) and highest swing bridges in New Zealand, all set in lush rain forest.
Further on, the ride to the Bridge to Nowhere will live with you forever. The bridge was built in 1936 in the middle of dense rain forest to try to encourage settlers to set up on the other side of the river.
The settlers never used it and it is literally a bridge to nowhere as the only way out at the end of the trail is by 45 minutes on a jet boat. Just remember not to look at your prize bike hanging off the back of the boat as it crashes down the rapids!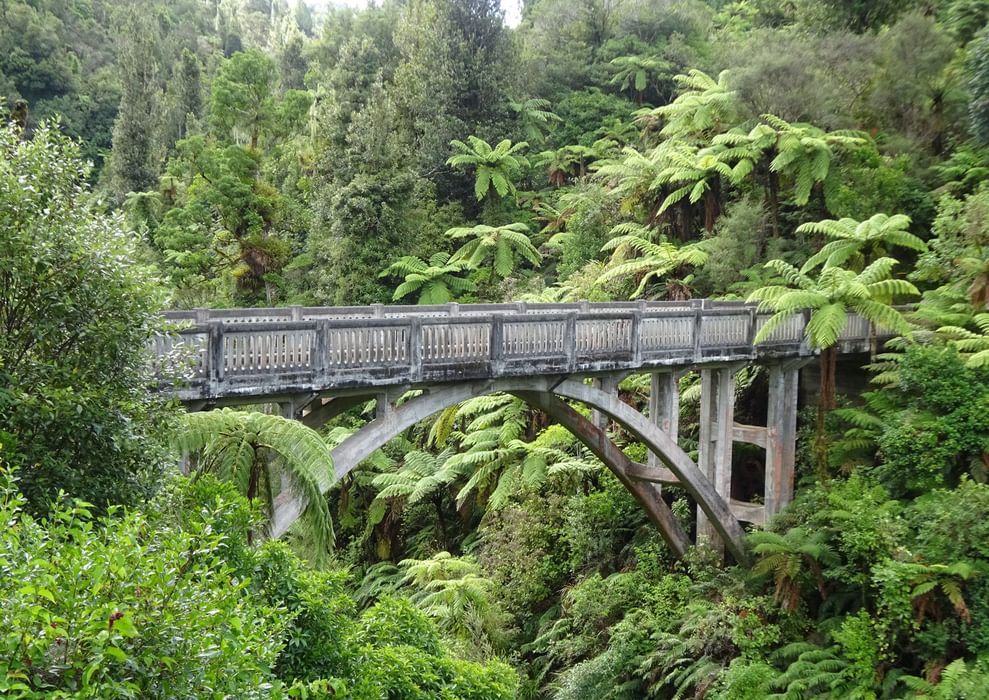 The Cook Strait is crossed between the North and South Islands and although it is tempting to enjoy the novelty of comfy seats indoors, bag yourself a seat outside for a memorable ferry crossing.
Once on the South Island the scenery becomes even more spectacular and unless you encounter what is unfortunately notoriously fickle West Coast weather, it is probably THE highlight for most people.
Cowboy paradise? – you will pass this place on the beautiful West Coast Wilderness Trail (my chosen charity donation) which, in 2019, was the scene on one of New Zealand's largest drugs bust in underground shipping containers! I will let you decide if it is good now but I can recommend the chips!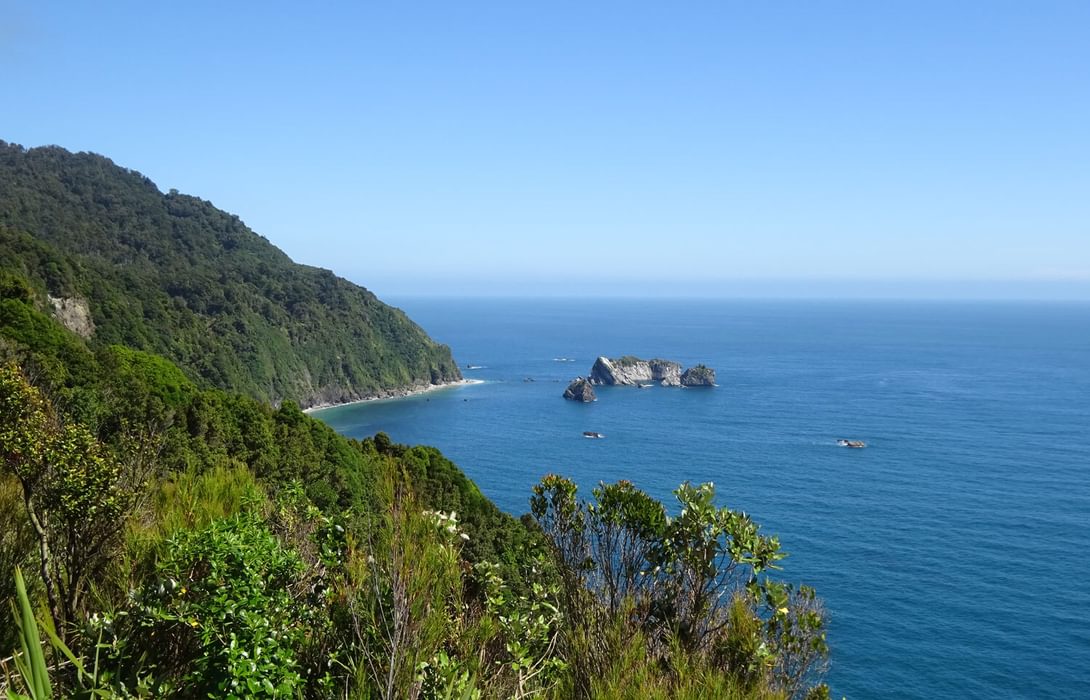 TSS Earnslaw and Bluff
It is difficult to select highlights as you make your way down the South Island – most of the ride will just blow you away. The popular 'must see' destinations of Wanaka and the Cardrona Hotel are passed on the way up the Crown Range and the highest point on the route at 1076m.
Arrowtown (the route passes my sons front door!) and Queenstown are next and then a crossing of Lake Wakatipu on the iconic 1912 steamer, TSS Earnslaw. Make sure you have a look at the engine room and warm up beside the boilers!
Finally, after different riding again through the relative flat-lands of Southland, you arrive at Invercargill, then Bluff and a final 3km to savour your achievement as you cruise down to the finish at Stirling Point.

The trip of a lifetime, riding your bike and a ticked off 'must see' bigger than most people could only dream off. If you can dream, you can do it as well. Yes, it will take some planning and will not be cheap but I would say every penny I spent on my adventure just keeps giving in terms of memories and pride in what I achieved.
So, 2023 – dream and fall asleep on the sofa or dream and go for an adventure – what will you do? Assuming I will be able to get to New Zealand by then as well, I will wave as you cruise by.
To read more articles like this get our newsletter
Sign up today for a 20% discount on your next purchase. Join over 30,000 enthusiasts from around the world. If you don't love our mix of new books, articles, offers and competitions, you can unsubscribe at any time. We will never spam you, sell your data or send emails from third parties.