Hiking the GR130 and GR131 trails across La Palma
La Palma boasts two long-distance walking routes: The GR130 (aka the Camino Real de la Costa) and the high-level GR131. Looking for a winter sun hiking trip, Tom Martens packed his rucksack and set off to the Canary Islands to explore the world's steepest island.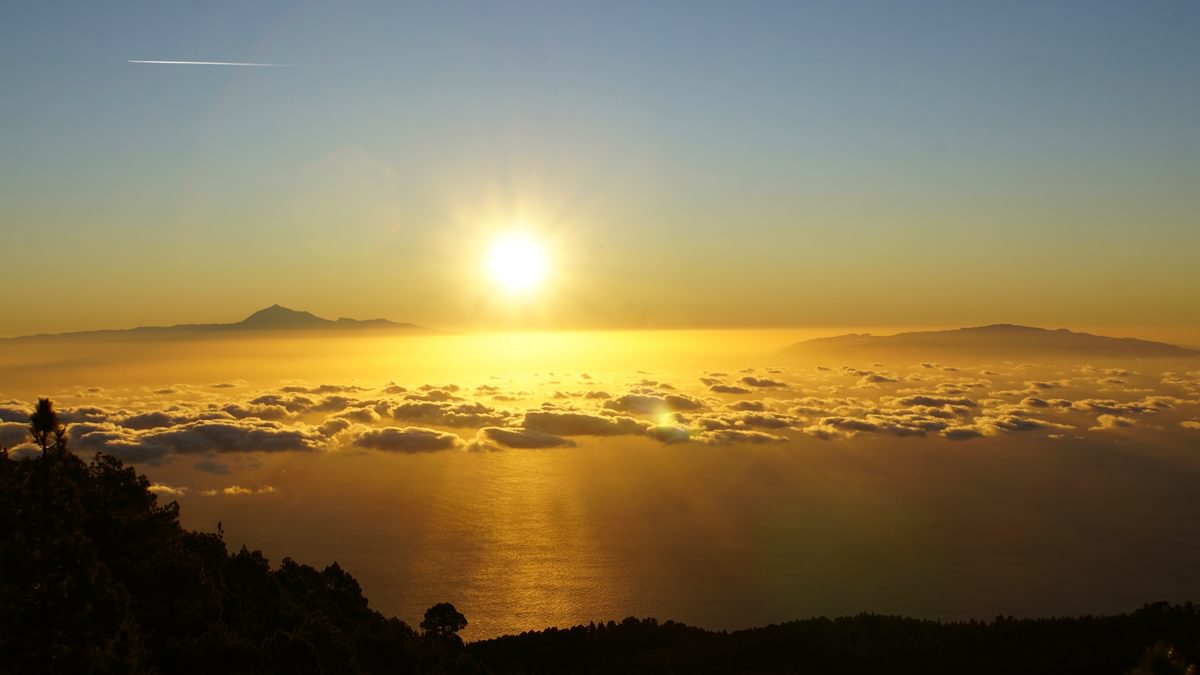 Several mountain ridges towered above the clouds as my plane started descending towards the Canary Islands. A few minutes later I was watching the coastline of La Palma approach through my window. A little later, I disembarked from the plane into the warm January air and picked up my backpack. An hour later I was walking in my t-shirt on the GR130.
La Palma's GR130 is a well-waymarked route
First view of the Canary Islands' mountains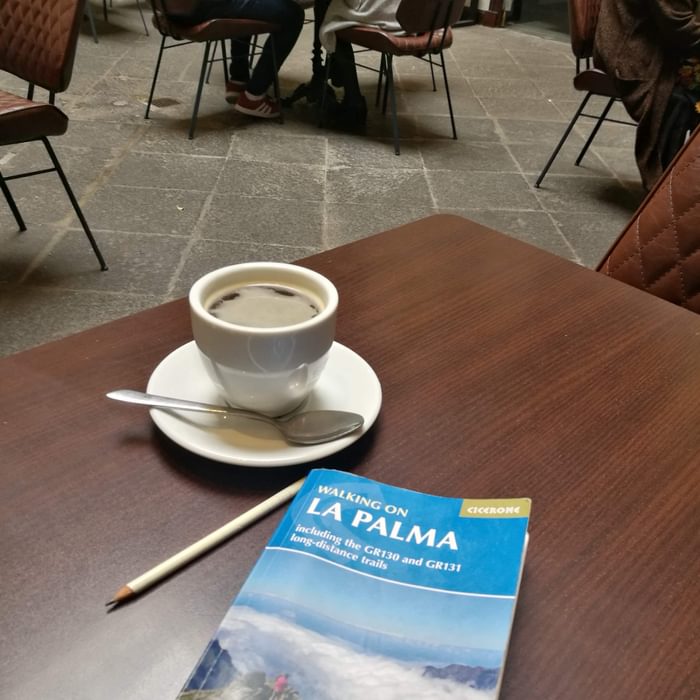 Like many other sun-deprived West-Europeans, I chose the Canary Islands as my winter holiday destination. Immediately it became clear that there weren't many other hikers carrying a tent and food, but I was all ready to walk around La Palma and hike the island's GR131 high-level trail.
Even though I love hiking on small islands, the Canary Islands had never been on my list of travel destinations before. Only after discovering Paddy Dillon's guidebook to Walking on La Palma did I realise that the region has plenty to offer an independent long-distance hiker who prefers to steer away from crowds.
La Palma: an unlikely hiking destination?
I had always been a bit biased against the Canary Islands. My grandparents used to spend their holidays on Gran Canaria, while my parents had their honeymoon on Tenerife. Their photo albums left me with impressions of people bronzing on crowded beaches and enjoying camel-rides in a desert dotted with palm-trees.
It looked exotic, but I never got the feeling I would enjoy it there. Instead, I developed a love for quiet and remote hiking regions such as the Scottish islands and Highlands and the high Pyrenees. By comparison, the Canary Islands were out of my scope.
But blood is thicker than water. When my father started to spend his winters on Lanzarote, I felt that I should go for a visit. After doing some reading, it occured to me that a week of hiking on La Palma followed by a few days of family-time on Lanzarote would make a fine winter holiday.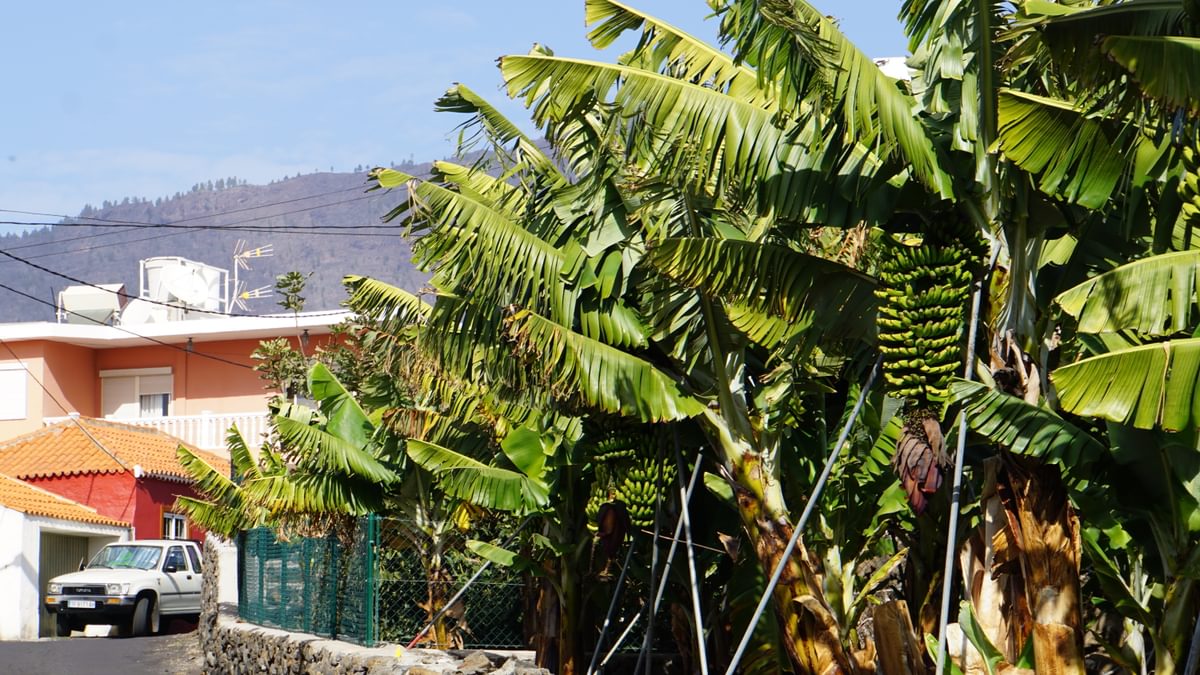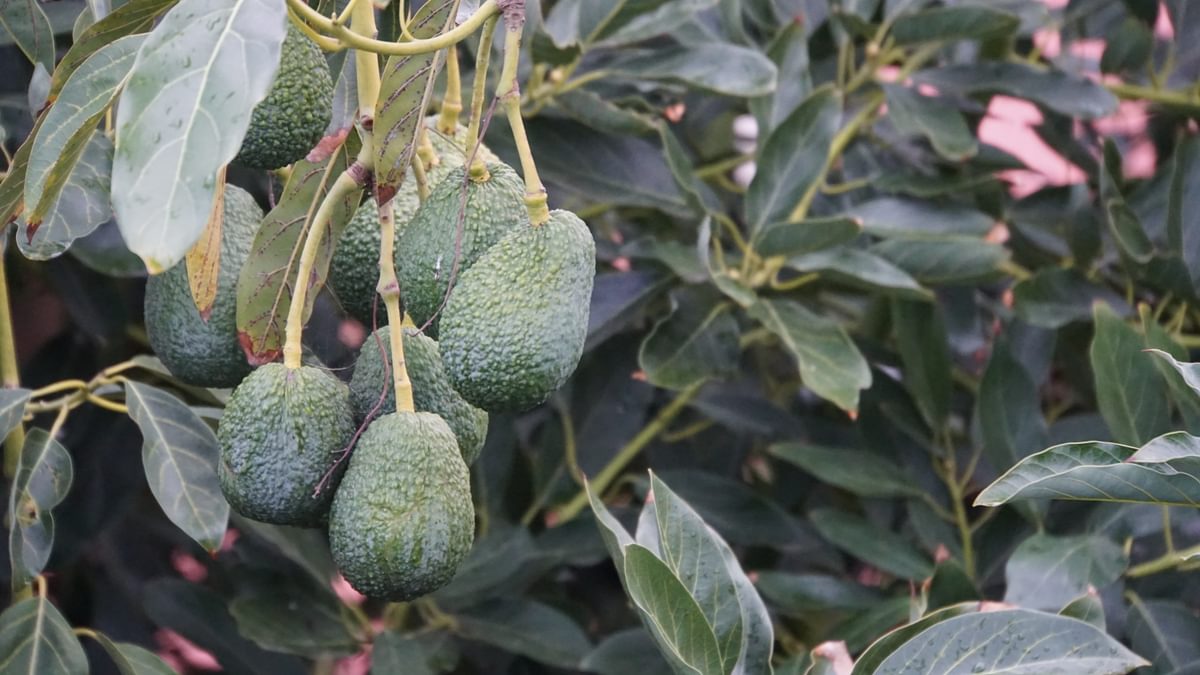 A mix of nature and culture on the Camino Real de la Costa
The GR130 took me into the hills south of Santa Cruz de la Palma. The Camino Real de la Costa, as the GR130 is also called, is a hiking trail that stays relatively close to La Palma's coastline while encircling the whole island.
There were just a few hours of daylight left when I noticed that the trail wasn't immediately taking me out of Santa Cruz's suburbs, and I started to wonder where I was going to pitch my tent. In the end, I did find a decent spot – it even had a view of the sea – and the next day I hiked to the south tip of the island over black volcanic ash and through pine-forests.
Staying close to the coastline inevitably meant crossing roads and walking through urban areas, which were beautifully decorated with palm, banana and advocado trees. Even though I had imagined the GR130 to be more of a pure hiking trail, so I enjoyed seeing the local architecture and discovering that La Palma has wonderful authentic cafés which serve excellent coffee.
Day three brought me to the west side of the island and the town of Los Llanos. Los Llanos is the gateway to the Caldera de Taburiente, a canyon-like valley bordered by the mountains where the GR131 follows the highest ridges.
I explored the Caldera for a day, enjoying spotting wildlife at the Rio Taburiente – one of La Palma's few rivers – but then the high mountains were calling.
View to the Caldera de Taburiente National Park on the GR130
Rio Taburiente, in the heart of the Caldera de Taburiente National Park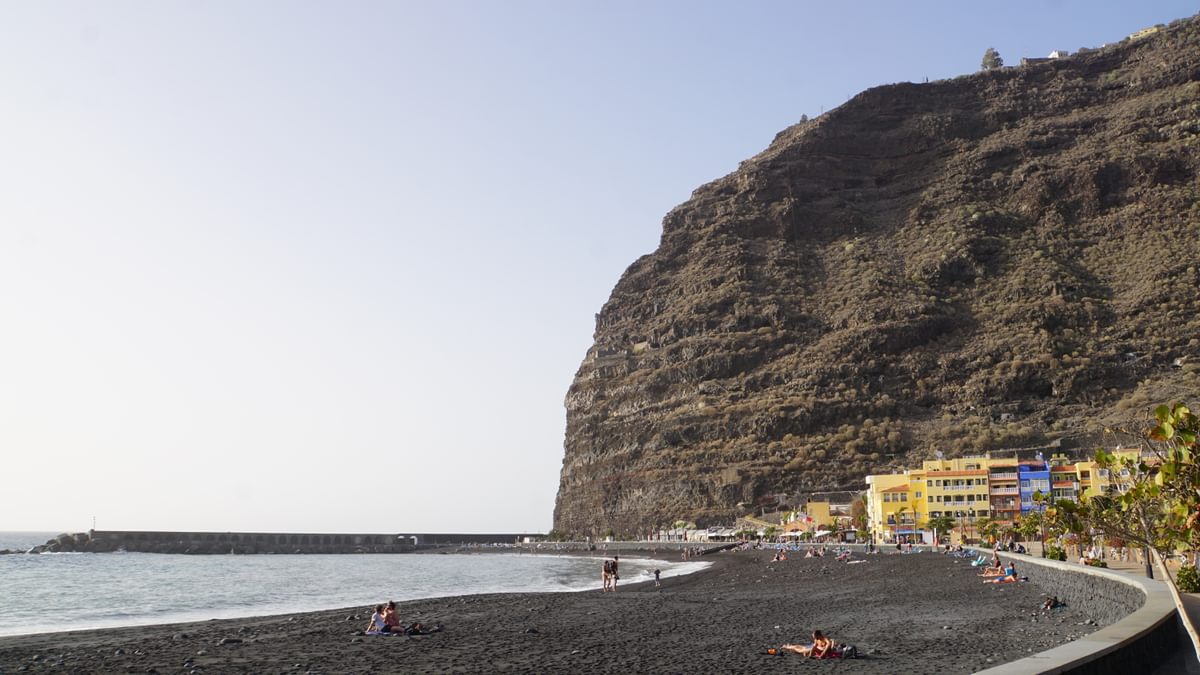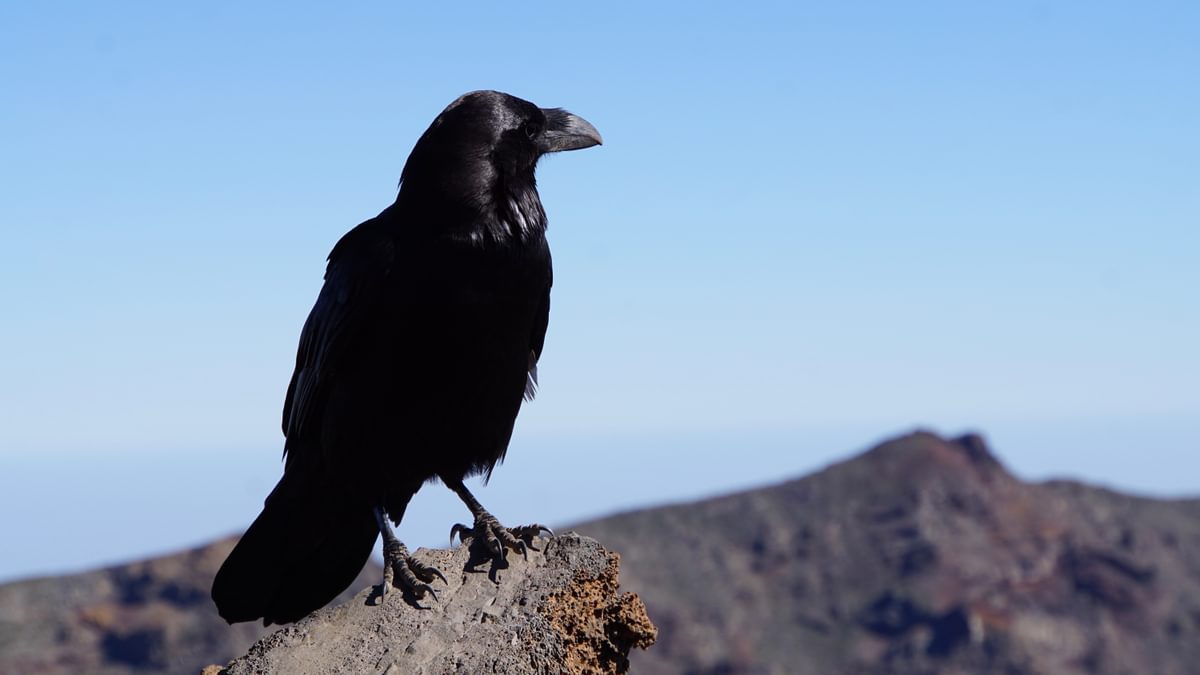 The GR131: from sea-level up to La Palma's highest peak

I was looking forward to La Palma's real challenge: the GR131. The timing couldn't be better, as the weather forecast showed three consecutive sunny days.

From Los Llanos I walked down to the seaside village of Tazacorte, where the brutal, relentless climb to the highest peak, Roque de los Muchachos, starts. I climbed 500 vertical meters in the evening light, pitched my tent on a rare flat bit of trail, and climbed the remaining 2000m the next morning.
It was a colourful adventure through orange-green Pine forests and, once I was above the treeline, yellow, orange, purple, brown and black volcanic rock. The sky was bright blue, and I had amazing views down into the Caldera national park and, in the far distance, to Tenerife's El Teide. On the trail I crossed a handful of day-hikers and a good number of mountain bikers.
Roque de los Muchachos (2426m) has road access, so even in the middle of January there was a crowd of people around the peak. But thanks to that road access, drinking water is readily available at a place where you wouldn't expect it. I ate my lunch near the peak, accompanied by two pitch-black ravens who appreciated the crumbs of bread and cheese I occasionally dropped. I drank a lot, filled my 3l water capacity back up and happily swapped the busy peak for the solitary trail again.
I had a short but very uplifting chat with a trail-runner at the head of the circularly shaped mountain ridge, which resembles a huge glacial cirque. But unlike the Pyrenean and Alpine cirques, these mountains were formed by consecutive volcanic eruptions. As for the amphitheatre-like shape of the caldera, that is the result of a crater collapse on one side of La Palma's largest volcano.
Towards the evening, I reached the south side of the caldera's ridge and pitched my tent on yet another rare bit of flat ground. To the west, I looked 2000m down into the caldera and in the distance, I could see the sun setting towards the Atlantic Ocean, while to the east I had fine views of Tenerife. The sunset provided a great, long-lasting show and once the sun was gone the temperature dropped sharply.
Amazing colours and geology on the GR131
A camping spot with a view to die for on the GR131
There was a fair bit of wind that night. My tent pegs were only loosely held by the volcanic soil, requiring an additional weight: heavy rocks. The waning moon wasn't as bright as it had been until a few days before, but it still kept me awake for part of the night. Luckily the long winter night still gave me enough time to recover and the next morning I woke up well before sunrise. I got my camera's battery as warm as I could – the temperature was well below freezing point – and waited for the sun to rise from behind El Teide. To my surprise and delight, the sun rose exactly from the peak.
The temperature quickly rose to a comfortable level, and soon I was on my way again. I briefly departed from the GR131 to climb to the top of Pico de la Nieve (2239m), where I met a British hiker having her breakfast. We had a lively chat about mountains and hiking before I continued to Punta de los Roques, where there's an unstaffed mountain hut. There I hopped from the Caldera's ridge to another mountain ridge, the Cumbre Nueva, leading to the south side of the island.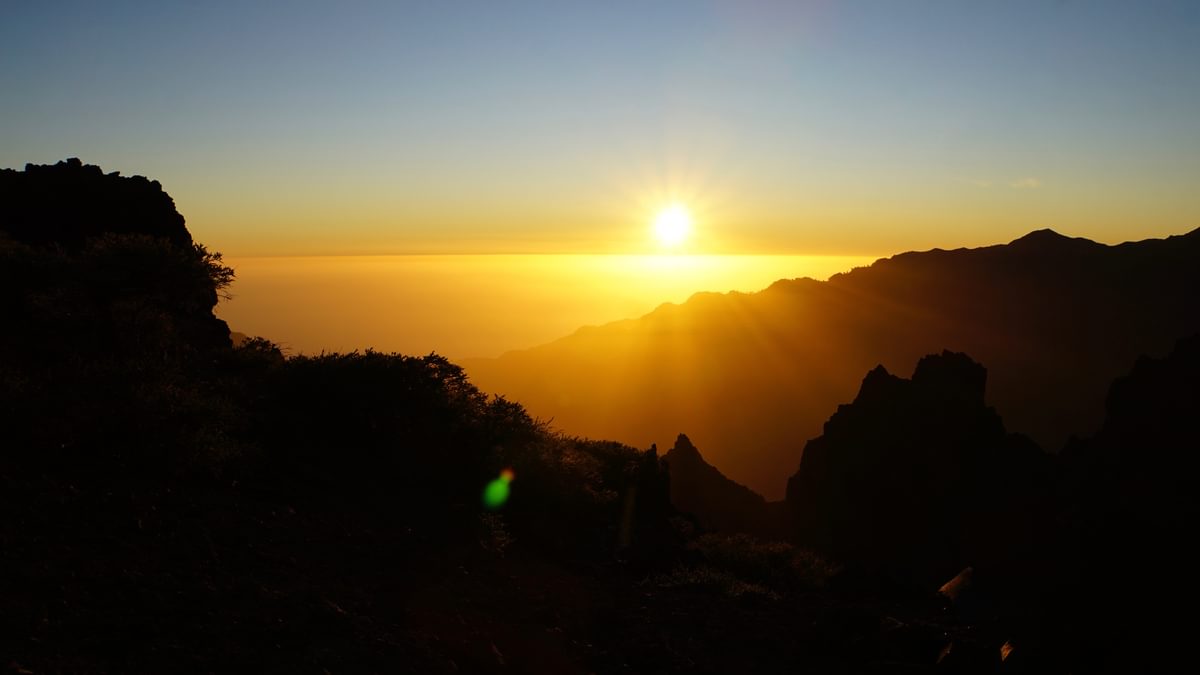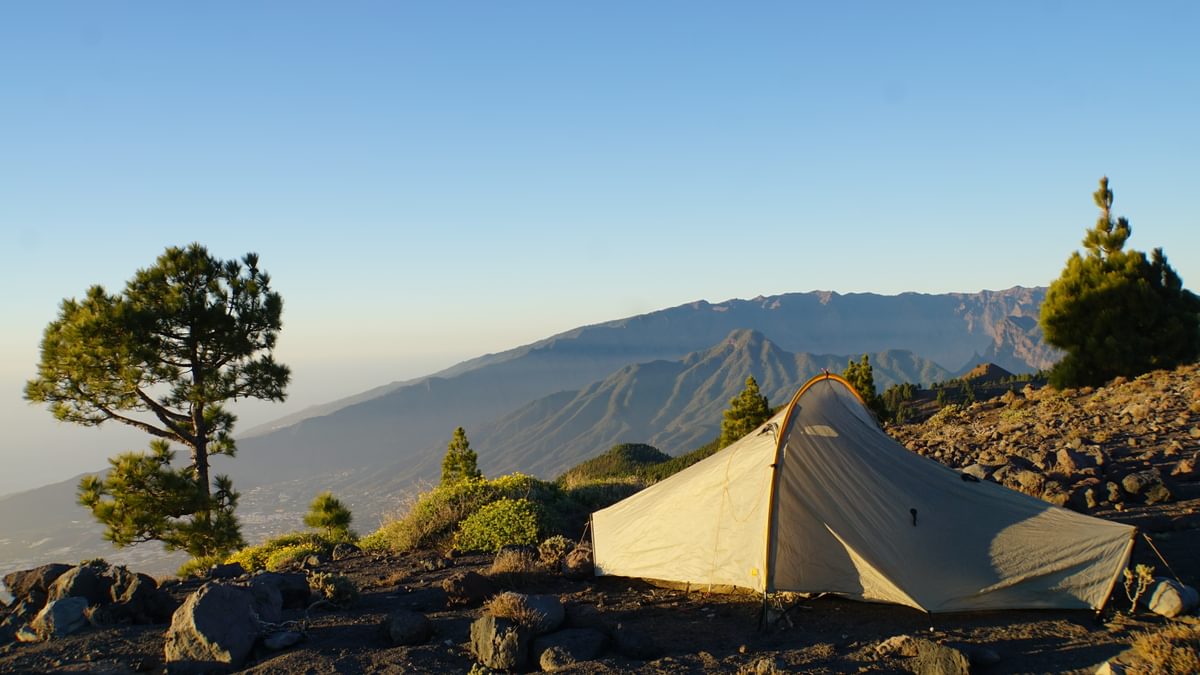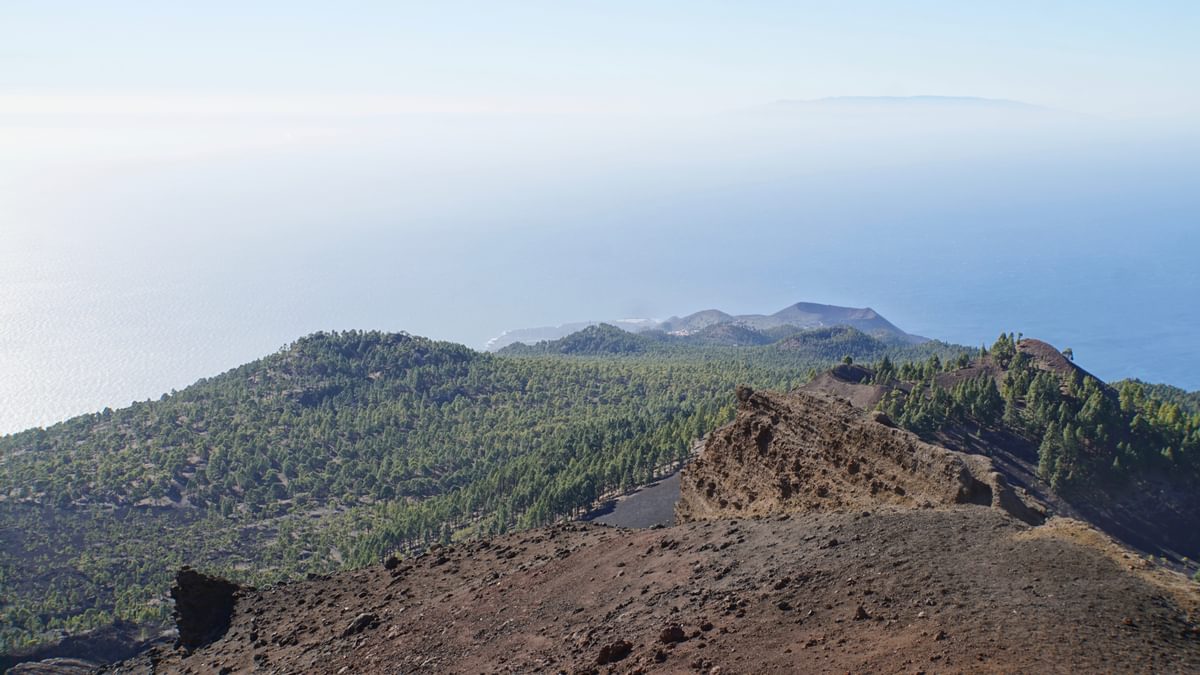 Towards the southern tip of La Palma
I faced a 10km long, forested ridge going down first and then rising again towards a wide mountain range. The rest of La Palma's south tip was hidden behind that range, but I already had that great feeling of overlooking an island from above. The ocean was spread out on both sides and I could see neighbouring islands El Hierro and La Gomera in the distance.
I hiked over volcanic ash and past pine trees, taking in the view and enjoying the sun's warmth greatly. In the afternoon, I took a break at refugio del Pilar, a forested place with picnic and camping facilities. About an hour later, I was 400m higher again and I found a relatively flat place with great views to the west. I decided to settle there for the night.
By now the days were already slightly longer, so the sun set closer to 7pm. I enjoyed another evening with an amazing sunset. The night was windy and cold, and I was glad I had again secured my pegs with large rocks. This time I had even built a small stone wall, which I didn't regret. My warm sleeping bag once again proved its use. Even though it usually keeps me warm down to -9 Celcius, I felt only just warm enough due to the windchill.
Just like the previous ones, my third morning on the GR131 started with a cloudless sky; the only clouds were very low, just above the ocean. My tent spot had given me a great view to the sunset, but now I noticed that the best views to the sunrise would be further on the trail. I quickly hiked there with my camera and waited. Soon, the sun backlighting the low clouds provided an amazing morning show.
A little later, I was hiking up the narrow trail leading to the peak of Volcan Deseada. Eruptions there are as recent as in 1949 and the slopes of the volcano were littered with relatively small pitch-black rocks which looked like they had just recently hardened after having been spewn out of a crater. A little farther, I hiked to the peak of Volcano Martin, from where I could finally oversee La Palma's south end.
At that peak, I chatted to a Spanish hiker and we ended up hiking together to the beach at Faro de Fuencielante. After a refreshing swim, he gave me a lift to the north side of the island, where I would discover a whole new aspect of life on La Palma.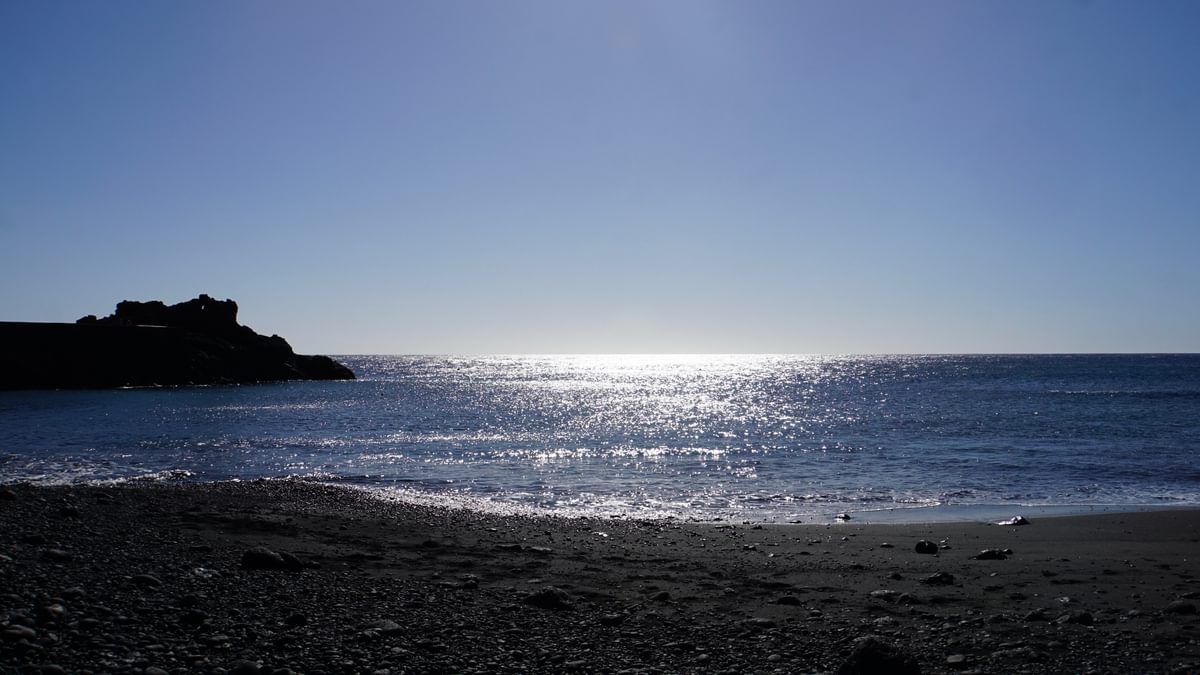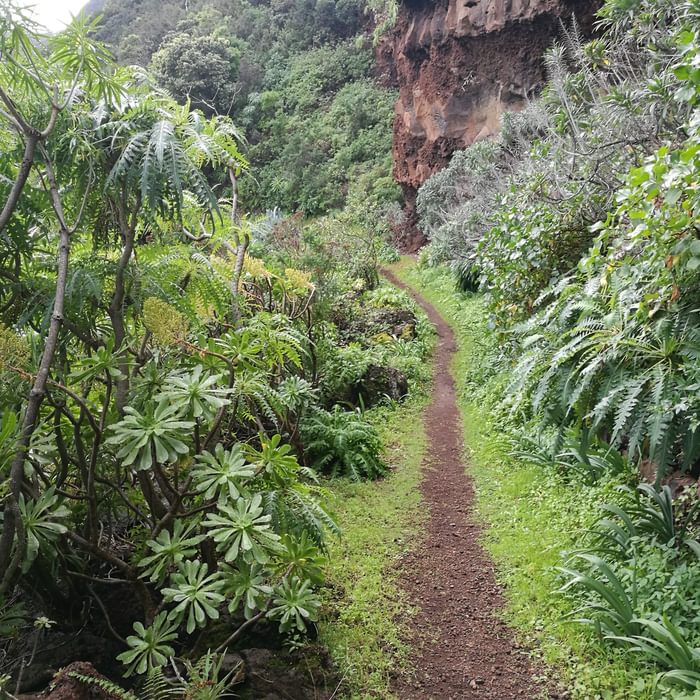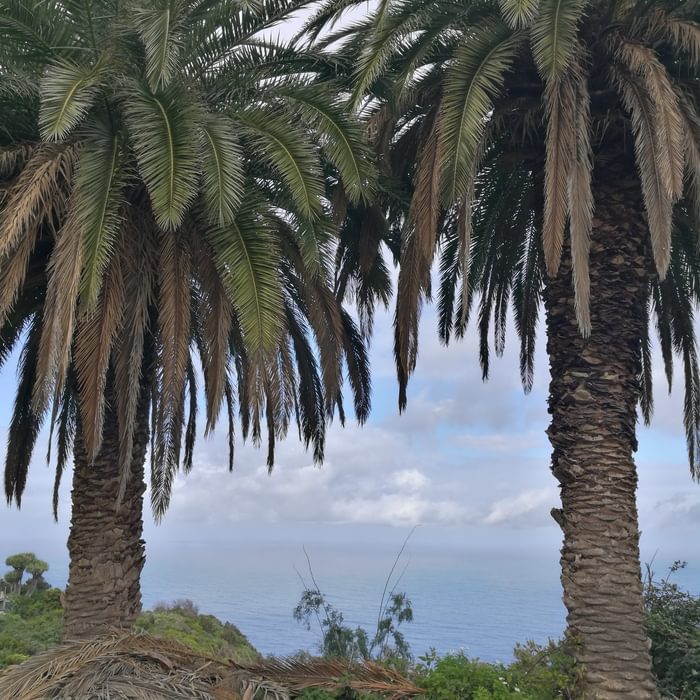 The north side of La Palma: dragon trees, caves and hippies
The contrast with what I had so far seen of La Palma was great: gone were the urbanised areas, the volcanos and the Pine forests. Instead, I was now hiking on narrow trails with a thick, lushly green vegetation. Exotic dragon trees and large wildflowers decorated steep paths descending into narrow valleys. The slopes hosted numerous caves big and small, some of which had been turned into living spaces, while others were inhabited by mountain goats.
The villages were small, cosy and authentic. And when I arrived in Santo Domingo, I had coffee with the British hiker I had met some days before on the GR131. The north of La Palma felt like entering a different world, especially when compared to the other coastal sides of the island which have a much more touristy feel about them. I started to feel at home on this island.
The next day I hiked along the wide north end of the island. As I passed many more caves, it wasn't difficult to imagine how Cro-Magnon cave people had been living in this area, until as recent as the 15th century. In one of the caves I saw a lightly dressed couple who were living a more modern version of the cave-life for some time.
Until about a decade ago, there was a thriving hippie-like movement on La Palma with several hundreds of people living in caves. Now the numbers are much smaller, but I found it easy to see why people would choose exactly this spot in search for peace and love. The climate is one thing you doesn't need to worry about, the sea is nearby (though not easily reached), the scenery is magical and crops can be grown year-round.
My hiking adventure was slowly coming to an end as I hiked down into one of the valleys, from where I was hoping to have access to the ocean. In the bottom of the valley, I met a Dutch hiker who was setting up her small tent. It was only afternoon and I hadn't planned to stop hiking yet, but spending time with a fellow hiker was a chance I couldn't let slip.
I set up my tent too before going for a swim. I enjoyed chatting and exchanging hiking experiences with my fellow hiker, Roos. Roos was an experience long-distance hiker who was just starting her hike on La Palma. It was funny to realise that possibly the only two thru-hikers on La Palma had found each other and were camping next to one another in a small valley.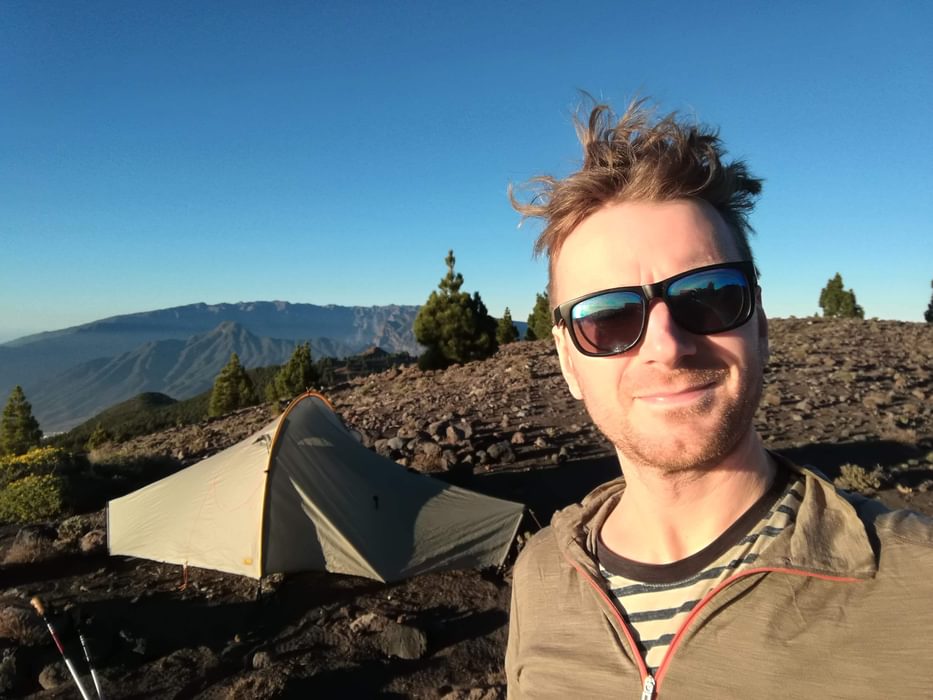 Looking back at my first week hiking on a Canary Island
The next day, while on the bus to the airport, I was looking back at a very diverse adventure. La Palma is a great place for winter hiking, with it's comfortable temperatures and diversity of landscape. With it's beaches, towns, authentic villages, high mountains, wildlife, a sub-tropic vegetation and much more, there is plenty on this island for hikers to explore and enjoy.
I felt a little sorry that I only discovered the north side of the island at the end of my trip. I couldn't help wondering how my trip would have gone if I had started direction north on the GR130 on day one (I was contemplating both options for quite some time), but I still feel satisfied with how this trip went. I will definitely go back one day, to explore more of what the amazing island of La Palma has in store.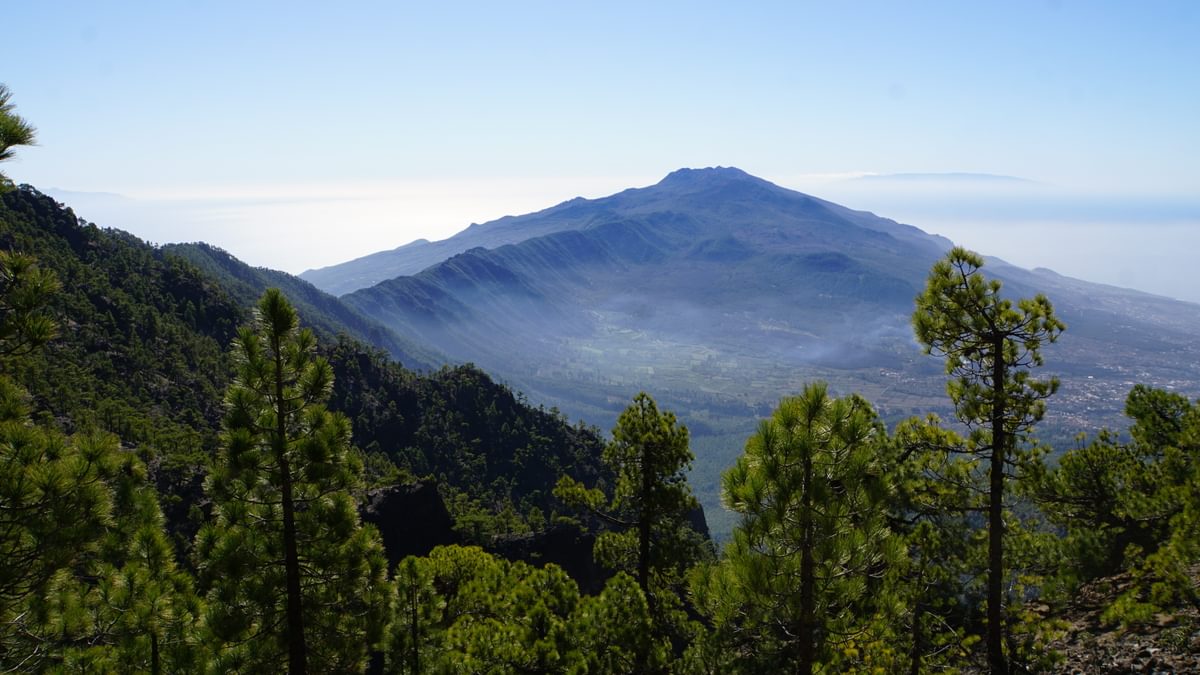 Cumbre Vieja Volcano
A number of walking trails on La Palma have been closed due to the volcanic eruption on the Cumbre Vieja. In short, there are currently no open trails south of a line drawn between Santa Cruz and Los Llanos. Also, trails within the Caldera de Taburiente national park are also closed.
To read more articles like this get our newsletter
Sign up today for a 20% discount on your next purchase. Join over 30,000 enthusiasts from around the world. If you don't love our mix of new books, articles, offers and competitions, you can unsubscribe at any time. We will never spam you, sell your data or send emails from third parties.