The Apennines gain UNESCO recognition
A huge chunk of the Italian Apennines has recently been added to the UNESCO World Network of Biospheres Reserves list. And five stages of the guide Trekking in the Apennines by Gillian Price explore that entire ridge area.
The Appennino Tosco-Emiliano biosphere reserve (Italy) is located in the Tuscany and Emilia Romagna regions, in northern-central Italy. It covers the Tuscan-Emilian Apennine ridge from Passo della Cisa to Passo delle Forbici. This stretch of ridge marks the geographical and climatic boundary between continental Europe and Mediterranean Europe. It includes 38 municipalities. The total surface of the site is 223,229 hectares. The reserve contains 70% of all the species present in Italy, including species of birds, amphibians, reptiles, mammals, fish, the wolf and the Golden Eagle, but also great plant biodiversity, with at least 260 aquatic and terrestrial species. The main economic activity is agriculture, of various kinds depending on the landscape. A tourism economy has recently been developed to improve the link between tourism and agriculture, with, for example, "zero kilometre menu" restaurants using local products.
Gillian's guidebook describes the Grande Escursione Appenninica (GEA), a nearly 400km long, three week trek crossing the Appenines in 23 stages, from Bocca Trabaria to Passo Due Santi on the edge of Liguria. The route dips in and out of Tuscany and Emilia-Romagna, never dropping below 400 metres. Best walked between spring and autumn, it is suitable for any reasonably fit walker. Highlights include Monte Prado – Tuscany's highest peak – friendly villages and comfortable hotel-style accommodation, memorable meals and yet few walkers, besides the Casentino National Park and Franciscan sanctuaries, the WW2 Gothic line, open ridges on the northern stretch, alpine-style lakes in the Apennines National Park, magnificent beech woods and alpine flowers.
The Apennines are Italy's best-kept secret
Forming the rugged spine of the Italian peninsula, this range provides thousands of kilometres of marked trails over rocky crests and ridges and explores extensive forests and meadows, following routes established long ago by traders, pilgrims and shepherds and little affected by mass tourism. Dotted throughout are historic sanctuaries, national parks and nature reserves, wildlife and wildflowers, incredible roads and passes, and stark memorials to the terrible events of World War II.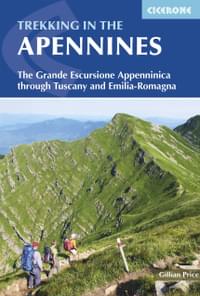 Trekking in the Apennines
The Grande Escursione Appenninica
£14.95
Guidebook to the Grand Apennines Trek, or Grande Escursione Appenninica (GEA). Through Tuscany and Emilia-Romagna and 2 national parks, this 400km trail takes 23 days to complete, exploring the mountains, forests and hills of central Italy. Suitable for a range of walkers, it can be split into shorter sections or day walks if needed.
More information
To read more articles like this get our newsletter
Sign up today for a 20% discount on your next purchase. Join over 30,000 enthusiasts from around the world. If you don't love our mix of new books, articles, offers and competitions, you can unsubscribe at any time. We will never spam you, sell your data or send emails from third parties.