The Ten Tors Challenge – preparing for the big day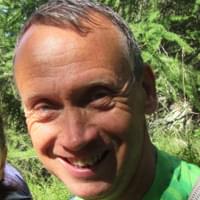 In part one of a two-part feature, Andy Hodges describes the amount of time and work it takes to prepare a group of teenagers for the Army's annual Ten Tors Challenge on Dartmoor.
Fifty metres' visibility, gales and seriously negative wind chill. 'Today is going to be a good day, Andy,' 15-year-olds Sam and Ben say when we meet in the school car park in the pre-dawn darkness of a mid-winter morning. Already double 35-mile route veterans and eager to tackle the silver medal challenge of 45 miles, it takes more than rain, sleet, wind, fog and cold to put them off turning out for a day on Dartmoor.
The Army's Ten Tors Challenge is on a par with anything the highest-performing military units might take on. The short route covers 35 miles, the mid-distance event is 45 miles and the gold standard challenge is 55 miles. These are straight-line distances; in reality, another 10% needs to be added to account for the twists and turns of a good route.
Around 1400 14-year-olds take on the 35-mile challenge each year, with another 600-700 taking on the 45-mile route and a few hundred 17 to 19-year-olds coming back for the staggering 55-mile attempt. Trekking across the open moor as a self-contained, self-sufficient team of six from when the field guns fire at 7am on Saturday morning to finish before 5pm on Sunday is no mean feat.
Dartmoor provides the ultimate challenge of navigational ability for the armed forces. The Army and the Royal Marines are frequent visitors, and those on escape and evasion training and basic training are all part of the usual population of Okehampton Battle Camp.
But, for one weekend each year, the camp takes on something of a festival atmosphere as more than 3000 'civvies' arrive and set up camp in the farmers' fields around the base.
I have been involved in Ten Tors since 1994, usually as a member of Dartmoor Search and Rescue Tavistock (DSRT), part of Mountain Rescue England and Wales (MREW). For the past few years I have assisted my wife Sue's school with Ten Tors training. This year I was the team manager.
I was charged with devising a training programme that would put two teams of six at the 7am start line. Six competent, capable individuals able to look after themselves and each other in the worst Dartmoor conditions. With 25 years of DSRT service I was more than aware of just what Dartmoor can throw at the unsuspecting walker. Blistering temperatures into the mid-20s and snow have both made their presence felt to teams in years gone by. Fog is common, rain is a regular companion and Dartmoor's bogs are infamous.
Refresh and develop
The training began in November. We were aiming to refresh and develop navigation skills with our returning 45-mile candidates. They had all completed the 35-mile challenge at least once; most had done it twice. They were skilled, fit and well equipped. Our 35-mile team were mostly new to the experience, apart from old hands Jav and Jamie who were set for their second 35-mile challenge. Six am on a Saturday morning was something of a surprise to the 14-year-olds after a week of school, but they were here, ready and raring to go.
The minibus door was almost ripped from my hands by the wind. No-one faltered as we huddled around in a group to discuss the day's plans that the teams had prepared over the previous two week's lunchtimes with Sue's support. Each card had been thoroughly checked by Lee, another volunteer, prior to being printed on waterproof paper.
With a team of willing and capable adults in support, the teams set off. Having Coombe Dean's head, who holds a Mountain Leader qualification, is a real bonus, and two teachers from nearby primary schools were here, too. All volunteers, all dedicated to getting the young people skilled and ready for that start line. Kevin, the premises manager, is our stalwart Off Moor Safety Team (OMST) and one of the minibus drivers. The OMST is a vital safety aspect of the training.
As we struggled to the higher ground the teams were gaining valuable experience. Nothing beats first-hand experiential learning. Hoods and coats needed managing – loose items needed locking down, taking turns 'on point' gave others a break from the wind. Pacing and timing were under scrutiny and the teams were learning to take high winds into account when adjusting timings – 7kph with the wind behind was a breeze! 3kph with the wind in your face was almost impossible.
I was out with the 45s for the day. In 30m visibility on the high ground I decided to put our team leader on the spot. Although every team member is capable of navigating, Sam, Ben and Joel usually took the lead in navigation matters; after two previous 'seasons' of TT training these boys can match many an ML for pinpoint accuracy. Two years ago, Joel had earned the nickname 'GPS Joel' for his uncanny ability to be spot on from just the map and ground feature recognition. I asked Ethan to take the lead: 1km in poor visibility on a bearing to a tor; no contour features to help, no waymarks en route, no catching features for at least 300m beyond. This was going to be done by pacing, timing and accurate bearings. I had my GPS out and used it to track their performance. We set off. The view was the same in all directions. I attempted a panorama photograph, but my camera wouldn't co-operate – a new message on screen: 'not enough features to process'. Without a moment's hesitation, Ethan set off. The team followed with total trust.
After 500m Ethan called the distance – on my GPS it indicated 495m completed. Then the ground decided to throw in its challenges. The infamous 'babies heads' (the military term for peat hags) could have thrown Ethan off guard. He adjusted his count. 600m, spot on; 700m, still going strong; 800m, less than 10m off; 900m, not far now. Ethan asked the team to spread out into a search line, and at 975m I noticed a vague shadow begin to emerge to the left. 995m completed on my GPS and Ethan called a stop.
The tor was there, directly in front of us. As the Royal Navy ad used to say: 'The team works.'
Our next walk saw us find uncrossable rivers – not an uncommon feature in winter on the moor. We rerouted, the teams learned more valuable skills – Plan B and Plan C are essential aspects of preparation. Experience, as they used to say, is a collection of near-misses and disappointments.
Exped and selection
We moved into the 'Exped phase' in February. Rucksacks became increasingly heavy, tent pitching and stove sessions led by Kevin were completed.
After a very windy first exped we came to selection weekend – the teams were moving independently by now and were being spot-checked by the tirelessly dedicated volunteers. Waiting on a cold, windswept tor for the teams to appear out of the murk is surprisingly tiring. The teams were doing well, an hour ahead of time and moving as cohesive, confident units. Mike and Imogen, two Year 13 students who have completed all three Ten Tors distances, were more than capable of providing support, this year enjoying the 'easy walks' of 12-15 miles between checkpoint stations.
The campsite was little more to the teams than a grid reference that they would try to reach before nightfall. The 45s arrived first, pitched their tents and had their trusty Trangias roaring away by the time the 35s and staff arrived. After 12 hours of walking all were tired and ready for bed by 9pm. Another pre-dawn start was due, with departure planned for 6am. No complaints. Fourteen teenagers in bed and asleep before 10pm and all up by 4.30am, stoves roaring in the dark once more.
A final long walk and wild camp in April was compromised by recent wild fires on the high moor. The 35s were gaining confidence all the time; Toby, Dylan and Brendan proving themselves to be committed members of the team, never missing a training session, a smile on their faces and a completed route card in their hands. Jav and Jamie's calm manner and 'we'll be fine, we've been there before' confidence was contagious. Eddie was back for more, he had been our all-important reserve team member last year as he was having to balance inter-county rowing competitions with TT training. He had found he had almost no free time left after packing kit, attending rowing training and completing route cards. This year he was in the team and ready for it.
These young people displayed the grit and determination required in buckets.
Hannah, being by far the smallest of the 45-mile team, is a perfect blend of toughness and kindness. She managed to carry an iced birthday cake for Archie's 16th birthday across 30km of the moor, through rivers and bogs and across ankle turning fields of clitter (the local name for field of small boulders usually around the tors part of the tor-formation process). For two years Archie has always offered the team a selection from the largest bag of sweets imaginable, shared coffee in the cold and endlessly looks after everyone. They returned the compliment this evening.
And there we were, six months' training and some difficult decisions and we had our two teams. We gathered on Friday morning at school, eagerly awaiting the announcement of which routes the teams had been allocated. As soon as we knew, we were ready to plan. I reminded the teams of the terrain they had travelled during training. 'Jav, this is where you sank over your knees in January, remember?' 'Yeah, how could I forget.' 'Remember when you guys followed the leat too far, Jamie? The wall is a catching feature.' 'You camped here last year, Ben.' 'Hannah said this is a faster route to Prewley, remember it?'
Ready to go
And we were off. Kit had been checked against the kit list, maps were marked with Rare Bird Nesting Areas (all out of bounds) and route cards were completed. The camp was as busy as ever; somehow, we found the base camp with its school flag flying proudly. Kevin had been here since early Thursday morning along with leaders from our buddy school, Devonport High School for Girls, to ensure everything was ready for us.
The Army safety briefing was complete – all team members were familiar with the routine for calling in assistance with their dedicated tracker unit and helicopter landing communications. The Merlins were a constant fly-by distraction as they came in and out of the field that served as their landing zone for the weekend. Although everyone wanted a flight, no-one wanted one either as it would signal the end of the dream.
Final prep completed, Pete, the DHSG Team Manager, and I had final words – come back safe and come still back friends was our motto. We weren't aiming to be first (it isn't a race, it's a challenge), just come back happy.
An early night, another 4.30am rise time. The traditional reveille of 'Chariots of Fire' at 5am from the Army and the teams shouldered their packs and headed for the start line.
The speech, the prayer, the fly-past. The guns fired; the teams were off. Our job was done, the waiting begins…
Read Part 2 of Andy's feature to find out how the teams get on.
To read more articles like this get our newsletter
Sign up today for a 20% discount on your next purchase. Join over 30,000 enthusiasts from around the world. If you don't love our mix of new books, articles, offers and competitions, you can unsubscribe at any time. We will never spam you, sell your data or send emails from third parties.