The Ten Tors Challenge – the day arrives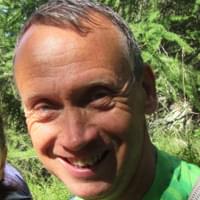 In part two of his feature, Andy Hodges describes the hope, the worry and the wait while the teams take part in the annual event.
As the sun blazed down on the crowds, 2400 young people set off with something to prove – to their families, friends and, most of all, to themselves. We can do this.
Some inexperienced teams ran from the start; the more experienced allowed the rush to go. Thirty-five, 45 or 55 miles is a long way. To twist an ankle running down a hill, through a stream and into a bog was not part of our teams' plans. And then, there they were, our 45s strolling down the hill. Hands in pockets and sauntering along. Plenty of time, taking it steady. Within 15 minutes not a single team could be seen. Over 2000 youngsters had disappeared into the moor.
We made our way across the same hillside, stream and bog to the Jubilee Challenge start. This 'newer' challenge has been going since 1977, a mere 42 years now! It gives young people with special needs an equally challenging adventure and, along with their support staff, enjoys a start line of its own with a long corridor of cheering well-wishers bidding them an equally exciting day.
We returned to the tents, strangely quiet and eerily empty. For nearly two days the army camp had been festival-like. Cheering, waving, singing groups of people, live music, bright colours. And now it was empty.
The young people who came as reserves returned to the camp. Their hopes of a last-minute entry dashed for this year. For some, tears were shed as they knew it was time to go home while their team-mates were out there, tackling the tors.

Nothing better to do than wait
Two hours into the event and the teams would have covered between 6 and 10km according to their route cards. We walked up to the 'shed', a large army hanger that formed the admin hub for the hundreds of team managers for the next 36 hours. The data projectors endlessly scrolled through the routes. Find the correct screen, remember the team allocation 'number' (two letters) and look for their latest check in time at one of their tors. Of course, when looking for Team A listings the screen had just rolled over to B. Well, there was nothing better to do than wait. After all, there would be 36 hours of waiting, a 5-minute wait was nothing!
The screen scrolled to A. AE, our 35-mile boys. How was Jav doing leading them? They weren't on the screen? What had gone wrong? They should have been well past Oke Tor by then. Did they rush off in the wrong direction? Lots of teams do. They blindly follow the team in front until the first tor when they discover they are 6km or more away from their intended first point. Surely Jamie had fulfilled his role as back-up and wingman to Jav? No other teams were listed, I relaxed a little. Data management was the issue, not map management! The IT caught up within the hour and, suddenly, the boys were there! Flying along, well past their second tor, ahead of their times on my crumpled route card stuffed in my pocket. The 45s were also flying along, both teams 40 minutes ahead of their ETAs.
And so, our day's pattern developed. Back to the tents; coffee, cake, biscuits, coffee, cake, biscuits. The adults wandered around, friends who only see each other once a year met again, long-standing friendships nurtured over years of rain, wind, mud and bog. The teams were doing well; by lunchtime they were well on their way to the southern ends of their loops and by 4pm the 35s were already beginning the return leg. Their Plan A to camp at Standon Farm was looking feasible; this would leave a shorter Day 2 and would be warmer than camping on the high moor at White Barrow. It was about 21 miles into their 35-mile route and looked promising.

The return leg
The 45s were, by now, crossing the road at Two Bridges with a tough and challenging section to go, through rough fields and clapper bridges to reach Peat Cot. Plymouth and home were now closer than the start! 6pm, 11 hours of walking and they had turned around to begin the return leg. Skirting around Princetown, its public toilets and shops out of bounds and monitored, the team made their way to Middle Staple Tor and were looking good. They even met a member of Dartmoor Search and Rescue Tavistock (DSRT), with whom they had completed some recent training. David Johnson has been involved with Ten Tors since he was 8 years old! His parents volunteer with Tavistock Youth Forum's training teams and he and his dad, Paul, are members of DSRT. This weekend, David was in his day-job uniform as a serving airman in the Royal Air Force. All the services work together to make Ten Tors a reality. A quick photo and they were off.
Back at Okehampton, the camps had been cleared of the now empty tents and the barrack's showers had been enjoyed/endured – hot or cold seemed to be the choice! The staff of Devonport High School for Girls and Coombe Dean had combined and enjoyed a very civilised evening meal. It was approaching 10pm and getting dark. I decided to pop up to the hanger and check on the 45s team. We had already had confirmation that the 35s were safely camped at Standon Farm. They had done so well, we were pleased they had got there early on, found a good spot and were, by now, probably fed, watered and tucked up in bed.
The Data Team tirelessly manage a bank of computers to track teams and I went over to get a spot check on team VL, our 45s. The tracker indicated they were still moving. This wasn't part of our plan. Ethan had planned to stop at dusk and ensure the team had enough sleep, rather than push on in the dark. Why were they still moving? Why were they only 1km away from their previous checkpoint two hours go? Why were they off route?
I could get no answers. I returned to camp and shared my worries. Pete and Rob from DHSG reminded me that the team were highly skilled and experienced, they'd be fine. But it didn't make sense. I didn't sleep well.
'Lost' on Dartmoor
We woke early, Sally's unbeatable freshly cooked blueberry pancakes and fresh coffee are always a Sunday morning highlight but where were the 45s? I set off to the hanger as soon as it opened. No updates. DHSG 45s had clocked a checkpoint at 6.10am and were doing well. I'd taught their team leader Cara when she was 8; now she's 16 and leading a team across Dartmoor! Times change!
The 45 and 55-mile teams cannot camp at manned checkpoints, they must camp at least 1km away from a checkpoint. Joel had had a brainwave on Friday and made a scaled 1km circle in the Technology Department with which he had marked up the maps, their intended campsites had been clearly identified by the navigation team. With the 45s 'lost' I was wondering what had happened. They never got lost! They have completed hundreds of miles of trekking on the moors, the weather was clear, they were in familiar terrain.
Ten o'clock, the parents began to arrive. They had been tracking their children's progress online and were here in good time. We had packed the mess tent away and moved up to the finish area. Reminiscent of a medieval battle field, Scouts and cadet forces were flying their colours and school flags fluttered, all rally points for parents and supporters. Richard and I decided the 35s could not be too far away and made our way to the top of the hill behind the finish. Their route came in on the 'blind side' and we could miss them if we weren't careful.
Some dead ground meant teams arrived at the top of the hill quite unexpectedly, so we moved a little further on and settled down to watch out for them. Is that them? No. Now? No. And then… maybe. It could be. They look about right, six of them. Altogether, two tall ones, one smaller one. Yes, that's them. They stopped a few hundred yards away, the tall one (it must be Jav) took his rucksack off. The banner was unfurled and they all took a section, lined up across the track and walked in. Six boys, one team, 35 miles.
The peace of the moor was lost as they descended, the finish arch and PA system beckoned. Cheering crowds and smiling faces were a shock to the system. Rucksacks dumped and then there they were, on the finishing podium. Medals, photographs and then, at last, a chance to be with the family eager to hug, kiss and celebrate. With a finish time of 11.39am they had completed 35 miles in a little over 16 hours of walking across featureless, trackless Dartmoor.
And now, where were the 45s? The hanger was busy, the screen had scrolled past to X route. I'd missed V. I impatiently waited.

A band of brothers, and one sister
VL, there they were. They'd been moving on route and averaging 4kph. Our hoped-for ETA of 2pm seemed optimistic. The weather was warming up; the heat is more of an enemy than the cold. I sat with the parents, we chatted about the route, the training and the upcoming expedition to the Alps. Parents, armed with binoculars, thought they had seen them; their route meant we'd see them from over a mile away as they crested a hilltop and dropped to the finish line. 'No, that's not them,' I said. Sam's mum asked how I knew. I replied that it didn't look like them, even with binoculars. After a few other false starts I saw them. Altogether, all in a line, all looking good. How did I know, Sam's mum asked. 'I can tell. It's how they stand, the order they're standing and how their rucksacks look.' From over a mile away, I could identify them by how they stand and their general look. Six months of looking out for them from cold, wet, windswept tors.
And down they came towards us. A band of brothers, and one sister, all friends, all together and all smiling. Tears were shed and handshakes were firm. Ethan had brought a full team home for the third time. Almost before they'd got to the finish line their thoughts were turning to next year and the ultimate challenge. The 55-mile route, the gold medal.
And the Saturday night disappearance? Nobody knows. Two weeks after the event the tracker routes were released, VL's route was step for step identical to the route they'd planned at school and I had loaded onto Memory Map. Not a step out of place, job done. Perfectly.
To read more articles like this get our newsletter
Sign up today for a 20% discount on your next purchase. Join over 30,000 enthusiasts from around the world. If you don't love our mix of new books, articles, offers and competitions, you can unsubscribe at any time. We will never spam you, sell your data or send emails from third parties.