The Velo Francette - France's newest long-distance cycle route
Gillian Thomas explores France's long-distance cycle route the Velo Francette, through Normandy, Pays de la Loire and Poitou Charentes from Ouistreham to La Rochelle.
Disembarking from a Brittany Ferry in Ouistreham after crossing the Channel from Portsmouth, you are at the start of France's newest long-distance cycle route, the V43 – Vélo Francette. Follow the route to its end and you'll end up 634 kilometres due south, at La Rochelle in the Charente Maritime on the west coast.
For those wanting a shorter ride, you can cycle the first part and then turn round to return to Ouistreham. If you are travelling by car and do not have a bike with you, there are plenty of places en route where you can hire one. There are also several rail stations along the way, enabling you to catch a train one-way.
Running north-south, the Vélo Francette links up with several existing long-distance cycle paths as well as shorter local circuits. In Normandy it crosses the Veloscenie route which links Paris with Mont S-Michel. For a few miles at Angers it joins La Loire à Vélo which runs beside the River Loire, before branching off at Saumur to head south-west to La Rochelle, meeting the Vélodyssée north-south coastal route at Marans.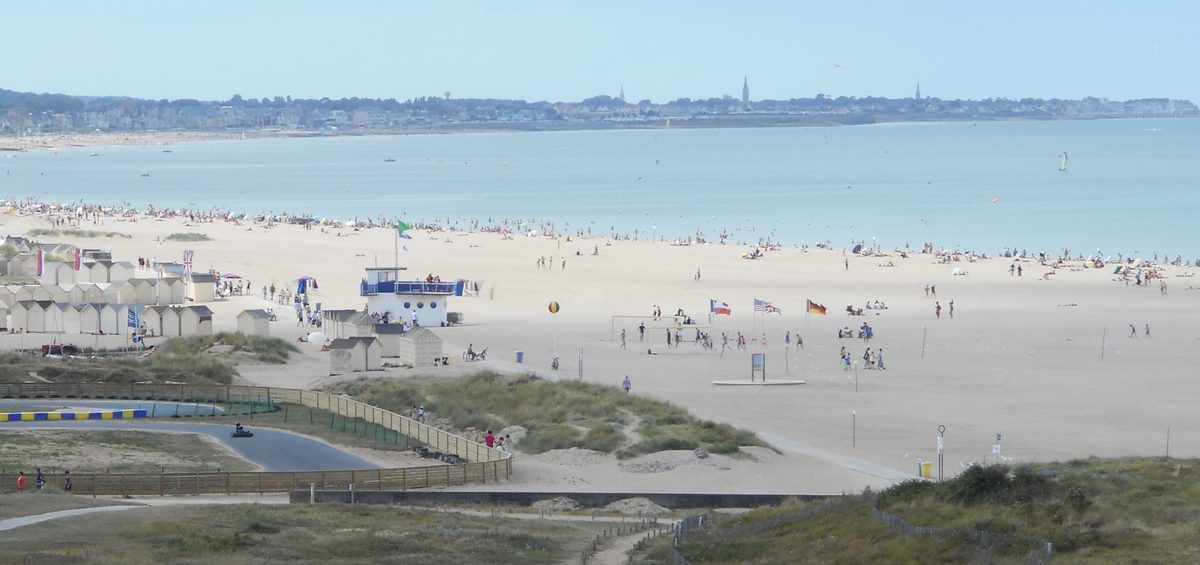 Not having enough time or energy to cycle the whole route, my husband and I decided to put our fold-up bikes in the car so that we could ride parts of the route and explore around it. We went through countryside that varied from the wooded hillsides of the Suisse Normande ('Swiss Normandy') on the southern edge of Normandy to the flat Marais Poitevin in the south beyond Niort, an area of marshes seamed with canals.
As long stretches of the route occupy former railway lines or run beside rivers or canals, it is predominantly flat – hard-core cyclists looking for a challenge should consider doing the whole distance in one trip.
But for those who enjoys shorter rides, it offers the perfect way to enjoy a leisurely journey across France, savouring its gastronomy and visiting attractive little towns and historic sites on the way.
Those with only a very short time for a ride can simply take the ferry to Ouistreham for a day or two. Heading from the port to nearby Caen, you cycle beside a broad straight canal right into the city centre, passing the famous Pegasus Bridge, the first bridge to be captured on D-Day. These days you'll find a small museum beside it.
Encircled by cycle paths, Caen is a place where it definitely pays not to be encumbered by a car because of the traffic. Renowned for its '100 bell towers', it has two majestic white cathedrals, an imposing castle (one of Europe's largest walled fortifications and once the home of William the Conqueror) and the outstanding Memorial de Caen museum, which vividly depicts the origins of the Second World War II. It also has an enticing selection of shops and restaurants.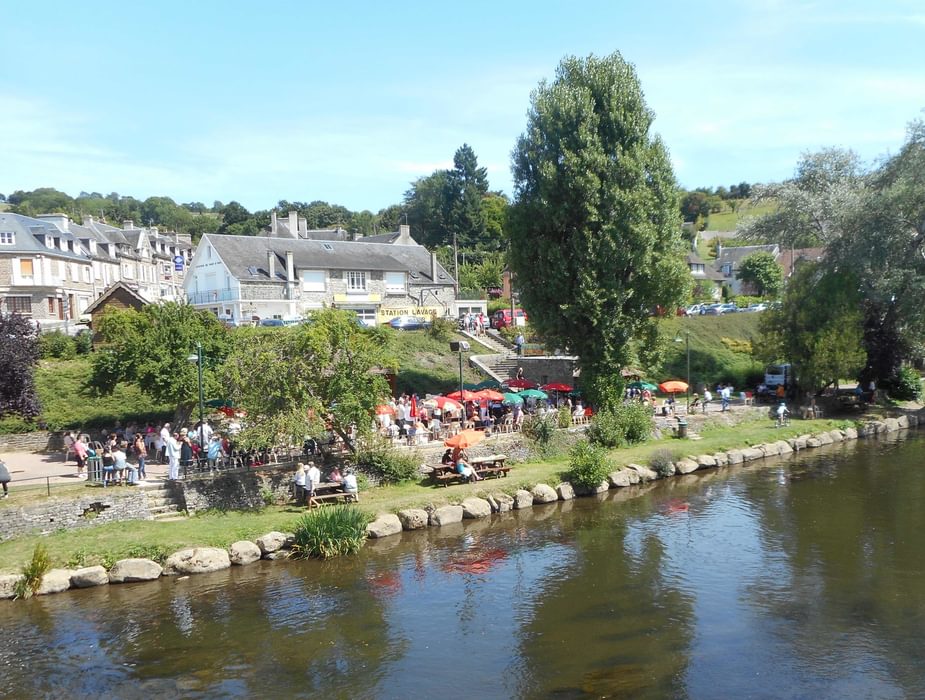 Pressing on south from Caen, we followed a peaceful stretch of converted railway line as it meandered along the valley of the gentle River Orne. This takes you to the Suisse Normande, so-called because it is hilly though definitely not as mountainous as Switzerland itself. Arriving at Pont d'Ouilly you have a choice of route: either along quiet lanes or up to the Roche d'Oetre, a rocky outcrop 118 metres high.
As this was not a challenge we were looking for, we drove to the excellent visitor centre at the top. From displays in its café, we learned that geologically it is the oldest mountain in France. From it there are wide views over craggy cliffs and forests to valleys far below. For walkers, trails lead along rocky paths carpeted with wild flowers.
Continuing south to Mayenne, the route picks up an old towpath beside the canalised River Mayenne, which leaves the town past a splendid array of flower beds. The river then cuts through a valley bordered by wooded cliffs where several fine houses peep out from behind the trees. Shortly at Bushambert Lock we met Isabelle Barrouche who serves drinks and snacks at her tiny café there (between May and September). This is one of few watering holes actually on the route.
The main town along the Mayenne is Laval where a white stone château, dating back ten centuries, dominates the river from a rocky outcrop high above it. Next comes Château-Gontiers, an attractive old town with a similarly long history. These days it is famous for its parks and formal gardens, eleven of which are open to visitors and feature a different theme each year. Just beyond the town and still beside the river, another nice spot to pause for sustenance in summer is a small bar restaurant which overlooks a quaint ferry-boat crossing at Mesnil.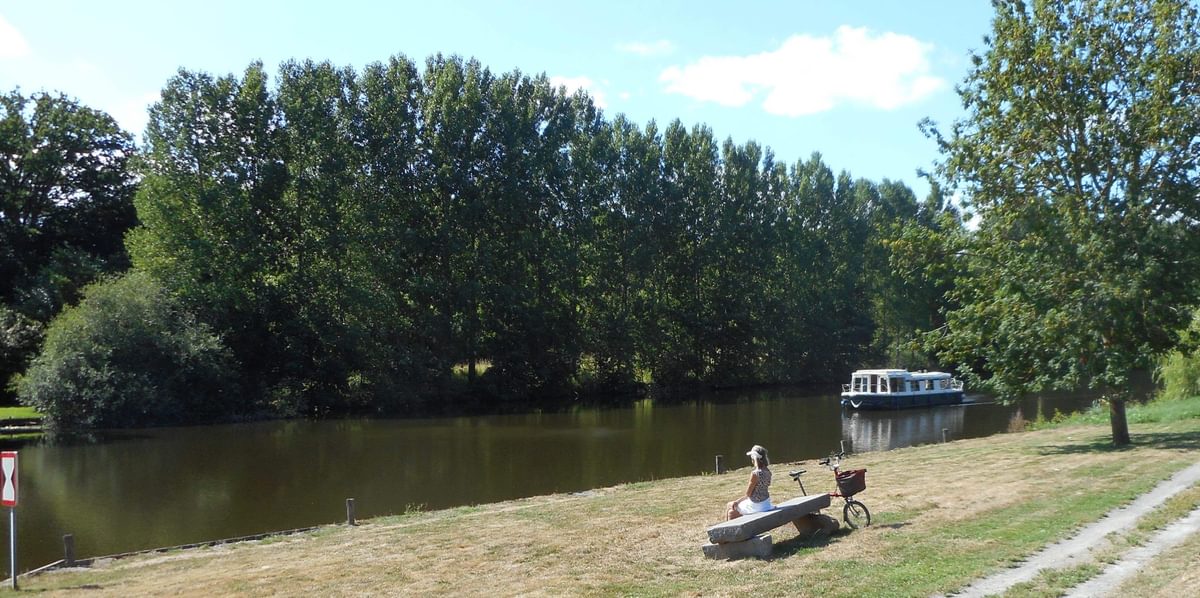 The Vélo Francette leaves the Mayenne north of Angers, joins the Maine river and then the Loire. Here it accompanies the Loire à Vélo route as far as Saumur, before crossing the broad shallow river and its sandbanks to head on south. This of course is vineyard and château country as the Loire makes its dreamy way towards the Atlantic.

On this particular stretch it is difficult to cycle on as there are constant temptations enticing you to stop and take a closer look.
Every castle is very different – large or small. The best known on the route are at Angers and Saumur and, across the Loire, at Breze and Montreuil-Bellay where the path picks up another much smaller river, the Thouet.
The cycle path beside the Thouet is long established. Gently hugging the valley, it meanders through villages, quiet woods and farmland on its way to Thouars and then Parthenay, a medieval town with lofty ramparts that look down over the river far below. This was another point where we were pleased to have the car as a fall back for exploring.
The next town, Niort, comes as a big contrast to the Thouet's rural surroundings, being a bustling place centred around a massive Romanesque keep with lots of shops and hotels, museums and gardens – not to mention plenty of traffic. The business capital of France's Deux-Sévres region, it is also the gateway to the Parc Naturel Régional du Marais Poitevin, a large expanse of marshland classified as one of France's 35 protected 'Grands Sites' and nicknamed 'Green Venice'. You can pop into the Maison du Marais en route at Coulon to learn more.

These Poitevin wetlands, reclaimed from the sea in medieval times, are criss-crossed by a network of old canals whose waterside lanes and paths, often bordered by poplars, ash and willow, are splashed with colour by hollyhocks and water lilies, and are perfect for gentle cycling. It is also a popular area for bird watching. As we followed the signs along a route that wriggled westwards towards the coast, we shared the banks with fishermen and families on an afternoon outing. We were also passed by the occasional flat-bottomed boat, as well as canoeists.
Not far from journey's end, the small canal-side town of Marans was once a centre for tanning hides with a busy port, but now the boats there are for leisure only. It has a splendid old market hall and the local produce and seafood are specialities that we particularly enjoyed. Indeed it is an ideal place to try a plate of oysters or bowl of mussels fresh from the sea at one of the small restaurants that line its quays.
From Marans, for the last flat stretch into La Rochelle, the Vélo Francette is joined by the Velodyssee and runs largely beside the Canal de Rompsay. This leads directly into the centre of the town near its monumental railway station, completed shortly after the 1914–18 War and the last of its kind to be built in France.
Regular train services run to Paris from here but La Rochelle is not a town to rush away from. Attractively set around its Vieux Port waterfront, it thrived in the 1700s on trans-Atlantic trade with North America and the West Indies – furs, sugar and slaves. Two fortified towers stand at the entrance to the old harbour, now a smart marina bordered by busy boulevards, restaurants and shops.
Grand mansions and historic churches, arcaded cobbled streets, as well as recent attractions like the entertaining Automata museum of working models and an aquarium, together with a variety of boat trips, are all good reasons to linger at the end of the 634-kilometre cycle route – whether you've actually covered every inch of it on two wheels or not!
Distances:
Ouistreham to Caen: 14km
Caen to Domfront: 105km
Domfront to Chateau Gontier: 103km
Chateau Gontier to Saumur: 118km
Saumur to Niort: 186km
Niort to La Rochelle: 108km
To read more articles like this get our newsletter
Sign up today for a 20% discount on your next purchase. Join over 30,000 enthusiasts from around the world. If you don't love our mix of new books, articles, offers and competitions, you can unsubscribe at any time. We will never spam you, sell your data or send emails from third parties.