Trekking in the Apennines
The Grande Escursione Appenninica
Guidebook to the Grand Apennines Trek, or Grande Escursione Appenninica (GEA). Through Tuscany and Emilia-Romagna and 2 national parks, this 400km trail takes 23 days to complete, exploring the mountains, forests and hills of central Italy. Suitable for a range of walkers, it can be split into shorter sections or day walks if needed.
Seasons
spring through to autumn: late June-September fits best with accommodation availability in the central section
Centres
Abetone, Arezzo, Bibbiena, Bologna, Parma, Pieve Pelago, Pistoia, Pontremoli, Porretta Terme, Prato, Reggio Emilia, Sansepolcro
Difficulty
no special experience needed: any fit walker can embark on this route, and there are plenty of short sections, making the route perfect for bespoke walking holidays. The few moderately exposed stretches can always be detoured
Must See
the Casentino National Park and Franciscan sanctuaries; the WW2 Gothic line; open ridges on the northern stretch; alpine-style lakes in the Apennines National Park; Monte Prado, Tuscany's highest peak (2054m); magnificent beech woods; alpine flowers
Overview

Table of Contents

Updates

Reviews

Downloads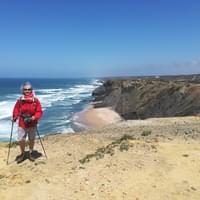 Gillian Price
Gillian Price has trekked throughout Asia and the Himalayas, but now lives in Venice and is exploring the mountains and flatter bits of Italy. Starting in the Italian Dolomites, Gillian has written outstanding Cicerone guides to walking all over Italy as well as Corsica and Corfu. An adamant promoter of public transport to minimise environmental impact, Gillian belongs to Mountain Wilderness and is an active member of the Venice branch of CAI, the Italian Alpine Club.
View author profile