Walking in the Bavarian Alps
70 mountain walks and treks in southern Germany
Guidebook to mountain walks and treks in the Bavarian Alps, on the border of Germany and Austria, between Lake Constance and Berchtesgaden. Accessible from Munich, Salzburg and Innsbruck, these 70 routes range from half-day walks to 3-day hut-to-hut treks. Highlights include the Konigssee and Breitach, Partnach and Hollental gorges.
Seasons
most valley walks can be attempted early in the season (April-May); the majority of routes are best walked from June-September; lower altitudes until mid-October
Centres
Oberstdorf, Riezlern, Tannheim, Füssen, Garmisch-Partenkirchen, Mittenwald, Walchensee, Lenggries, Tegernsee, Bayrischzell, Marquartstein, Reit im Winkl, Ruhpolding, Inzell, Bad Reichenhall, Ramsau, Berchtesgaden
Difficulty
valley walks suitable for all abilities; main routes are graded 1-3; none of the routes require climbing skills, and no special equipment required
Must See
the Zugspitze (Germany's highest peak), Königssee (a stunning mountain lake), karst landscapes, picture-book towns Oberammergau and Mittenwald, wild mountain gorges, alpine meadows, Neuschwanstein Castle, folklore traditions, opulent baroque churches, scenic rack railways and exhilarating multi-day tours
Overview

Table of Contents

Updates

Reviews

Downloads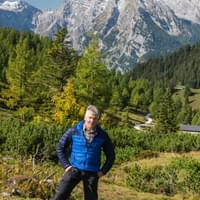 Grant Bourne
Grant Bourne is a New Zealander whose fascination with other lands and cultures has taken him through much of Asia, Africa, the Near East and Europe. He has written and illustrated numerous travel guides, the main focus being on Germany and New Zealand.
View author profile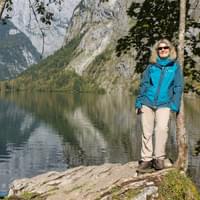 Sabine Körner-Bourne
Sabine Körner-Bourne is a native of Germany and, like her husband Grant, is a keen hiker. Together they have explored numerous trails in exotic parts of the world. Nevertheless, Sabine has never lost her affection for the many beautiful tracks to be found in her home country.
View author profile