Walking the Italian Lakes
Lakes Garda, Maggiore, Como and d'Iseo in northern Italy
A walking guidebook containing 50 day walks around the Italian lakes of Maggiore, Como, Iseo and Garda. The guide includes detailed descriptions and maps for walks that range from easy, leisurely strolls, to more strenuous routes up panoramic peaks. The routes range between 2 to 13 miles in length and offer varying terrain to suit all walkers.
Seasons
Spring, early summer and autumn are the ideal seasons, as the majority of the walks are low to medium altitude. However, midsummer is perfect for the higher alpine-type routes.
Centres
On Lago Maggiore: Stresa and Cannobio; on Lago di Como: Menaggio, Bellagio and Como; on Lago d'Iseo: Iseo; on Lago di Garda: Malcesine, Torri del Benaco, Riva and Limone.
Difficulty
The 50 walks are graded from easy strolls along lakesides and in woodland, through to moderate and fairly strenuous treks on alpine terrain. All can be fitted into a single, leisurely day. No special equipment is required.
Must See
Marvellous historic paved pathways such as Strada Regia on Lago di Como and the Strada Borromeo on Lago Maggiore. Memorable trips on ferries and rides on cable-cars (Mottarone on Lago Maggiore, Monte Baldo on Lago di Garda), gorgeous alpine and Mediterranean wildflowers. Breathtaking panoramic mountains: Monte Baldo (Lago di Garda), Mottarone (Lago Maggiore) and Monte San Primo (Lago di Como) stand out.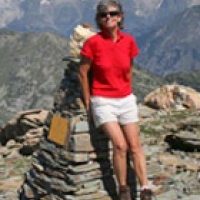 Gillian Price
Gillian Price has trekked throughout Asia and the Himalayas, but now lives in Venice and is exploring the mountains and flatter bits of Italy. Starting in the Italian Dolomites, Gillian has written outstanding Cicerone guides to walking all over Italy as well as Corsica and Corfu. An adamant promoter of public transport to minimise environmental impact, Gillian belongs to Mountain Wilderness and is an active member of the Venice branch of CAI, the Italian Alpine Club.
View Articles and Books by Gillian Price