Alta Via 1 - Trekking in the Dolomites
Includes 1:25,000 map booklet
Guidebook describing the 115km Alta Via 1, a hut-to-hut long-distance trail through the magnificent Italian Dolomites. Easier than the other AV trails, the route extends from Lago di Braies to La Pissa and is presented in 11 stages. It offers majestic mountain vistas, including views of the Marmolada, Pelmo and Civetta. Includes 1:25K map booklet.
Seasons
Alpine summer - mid-June to late September - is the time to go, so that the huts are all open for accommodation and meals and the paths mostly free of snow. Midsummer is the perfect time to enjoy the myriad wildflowers that brighten the rocky slopes and meadows and to be entertained by the frolicking marmots who are by then out of hibernation.
Centres
Lago di Braies, Cortina d'Ampezzo, Agordo, Belluno
Difficulty
Alta Via 1 is a perfect introductory trek to the Dolomites and while the paths are not a seaside stroll, they are not overly difficult. No special equipment is necessary. Easier path variants are detailed where useful. Overall AV1 rates as Grade 2, suitable for fit walkers with some experience of alpine terrain and conditions.
Must See
Breathtaking views of an estimated 80% of the Dolomites, including the Tofane, Pelmo and Civetta, as well as the glaciated Marmolada; memorable stays in comfortable high-altitude alpine huts
Overview

Table of Contents

Updates

Reviews

Downloads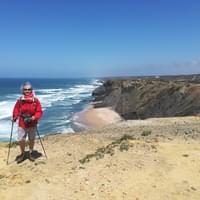 Gillian Price
Gillian Price has trekked throughout Asia and the Himalayas, but now lives in Venice and is exploring the mountains and flatter bits of Italy. Starting in the Italian Dolomites, Gillian has written outstanding Cicerone guides to walking all over Italy as well as Corsica and Corfu. An adamant promoter of public transport to minimise environmental impact, Gillian belongs to Mountain Wilderness and is an active member of the Venice branch of CAI, the Italian Alpine Club.
View author profile