Close encounters of the bird kind in Italy's Stelvio National Park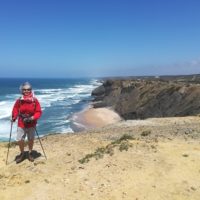 It was one of those crystal clear days in the Alps when you can see all the way to Mont Blanc, and Cicerone author Gillian Price and her partner Nicola were entranced by the magic as they explored Monte Scorluzzo in the Stelvio National Park.
Researching a route for Walking in Italy's Stelvio National Park, they were making their way along the Fil dei Mot ridge at 3000 metres altitude. A massive shadow darkened the sky and below them landed the biggest bird they'd ever seen.
With a wingspan of two and a half metres, there was no doubt about it; it was the legendary lammergeier or bearded vulture. It spent most of the day coming and going, swooping low (as it has bad eyesight).
Many photos and hours and metres in descent later, Gillian and Nicola dropped into the Park HQ at Bormio and were thrilled to meet ornithologist Enrico Bassi who identified the bird as Tamina, a young female released two years previously in Switzerland.

Due to the successful reintroduction programme across the Alps, other lammergeiers nest permanently in the Stelvio and the park authority periodically places webcams in the nests to provide reality TV like no other.

To read more articles like this get our newsletter
Subscribe for Cicerone's latest news, articles, offers and competitions. We send an email every couple of weeks and you may unsubscribe at any time. We never send emails on behalf of third parties.