Hiking and Biking in the Black Forest
Paperback currently unavailable
Enter your email address below to be notified if this title becomes available
Please enter a valid email address
Hiking and Biking in the Black Forest describes day walks, multi-stage treks and 5 cycle routes covering the north, central and southern regions of Germany's Black Forest. Easy routes for families and multi-day journeys to explore the many forests, villages, castles and hills near Strasbourg, Baden-Baden, Freiburg and Basle.
Seasons
The best times to do these routes are spring, when the fruit trees and wildflowers are in bloom and autumn, when the hillsides are aglow with autumn colours (April/May through October). Vineyard trails or walks in the Kaiserstuhl can be done year round.
Centres
Northern Black Forest: Baiersbronn, Bad Wildbad, Enztal, Gernsbach, Baden-Baden; Central Black Forest: Ortenau, Ottenhöfen, Bühlertal, Kinzigtal, Elztal, Waldkirch, Schwarzwald-Baar, Kaiserstuhl; Southern Black Forest: Freiburg, Margkgräfler Land (Margraves' Land), Hochschwarzwald, Hinterzarten, Titisee, Schluchsee, Todtnau
Difficulty
Ideal terrain for beginning and intermediate hill walkers. Some routes are long and require good stamina, but almost all trails can be shortened if need be, as buses and trains are never far away. No technical difficulties, although many sections are on narrow forest paths and some may slope steeply on one side. Walkers should be sure-footed and vertigo free.
Must See
Schluchtensteig, Westway, Zweitälersteig, Murgleiter, Wutachschschlucht, Feldberg, Belchen, Mummelsee, Titsee, Schluchsee, Kaltenbronner Hochmoor, Triberg waterfalls, Zweribachfalls, Battert Felsen, Karlsruher Grat, Kaiserstuhl, Allerheiligen waterfalls and Abbey ruins, Staufen castle, Sauschwänzlebahn, source of the Danube
Availability
Out of Stock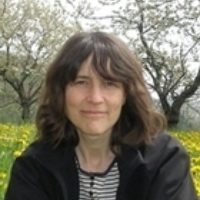 Kat Morgenstern
As a herbalist and ethnobotanist Kat spends a lot of time walking and exploring, while smelling the herbs and flowers along the way. After spending many years living, studying and working abroad, Kat has found a special place in her heart for the Black Forest region in the southwestern corner of Germany. As a writer and nature mentor she never tires of sharing her knowledge and passion for this delightful and fascinating corner of our beautiful planet.
View Articles and Books by Kat Morgenstern