The Mountains of Romania
Trekking and walking in the Carpathian Mountains
Guidebook to walks and multi-day treks in the Carpathian mountains of Romania. Includes routes in the Maramures and Bucovina regions, Piatra Craiului ridge, and the Retezat and Fagaras mountains.
Seasons
The best time to visit the mountains of Romania is from May to September. Most of the snow will have disappeared by June.
Centres
Key bases include Braşov, Sibiu, Cluj-Napoca, Vatra Dornei and Râmnicu Vâlcea
Difficulty
Many of the routes require you to be entirely self-sufficient. You will need to be able to carry 15-20kg. Expect hikes of 15-25km per day with a total ascent/descent of up to 1500m. There are lighter day walks too in which case a daypack will suffice. Popular routes have a good network of mountain huts.
Must See
The Făgăraș Mountains, home to Romania's highest peaks; the saw-like Piatra Craiului limestone ridge; camping near Romania's biggest glacial lake in the Retezat; stunning karst scenery in the pastoral Apuseni; medieval Saxon cities, imposing castles and Roman and Dacian ruins
Overview

Table of Contents

Updates

Reviews

Downloads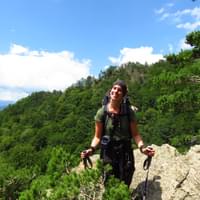 Janneke Klop
Janneke Klop has been exploring Romania since 2005, having previously been an English teacher. She writes about her Romanian adventures at www.roamaniac.com and also offers guided tours. She lives in Ghent, Belgium and is an active member of the Klim- en Bergsportfederatie (Climbing and Mountaineering Belgium) and Grote Routepaden (Grandes Randonnées).
View author profile