Torres del Paine
Chile's Premier National Park and Argentina's Los Glaciares National Park
Guidebook to trekking Chile's 10 to 11-day Torres del Paine Circuit, one of the world's great treks. Also included are a shorter Half Circuit (4 to 5 days), further treks and day walks in the Torres del Paine and Los Glaciares National Parks, centred around Puerto Natales. Includes information on linking routes, travel and accommodation.
Seasons
December-April. January-February is high season, when most visitors arrive, so can be a little crowded. Overall March is best.
Centres
Puerto Natales is the gateway to Torres del Paine, and also the base for short trips to the Balmaceda Glacier and Sierra Baguales. There are multiple bases in the national park itself.
Difficulty
No technical difficulties, but the Torres del Paine Circuit is a long and, at times, remote undertaking from which there is no convenient exit point half way through. Sudden changes in weather, gale force winds and torrential rain can turn it into a far more difficult undertaking.
Must See
The magnificent granite spires of the 'towers' (Torres), and distinctive, banded form of the 'horns' (Cuernos); vast glaciers (Grey, Tyndall and Dickson) spilling out from the largest sheet of ice in the southern hemisphere outside Antarctica; beautifully unspoilt southern beech or lenga forest; rich and varied animal and birdlife; remote valleys and immense, cloud-streaked skies.
Overview

Table of Contents

Updates

Reviews

Downloads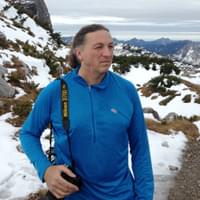 Rudolf Abraham
Rudolf Abraham is an award-winning travel writer and photographer specialising in Central and Eastern Europe – in particular Croatia, Slovenia, Austria and Montenegro.
View author profile