Walking in Umbria
40 walks in the 'Green Heart' of Italy
Pre-order
- Publishing 15 July 2019
This book is available to pre-order. Payment will be taken upfront and your book will be despatched from our warehouse as soon as it becomes available around the 15 July 2019.
Notify me
Enter your email address to be notified when this title becomes available.
This guidebook describes 40 walks in Umbria, among the ancient towns of Assisi, Perugia, Orvieto and Norcia. Known as the 'green heart' of Italy, the region of Umbria is home to hills reaching up to the Apennines and Sibillini mountains, as well as ancient villages, Roman and Etruscan ruins, dense woodland and nature reserves.
Seasons
Spring to autumn, but year-round is possible - except for mountainous areas in winter where snow is common.
Centres
Perugia, Assisi, Gubbio, Norcia, Spoleto, Orvieto, Passignano sul Trasimeno, Umbertide, Montone
Difficulty
Walks are graded 1-3, from easy to difficult.
Must See
Assisi, Lago Trasimeno and its islands, Spoleto and its famous aqueduct bridge, Monte Cucco, Piano Grande di Castelluccio and Norcia in the Sibillini, wonderful Valnerina and its railway line, Monte Tezio over the upper Tiber valley, glorious Orvieto and the medieval way from Lago Bolsena, medieval Gubbio.
Availability
Not Yet Published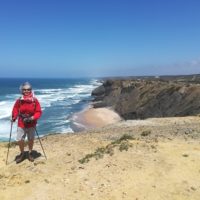 Gillian Price
Gillian Price has trekked throughout Asia and the Himalayas, but now lives in Venice and is exploring the mountains and flatter bits of Italy. Starting in the Italian Dolomites, Gillian has written outstanding Cicerone guides to walking all over Italy as well as Corsica and Corfu. An adamant promoter of public transport to minimise environmental impact, Gillian belongs to Mountain Wilderness and is an active member of the Venice branch of CAI, the Italian Alpine Club.
View Articles and Books by Gillian Price