Walking on Corsica
25 mountain and coastal day walks
Notify me
Enter your email address to be notified when this title becomes available.
Pre-order
- Publishing 15 June 2022
This book is available to pre-order. Payment will be taken upfront and your book will be despatched from our warehouse as soon as it becomes available around the 15 June 2022.
Guidebook describing 25 day walks on the Mediterranean island of Corsica. The graded routes, which cover both the coast and the mountainous inland, showcase Corsica's beautiful landscapes, visiting cliffs, inlets, forests, river gorges, waterfalls, maquis shrubland, peaks and historic sites. With information about history, plants and wildlife.
Seasons
Coastal routes suitable for year-round walking, with April-June best for wildflowers. Due to snow, inland mountain routes are suitable for walking between late June and September.
Centres
Macinaggio and St-Florent on Cap Corse in the far north; Calvi, Porto and Piana along the northwest coast; Col de Vergio and Corte in the mountainous centre; Ajaccio and Porto Pollo on the southwest coast; Quenza and Zonza in the south; and Bonifacio in the far south.
Difficulty
Walks are graded for difficulty and range from: 1 - easy going on mostly level ground; 2 - average difficulty, with some ups and downs; 3 - for experienced walkers as can be challenging with rocky terrain and occasional exposure.
Must See
Corsican watchtowers, Girolata fishing village, white cliffs of Bonifacio, beautiful sandy beaches of Cupabia and St Antoine, Fango river valley, the Aïtone forest, the Calanche, glacial lakes of Lac Nino Lac de Melo, peaks of Paglia Orba and Capu Tafunatu, Piscia di Gallo waterfall, Capu Rossu headland, Genoese bridge of Ponte Vechju
Overview

Table of Contents

Updates

Reviews

Downloads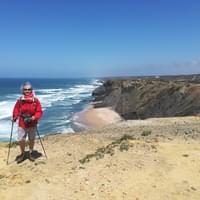 Gillian Price
Gillian Price has trekked throughout Asia and the Himalayas, but now lives in Venice and is exploring the mountains and flatter bits of Italy. Starting in the Italian Dolomites, Gillian has written outstanding Cicerone guides to walking all over Italy as well as Corsica and Corfu. An adamant promoter of public transport to minimise environmental impact, Gillian belongs to Mountain Wilderness and is an active member of the Venice branch of CAI, the Italian Alpine Club.
View author profile