What's New on the Tuscan Front – 20 years on
Wolves, marble quarries, barbed wire and ancient Etruscan ways star in Gillian Price's latest adventures as she returns to Tuscany on a special quest: to research new walks and verify existing routes for the fourth edition (2018) of her classic guide Walking in Tuscany, which first arrived on the shelves in far-off 1998. But not all goes to plan.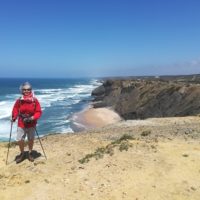 Gillian Price
Gillian Price has trekked throughout Asia and the Himalayas, but now lives in Venice and is exploring the mountains and flatter bits of Italy. Starting in the Italian Dolomites, Gillian has written outstanding Cicerone guides to walking all over Italy as well as Corsica and Corfu. An adamant promoter of public transport to minimise environmental impact, Gillian belongs to Mountain Wilderness and is an active member of the Venice branch of CAI, the Italian Alpine Club.
View Articles and Books by Gillian Price