A Sample Route from Walking in Kent - the White Cliffs of Dover
Here is a sample route from Kev Reynolds' guidebook to Walking in Kent. This walk takes in the White Cliffs of Dover, the magnificent Dover Castle, and plenty of big skies.
Walking in Kent
40 circular short walks and day walks
£12.95
A guidebook describing 40 walks in the county of Kent. Covering west Kent and The Weald and north and east Kent, including the Kent Downs and the Greensand Hills. Walks of 5 to 9 miles explore rivers and coastline, beautiful countryside and historic villages. With outlines of 11 longer walks ranging from 15 to 163 miles.
More information
Walking in Kent, Walk 40
Dover (White Cliffs Picnic Site) to St Margaret's at Cliffe
| | |
| --- | --- |
| Start/Finish | White Cliffs Picnic Site (TR 335 422) |
| Distance | 7 miles/11km |
| Maps | OS Explorer 138 |
| Refreshments | At White Cliffs Visitor Centre, pubs in St Margaret's at Cliffe, and tea room at South Foreland Lighthouse |
| Access | Northeast of Dover, reached via minor road (signed) branching east of the A258 about 1 mile/1.5km south of A2 roundabout (Jubilee Way) |
| Parking | White Cliffs Picnic Site (National Trust owned – fee payable) |
The White Cliffs of Dover have represented the gateway to England for centuries. Celebrated in literature, in song, on countless paintings and photographs, when seen from a homebound Channel ferry they symbolise much more than just an upthrusting wall of chalk. To the invading Romans they must have seemed impregnable. Above Dover the massive castle that overlooks both the town and the Channel itself was England's second line of defence after the White Cliffs, and not even Hitler's bombardment during World War II could raze it to the ground. Today it remains as stubbornly defiant as the cliffs on which it stands.
This walk has views of the castle, and of the cliffs. But it also explores a slightly tilted land of big fields with big skies stretched over all. It passes above St Margaret's Bay where tradition has it that cross-Channel swimmers set out for France, and from the clifftop walk France itself can often be seen just 20 miles/32km away. Although the walk is described as starting from the White Cliffs Picnic Site, it could as easily begin in St Margaret's at Cliffe, served by bus from Dover and Deal. St Margaret's also has a free car park not far from the church, accessed via Reach Road.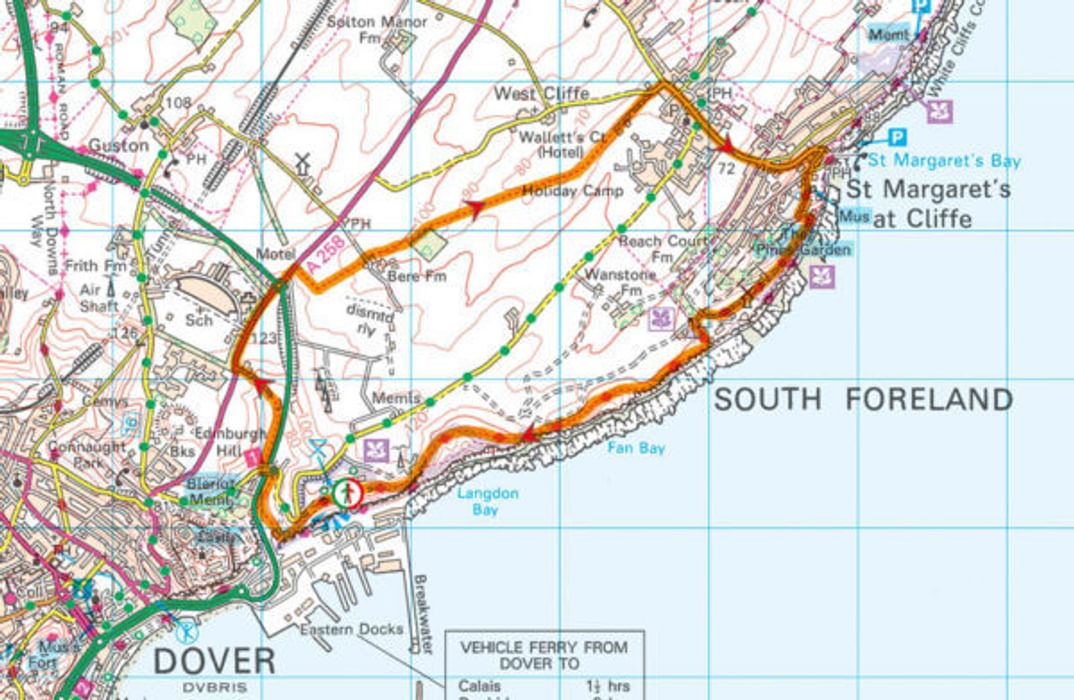 Leaving the picnic site at its Dover-end entrance, take the tarmac footpath on the left of the twisting road of approach. This plunges steeply downhill with views onto Dover Harbour. There are numerous steps, and just after passing below a house, take an unmarked grass path on the right, leading between the bushes and trees of Broadlees Bottom. When the path forks, take the left branch to climb a steep flight of steps to emerge by the bridge spanning the deep cut of the A2.

Immediately across the bridge, descend a slope to the right, and through a kissing gate enter the bottom edge of a sloping field. Walk ahead parallel with the A2, and at the end of a second field go through a gate onto a stony farm track, and wander uphill to a pair of large barns. Pass between the barns, and just beyond keep ahead through a gap and onto a tarmac footpath beside the A258. Turn right and follow this to a roundabout on the busy A2.
Cross straight ahead with great care, and maintain direction along the continuing A258 for about 150 metres, where, immediately before the road curves, you will find a kissing gate among trees on the right. Walk along the left headland of a field, and after another 150 metres go through a kissing gate on the left, then keep ahead between pillboxes along the right-hand edge of a field. Reaching its far corner there's another kissing gate, through which you continue ahead over a farm track and alongside a flint-walled barn at Bere Farm. Beyond the farm buildings maintain direction on a footpath among trees, then emerge into a large field.
Keep along the right-hand boundary of the field to its far corner by Bere Wood, then pass through a kissing gate into the field ahead. Veer slightly right across this very large open field. On the far side cross a stile and continue in the same direction to another kissing gate. After this you go ahead to reach a track, formerly used to carry a railway during the last war. Passing more pillboxes the track brings you to a road leading to a T-junction. Bear right into St Margaret's at Cliffe.
St Margaret's at Cliffe has pubs, general stores and a post office. The church of St Margaret of Antioch has a massive, but stumpy Norman tower, and fine carvings round its west door. One of the stained glass windows is a memorial to those who died in the Herald of Free Enterprise disaster, when the ferry capsized off Zeebrugge in 1987. Three of the crew members who lost their lives came from St Margaret's.
During World War II the famous guns, nicknamed Winnie and Pooh fired salvos across the Channel, and since 1972 a statue of Sir Winston Churchill has overlooked the bay, staring defiantly across the water.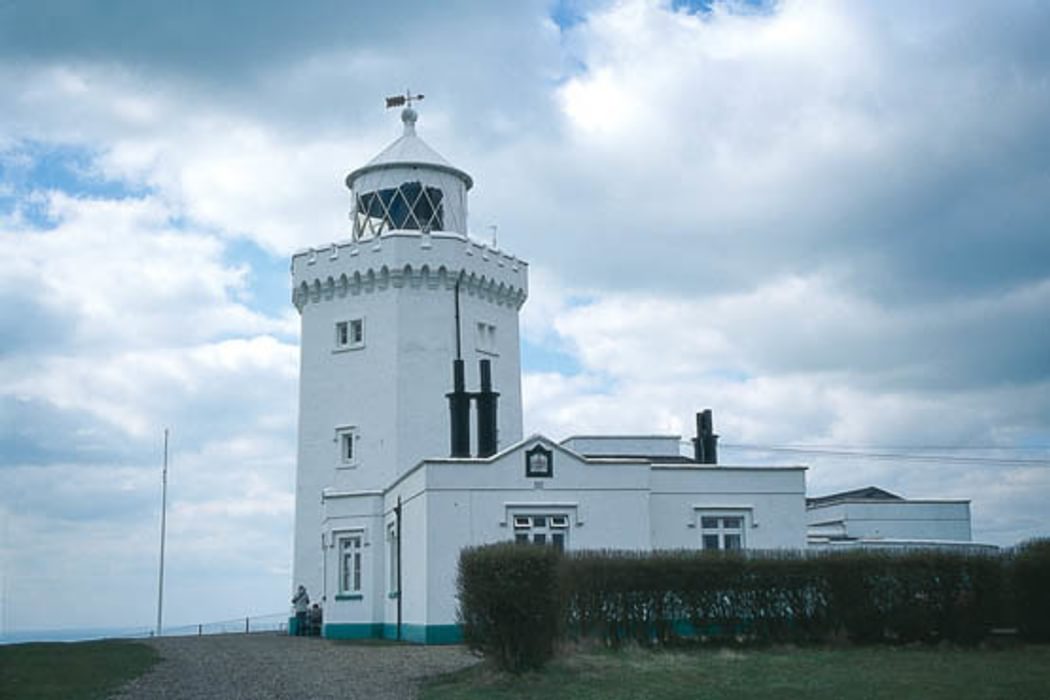 Walk through the village and continue along the road as far as the outskirts of St Margaret's Baywhere the road forks by a green. Turn right into St Margaret's Road, and after about 50 metres turn left down a tarmac drive. When it curves, go ahead down a flight of steps enclosed between a wall and a fence, then at the bottom turn right into Foreland Road. In another 100 metres fork left along The Crescent. On reaching a crossing track continue ahead, ignoring a footpath on the right. Rising among trees the track then curves right onto Lighthouse Down, but go ahead through a kissing gate onto the clifftop, and turn right on the Saxon Shore Way.
St Margaret's Bay is the closest part of the English coast to France, with Cap Blanc Nez just 20 miles/32km away. France can usually be seen quite clearly from the clifftop path. St Margaret's Bay was once a small fishing community, but it became notorious for a while as a haunt of smugglers.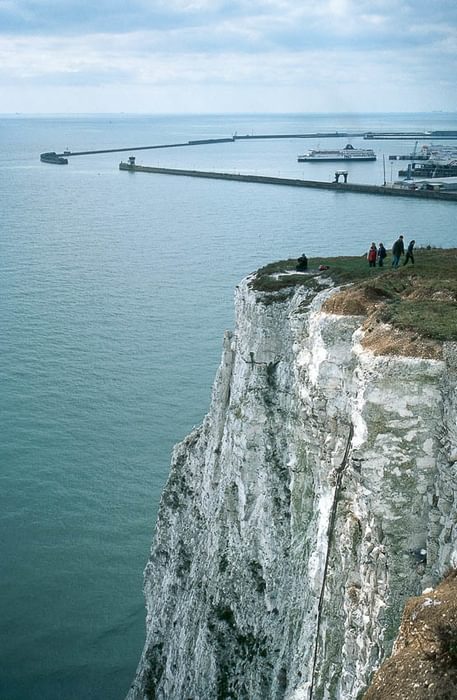 The footpath leads along the top of the famous White Cliffs, but after a while it curves to the right to reach another kissing gate giving onto a chalk track. Bear left. Hidden among the trees nearby is St Margaret's Windmill, a smock mill built in 1928, but which ceased operating in 1939, and no longer has its sails. There's also a disused lighthouse, barely seen from the track. Shortly before coming to a narrow road, leave the track and bear left towards the South Foreland Lighthouse at TR 359 434.
South Foreland Lighthouse was built by Trinity House in 1843, and in 1858 was the first to be operated by electricity. In 1898 it was used by Marconi to demonstrate radio telegraphy. The lighthouse is now in the care of the National Trust, and there's a teahouse for refreshments. See www.nationaltrust.org.uk/white-cliffs-dover. Accessed by 73 steps, the lighthouse balcony provides a splendid view across the Channel and over much of East Kent.
Take an enclosed footpath left of the lighthouse entrance gates, wander down to the clifftop and turn right along the route of the continuing Saxon Shore Way. With the chalk cliffs plunging into the surf to your left, as you progress along the grassland path, Dungeness Nuclear Power Station comes into view far away, while much nearer Dover Harbour is busy with the coming and going of cross-Channel ferries.
The path curves round the 'dry valley' of Fan Point, and passes below the entrance to the Fan Bay Deep Shelter – a World War II underground tunnel complex built during 1940/41, and now a National Trust property open to the public. A kissing gate takes you above the National Trust-owned Langdon Hole, and before long you cross a brief grass track that once carried a railway line, then climb a flight of wood-braced steps near a large coastguard building. Follow a fence on your left, then through a gate wander across Langdon Cliffs with a direct view onto Dover Harbour, and come to the car park, picnic site and visitor centre.
The Gateway to the White Cliffs Visitor Centre on Langdon Cliffs has a number of information panels relating to the coast and nearby countryside, much of which forms part of the Heritage Coast and is a Site of Special Scientific Interest. The visitor centre also has a coffee shop, gift shop and public toilets.

To read more articles like this get our newsletter
Sign up today for a 20% discount on your next purchase. Join over 30,000 enthusiasts from around the world. If you don't love our mix of new books, articles, offers and competitions, you can unsubscribe at any time. We will never spam you, sell your data or send emails from third parties.