Corfu: So much more than resorts
There is so much more to the island than the resorts. Corfu is the greenest of all the Greek islands and, with mile upon mile of paths and lanes, makes a superb destination for walking - Gillian Price, author of the new guidebook to Walking in Corfu, encourages you to be enchanted by this delightful island.
Corcyra is all Venetian blue and gold – and utterly spoilt by the sun.

— Lawrence Durrell, Prospero's Cell
Gillian Price, author of the guidebook to walking and trekking on Corfu, urges you to see past the resorts of Corfu and appreciate the incredible scenery that it has to offer. If you've been watching The Durrells you probably need no further persuasion!
To this description add brilliant wildflowers, lush countryside, quiet mountain villages, an agreeable climate, golden sand beaches, turquoise sea and breathtaking coastlines – and don't overlook affordable prices. Nowadays, famed Corfu - once known as Corcyra - is still a most desirable Greek island, as borne out by visitor numbers and the availability of low cost package holidays.
However, Corfu has a calmer side and offers much to the nature lover and walker. Gillian Price has long been a fan of the quieter parts of the island: "There is so much more to the island than the resorts. Many localities, including the island's interior, have escaped development altogether and retain a laid-back, traditional atmosphere." Corfu is the greenest of all the Greek islands and, with mile upon mile of paths and lanes, makes a superb destination for walking. Last, but definitely not least, the Corfiot people are amiable and helpful and, as Gillian says, "always greet walkers with a friendly 'Ya sas'". In a nutshell, Corfu never fails to enchant.
Gillian's new guidebook 'Walking and Trekking on Corfu' presents a selection of 22 day walks, chosen to showcase the many different landscapes on this marvellous island. Walk along golden sandy beaches, through quiet mountain villages, past shady olive groves and magnificent rocky coastlines – and everywhere catch glimpses of the glittering turquoise sea. The day walks range from easy strolls to rugged hikes, and start from a number of popular destinations, including Corfu Town, Kalami, Paleokastritsa, Agios Georgios, Liapades and Benitses. If you prefer a longer walk why not try the long-distance Corfu Trail which stretches the length of the island? This 150km route explores the island from top to toe in 10 stages, starting near Kavos at the southernmost tip and finishing at Agios Spiridonas, its northerly promontory. Each stage ends at a village or beach location where meals and accommodation are available, and the trek is suitable for novices and experienced walkers alike. The guidebook contains detailed route descriptions and maps for the day walks and the Corfu Trail, plus notes on Corfu's history, its plants and wildlife, and food and drink. Useful advice on travel and suggestions for where to stay make it an invaluable guide for anyone who wants to get to know and explore this beautiful island in the Ionian Sea. Gillian certainly urges you to "go for a walk and end the day with a swim in a beautiful hidden cove. Enjoy Corfu and enjoy your walks."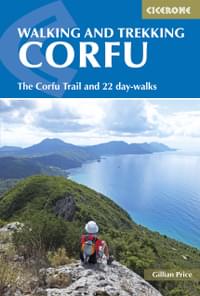 Walking and Trekking on Corfu
The Corfu Trail and 22 outstanding day-walks
£14.95
Guidebook to 22 day walks on the Greek island of Corfu and the Corfu Trail, a 150km route described in 10 stages. The day walks are spread across the whole island and visit olive groves, coastal paths, sandy beaches, lush green hillsides and picturesque villages. The Corfu Trail runs the length of the island from Kavos north to Agios Spyridonas.
More information
To read more articles like this get our newsletter
Sign up today for a 20% discount on your next purchase. Join over 30,000 enthusiasts from around the world. If you don't love our mix of new books, articles, offers and competitions, you can unsubscribe at any time. We will never spam you, sell your data or send emails from third parties.