The Dordogne has been named by National Geographic as one of the top 5 world's most exciting destinations in 2019.
This is a land of easy walking through green pastoral landscapes, dramatic river gorges and enchanting villages. You will discover numerous memorable gems, some also highlighted by National Geographic, like the Gardens of Marqueyssac, beautifully preserved St-Geniès, and the Châteaux of Biron and Castelnaud. It's a place of beauty and wonder, fairy-tale castles, pre-historic caves, cultural delights, and more.

Find out more in Cicerone's "Walking in the Dordogne", co-authored by Alan Norton and Pamela Harris.
Other areas highlighted by the National Geographic as exciting destinations in 2019 include Switzerland, Montenegro and Greenland - Cicerone favourites as well.
From the National Geographic:
Picture-book castles lead to romantic fantasies in the Dordogne, but the true charm of this region in southwestern France lies in the richness of its long cherished culture. Marking 100 years in 2019, the Félibrée is an annual celebration of all things Occitan, including food, music, dance, and a language that resembles French, Spanish, Italian, and Catalan. "We are very attached to our country and our differences, but at the same time we are a true land of welcome," says Jean Bonnefon, a dedicated Occitanist. "The Félibrée is proof of this." Although the Dordogne is extremely pastoral, you can't exactly say it's off the tourist map. Just try to find parking in Sarlat or rent a kayak on the Dordogne River on a summer day. And it's hardly unsophisticated. There are nine Michelin-starred restaurants, a smattering of upscale hotels and golf courses, and 15 UNESCO World Heritage sites. But considering that France received 87 million visitors in 2017, the relative emptiness is by far the Dordogne's most luxurious asset.
You can read more about the National Geographic awards here: https://www.nationalgeographic.com/travel/features/best-trips-2019/

Alan Norton
Alan Norton studied Physics at Edinburgh and Oxford Universities before moving to Geneva to work at CERN on Particle Physics research. Since retirement, he has continued to participate in CERN experiments as a professor at the Italian University of Ferrara. As leisure activities, he has completed many mountain running events at the rear of the field, and helped Janette with walking and map preparation for her guides.
View Articles and Books by Alan Norton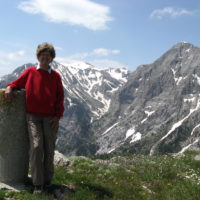 Pamela Harris
Pamela Harris graduated from Reading University and then moved to Switzerland, where she taught English and Classical studies at international schools in the Geneva area. A long-time member of both the Alpine Club and the Swiss Alpine Club, she has walked and climbed extensively in the mountains of Europe and the Himalayas, and organises walking holidays in both areas for these clubs.
View Articles and Books by Pamela Harris