Walking on the Amalfi Coast
Ischia, Capri, Sorrento, Positano and Amalfi
Guidebook describing 32 day walks on Italy's beautiful Amalfi Coast. The areas covered include Amalfi, Sorrento, Positano and Monti Lattari, and the idyllic islands of Capri and Ischia. The region is criss-crossed by ancient mule tracks and pilgrim routes, offering a variety of walks from family strolls to strenuous treks.
Seasons
all year round, though midsummer can get a bit hot. The spring (April-May) and autumn (September-October) months are probably the best. Winter can be wonderful - and quiet
Centres
Naples is the main city and airport, but key walking bases are Sorrento, Positano, Amalfi and the gorgeous islands of Capri and Ischia
Difficulty
all walkers catered for, from strollers to active trekkers; simple short routes on old mule tracks, but flat land is in short supply here and stepped pathways are the norm; walks are graded 1-3
Must See
the UNESCO World Heritage Amalfi Coast, with Ravello, Positano and Amalfi as well as Sorrento on the Gulf of Naples, the gorgeous island of Capri and neighbouring Ischia. Walks are both easy and challenging, Sentiero degli Dei, the Monti Lattari, Roman villas, hidden coves, lemon orchards, coastal ferry trips, divine Neapolitan cakes, medieval alleyways
Overview

Table of Contents

Updates

Reviews

Downloads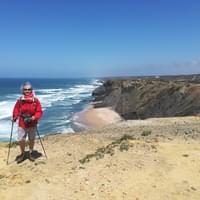 Gillian Price
Gillian Price has trekked throughout Asia and the Himalayas, but now lives in Venice and is exploring the mountains and flatter bits of Italy. Starting in the Italian Dolomites, Gillian has written outstanding Cicerone guides to walking all over Italy as well as Corsica and Corfu. An adamant promoter of public transport to minimise environmental impact, Gillian belongs to Mountain Wilderness and is an active member of the Venice branch of CAI, the Italian Alpine Club.
View author profile