Lunching with Lizards on Madeira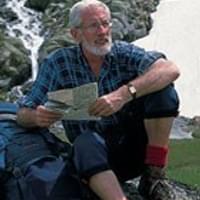 A few years ago, just after Paddy Dillon's guide to 'Walking on Madeira' had been published, long-standing Cicerone author Kev Reynolds found himself standing next to Paddy on the Cicerone stand at the Outdoor Show. After a day listening to the delights of walking on this beautiful island, he just had to return for a second visit.
Researching walking routes on behalf of a travel company had given me a week's introduction to Madeira back in the spring of 2002. From the very first day I had been enchanted by the island's natural beauty and abundant flora. I scrambled over its mountains, followed ancient levadas, splashed through ravines and wandered along the tops of great cliffs where seabirds wheeled and cried. And at the end of that week I knew I'd be back again – the lizards would make sure of that.

A few years later, I found myself at the Outdoor Show with Paddy Dillon and Cicerone. Paddy can be persuasive. Lord knows what he's like in mid-project, but when it's complete he's unstoppable. Madeira had been Paddy's most recent enterprise and sharing the Cicerone stand with him for a day there was no escape – Madeira this, Madeira that. It had my head buzzing. Normally I'd have resisted but his enthusiasm won me over and I knew it was time to go back.
So I booked a flight and spent a week exploring Paddy's Madeira – rising early each morning and dashing from one side of the island to another, walking its mist-wreathed mountainous heart, ambling alongside the levadas, scrambling over cliffs and becoming almost drunk with the fragrance that assailed my every movement. In the evening I'd stroll down to the harbour through an avenue of sweet-scented jacaranda trees, dangle my feet above the tide and, drink in hand, reckon Paddy was right:
Madeira's landscape truly is 'one of exceptional beauty and ruggedness'. Like him, I was hooked.
Taking a day off from exploring the mountainous heart of Madeira, I stretched out on the grass and inhaled the aromatic drift of a dozen exotic plants, the midday light dazzling in the water some hundred metres below. Just ahead the land narrowed to a pencil-sharp peninsula, and a single glance took in cliffs that fell abruptly on both the north and the south sides of the island. I'd already completed a morning's walk along those cliffs, and reckoned I could manage another in the afternoon – if I didn't fall asleep, that is, lulled by the swirl of the tide and lazy call of seabirds. But hunger gnawed, so I dug in my rucksack for a couple of bread rolls and a lump of cheese, and began a simple lunch.
Moments later a five-inch lizard appeared, testing the air to sample an alien smell. I dropped a crumb. The lizard approached, dabbed it with its tongue, appreciated the taste, attacked it with tiny jaws, then shook it, chewed and swallowed. Hmm, tasted good.
Another crumb fell. The lizard pounced, turned it with its nose, took it in its mouth and raced away.
News spread fast: 'There's free food on the clifftop.'
A second lizard appeared – this one with a curious streak down its back, tongue darting, twitching, tasting. Then another, a sandy-brown fella with bandy legs and a dinosaur's tail. A third lizard appeared, and a fourth. Then there were nine or ten, of different sizes and varying shades, but all sharing a common hunger for bread and cheese. My bread and cheese.

Lounging in the grass, I barely moved as one creature after another scaled the north face of my rucksack, clambered over my water bottle, then onto my legs, up my arms and across my shoulders. Lizards everywhere – or nearly everywhere – tongues dabbing for a crumb.
I began to laugh and the lizards froze. One cocked its head, another fell as my body shook, while a third – a six-inch reptile with bulging eyes – stared at me from my right shoulder and was not enamoured by what it saw. In a flash he was off, and although I didn't hear it, a cry must have gone out: 'Make haste lads – it's a hooman.'
Moments later I was alone on the clifftop with what was left of my lunch. But my appetite had gone with the lizards, so I broke the remains of my bread into tiny crumbs and wandered away. It was, after all, their clifftop, not mine. And they ought to be left in peace.
If only Paddy had warned me. I'd have packed an extra roll for lunch.
To read more articles like this get our newsletter
Sign up today for a 20% discount on your next purchase. Join over 30,000 enthusiasts from around the world. If you don't love our mix of new books, articles, offers and competitions, you can unsubscribe at any time. We will never spam you, sell your data or send emails from third parties.