Walking in winter: the best UK long-distance routes
Although it has seasonal challenges of poor weather and limited daylight, walkers can still enjoy long-distance routes in winter months. With its network of long-distance trails, the UK offers plenty of options for walking in winter. This article explores the options and will help you choose the route or challenge that is right for you in winter.
What are the challenges of walking in winter?
The first thing to talk about is the weather. While in general the British Isles 'enjoys' relatively mild winter temperatures, there can often be cold periods when the temperatures remain at or below freezing. Cold weather spells can occur in southern England, and the further north you go, the more likely you are to experience prolonged low temperatures.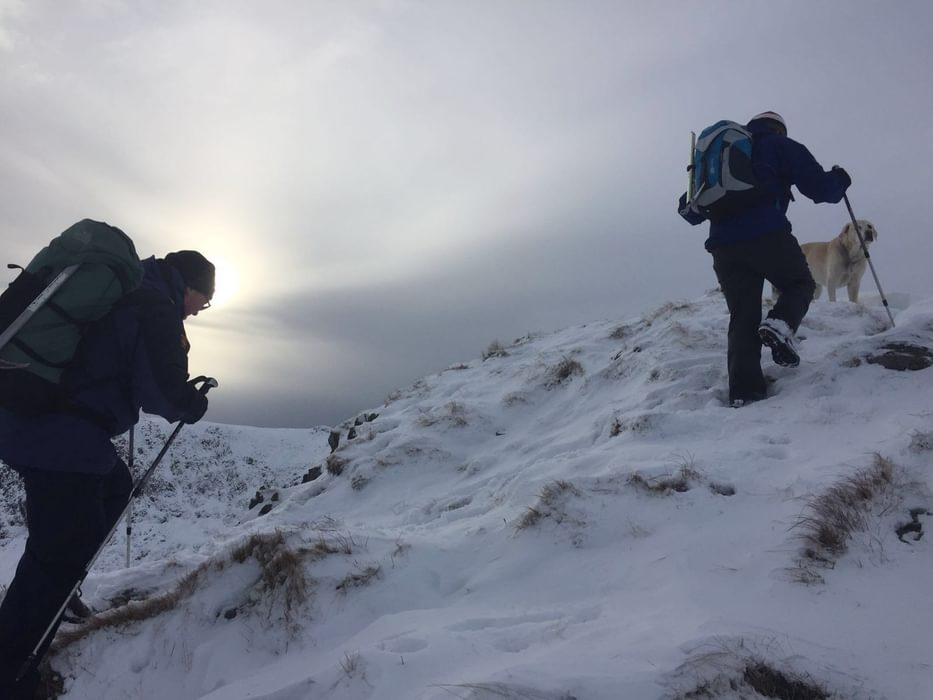 Then there is the question of precipitation, which can come in the form of rain, hail, sleet or snow, and usually quite a lot of it during the winter months! A relatively easy day in the Lake District for example can be transformed into a challenging mountaineering expedition when you experience a sudden storm or blizzard, all the more so in Scotland or on generally higher ground.

The prevailing winds hitting the British Isles come from the Atlantic, so although strong, they tend to be relatively mild in temperature, but a northerly or easterly wind in winter can quickly reduce the effective temperature by at least ten degrees, a significant amount when you are starting at around freezing or below.

There are other considerations too for the winter trekker to consider. Daylight hours will be considerably shorter, reducing to about 8 hours in the far south west of England, but only providing about 6 hours of daylight in Scotland. That might sound like plenty of time, but if the terrain is difficult and weather conditions are poor, you can easily find that your 'normal' pace is reduced by half.
There are also additional pressures; you will need to wear and carry additional clothing to keep warm and well protected, carry more food to keep energy levels up, as well as a flask with a hot drink. This all adds additional weight to carry with the possible reduction in your pace and range.
All this might sound a little gloomy, and enough to put many walkers completely off the whole idea. But there are so many great aspects to winter walking!
High winds in winter can make it difficult to balance
Snow capped peaks at the head of Great Langdale
What are the advantages of walking in winter?
One of the great advantages of tackling a long-distance route in winter is that you are likely to have the route to yourself, free to enjoy being outdoors on a journey and an adventure, with space around you and, if you're really lucky, good views and photography opportunities. If the weather is cold and frosty, there is a good change that the skies will be clear, providing wonderful light and long shadows for truly stunning photography opportunities.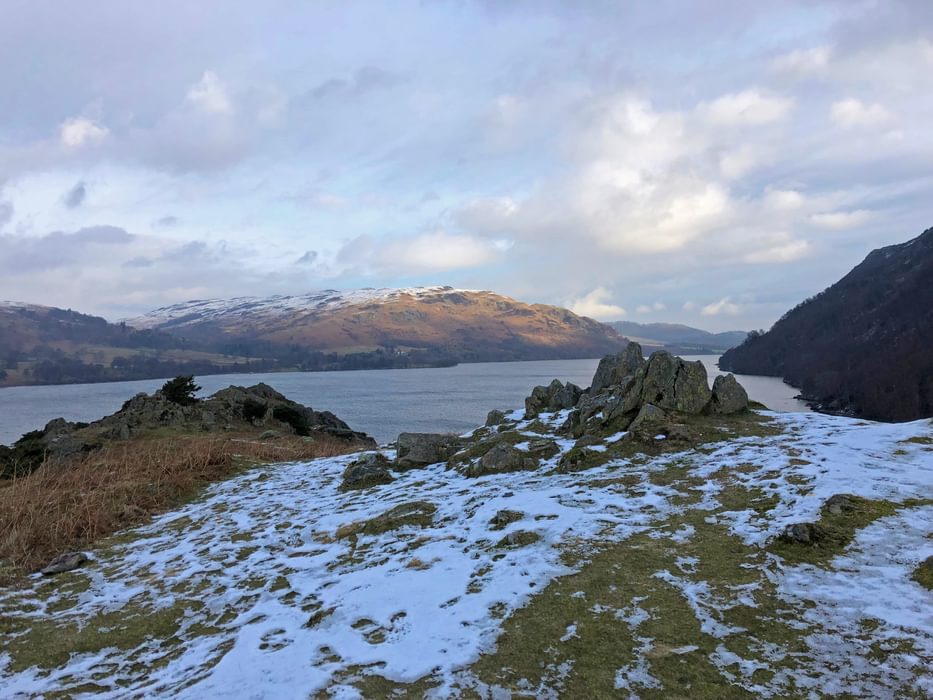 Snow-covered peaks can contrast dramatically with the surrounding landscape, although hard ground can have mixed blessings – if it's smooth and hard you can often find you can cover distances easily, but frozen churned-up mud is a quick way to get a sprained ankle if you're not careful!
I asked long-distance walking enthusiast and Cicerone author Paddy Dillon for his thoughts on long-distance walking in winter. He says 'I've never had a problem with going into the hills in winter, and in some instances I've deliberately waited until winter in order to explore spectacularly boggy areas of the Pennines and Cheviots. After struggling through bogs in the summer, it's absolutely wonderful to skip straight across them when they're frozen solid!'
For some, the additional challenges of winter walking are exactly what they hope for. That extra effort, the exhilaration of overcoming difficult terrain and whatever weather has been thrown at you, then that warm, almost smug sense of achievement as you settle in safely at the end of the day. You may also hate walking in hot weather, which can slow you down in a completely different way!
How to choose your winter walking route

Whether you are looking for the ultimate challenge, or a relatively safe and achievable long-distance excursion during the winter, there are some obvious ways to steer your choice of route. Generally speaking, keeping to routes which don't tend to go too high will minimise the risks of deep snow and any risks associated navigation. Given limited daylight and potential slow progress, make sure that you don't pick a route where the stages are too long.

There are other issues related to terrain to consider. Paddy's preference for tackling boggy sections of the Pennine Way in cold and frosty conditions probably rings true with many walkers, but winter can often bring difficult conditions in the south of England too. It's no joy walking on chalk and clay downlands in winter watching your boots quickly grow to the size of an elephant's with all the goo stuck to them!

Accommodation

Accommodation in some areas may be a little more limited, but it should still be perfectly possible to find somewhere to stay, even if some of your stages need adjusting accordingly – a long day followed by a shorter day, perhaps. When I walked the South Downs Way in winter, with just one exception I was able to find somewhere to stay each night that allowed for sensible stages.
There are also some routes such as the Thames Path that not only have a reasonable chance of accommodation, but good public transport links too. This makes it easy to leapfrog stages, combine two-night stays, or even to walk entirely in single-day stages if you live nearby.
Be wary of planning on camping overnight. As Paddy Dillon says 'there are never many campsites open in the winter, and coping with the long, dark nights in a little tent can get a bit tedious. Plus... getting tent pegs into frozen ground is a nightmare. Getting them out again is even worse!'

Unless you are really experienced, bivvying has similar issues – possibly worse, as a bivvy sack can be very claustrophobic over the course of 16 or more hours! Scottish bothys can provide spartan but much needed shelter. In all these cases you will need to be prepared to carry considerably more gear with you.
What are the best long-distance routes to consider walking in winter?
In Scotland, the only really realistic choice is the Great Glen Way. With few exceptions the walking surface is good, it tends to keep free from snow. Buses run throughout the year, allowing for options to stay in just one or two places, and carry only what you need for during the day.


The West Highland Way might be possible if the weather is favourable, as the walking surfaces tend to be good. However, this route could end up being incredibly challenging if there are strong northerly winds or snow funnelling through the valleys!
In northern England, the Dales Way is a delight at any time of year, never going too high (although the crossing over to Ribblehead can be very bleak and exposed). There are inevitably muddy sections to negotiate, but it's not the sort that stops you, it just smothers you! Accommodation tends to remain available as the route passes through popular walking country of the Yorkshire Dales and fringes of the Lake District.
Late October colours on the West Highland Way
The Dales Way near Staveley
The Cumbria Way might also be suitable. There are only a couple of sections where the route climbs up into the higher fells (over Stake Pass and High Pike), and there is an option through the fells north of Keswick to avoid summiting High Pike.
Paddy Dillon also suggests 'I've walked a good part of the Pennine Bridleway in the winter, and as it's available to cyclists, it tends not to be as awkward as the Pennine Way, which has muddy bits, stiles and runs at a higher level.'

There again, if you want the challenge of the Pennine Way, and are sufficiently experienced to deal with the conditions, then try to pick a cold, frosty but not windy period, and you might just have a fantastic trip. If you're a runner, then of course there's always the Spine Race that takes place in the depths of winter!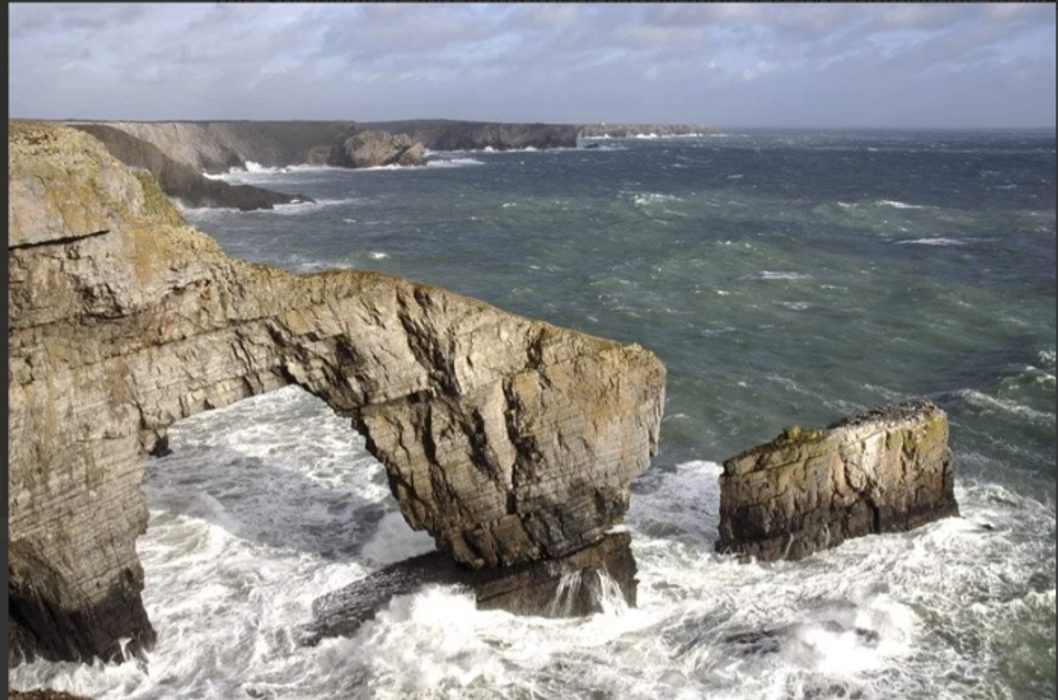 The coast of Wales can offer various experiences for the winter walker. In the north, the Wales Coast Path follows a low-lying, but less scenic route on good surfaces. There are better options for scenery around Anglesea, the Llyn Peninsula and Ceredigion coast, and also on the Pembrokeshire Coast Path, all of which should have a reasonable level of accommodation open. In windy and wet weather, coastal paths can be pretty nasty, so choosing the direction of travel is something to consider.
Southern England has a fine network of national trails. However, many are on chalk or clay downlands, which when wet and muddy can become a complete nightmare to walk on. That rules out the Cotswold Way, and a number of others, but if you want to walk in that general area then the Kennet and Avon Canal walk should be suitable for a gentle winter trek.

Paddy Dillon suggests that some sections of the South West Coast Path would be suitable, although this needs care in planning accommodation. He also warns that some of the especially high and exposed cliffs could be quite dangerous during winter storms. Avoid the Dorset coast in winter, as this will be slippery and have all the chalk/clay-related issues described above.

Paddy also suggests the Thames Path, and recommends the Ridgeway and the South Downs Way, especially if the weather is cold and frosty. My walk on the South Downs Way in February was very varied, sunshine, a blizzard, heavy rain… The main memory was of tremendous puddles and mud. With a golden Labrador for company, we often needed to find a hosepipe before entering accommodation, and that was for both of us!
| Long-distance trail | Miles | Features |
| --- | --- | --- |
| Great Glen Way | 79 | Low-lying, public transport options |
| West Highland Way | 95 | Good surface, some remote and exposed stages |
| Dales Way | 79 | Mainly low level, can be muddy, scenic |
| Cumbria Way | 73 | Scenic, fairly low, mainly good surfaces |
| Pennine Bridleway | 90 | Dales section, classic limestone scenery |
| Wales Coast Path | Up to 870 | Choose either scenic, or low-lying! |
| Pembrokeshire Coast Path | 180 | Scenic, can be exposed, accommodation likely |
| Thames Path | 180 | Can be walked in stages, good transport |
| South Downs Way | 100 | Good views, accommodation likely, muddy |
| South West Coast Path | Up to 630 | Check accommodation, high cliffs, storms |
| Kennet and Avon Canal | 94 | Flat, easy walking, generally good surfaces |
Comments and suggestions from enthusiasts...
Thanks to Mike Barrie for this suggestion:
The North Norfolk Coast Path is a great walk in winter, accommodation, transport, etc., more than adequate (though hostels may be closed this winter). At 45 miles an easy 4 days to fit in with daylight hours and winter bus timetable. If that's too short, turn at Cromer and walk it in reverse - though, psychologically, facing the long shingle beach at Sheringham for a second time would be a challenge.
We omitted the Norfolk Coast Path from the suggestions above knowing that when the wind blows in from the North Sea and polar regions it can get a bit too bracing!

To read more articles like this get our newsletter
Sign up today for a 20% discount on your next purchase. Join over 30,000 enthusiasts from around the world. If you don't love our mix of new books, articles, offers and competitions, you can unsubscribe at any time. We will never spam you, sell your data or send emails from third parties.