Travel by bike to walk the Lake District 3000ft peaks
While planning day walks up Skiddaw, Helvellyn and Sca Fell and Scafell Pike, Chris Scaife decided to leave the car at home and cycle to the start of each of these iconic Lake District mountain routes.
Just like everyone else's summer plans, my planned trips to Finland and Spain this summer failed to materialise, so I turned my attention to more local things. Living in Kendal, the Lakeland Fells are not too far away. For a while I had been wondering how feasible it would be to walk up all of the peaks above 3,000ft (914m) over three separate days, cycling from home to the starting points and back. Only one way to find out, I suppose.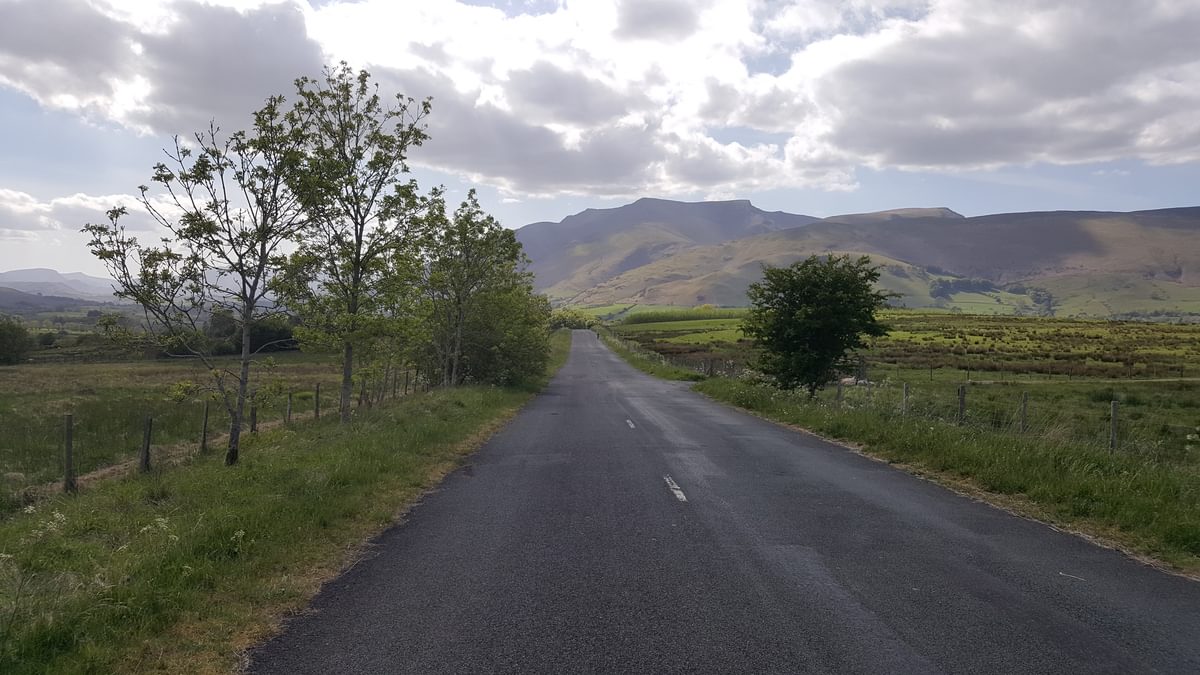 Day 1: Skiddaw – 3,054ft (931m)
I started with Skiddaw. On my bike after a big breakfast, I followed National Cycle Route (NCR) 6 through Burneside, Bowston and Staveley and then up to the summit of Kirkstone Pass, the highest paved mountain pass in the Lake District. Although I was on an A-road (the A592) going over the pass, the traffic was not too bad and I have always found this to be a pleasant ride.

After a speedy descent to Patterdale, I skirted around the scenic western shore of Ullswater to another hill climb, Park Brow. Clean air and great views greeted me as I passed the atmospheric woodland beside Aira Force, beloved by the great Lakeland poet William Wordsworth. Soon I was descending with unobstructed vistas of the Northern Fells.
I could see Skiddaw, either small or still far away, and the saddleback peak of Blencathra. I slipped into reverie as I remembered scrambling up Sharp Edge with my wife for the summer solstice of 2019, reaching the summit of Blencathra at midnight, our descent aided by the faint light of noctilucent clouds. Back to the present, I joined the C2C Cycle Route and followed this west along quiet roads to Threlkeld, then took a minor road to Brundholme, where I thought I should stretch my legs.
The walk began along a well-defined track for about 2km to Latrigg Car Park, which was overflowing with cars. From here I followed the broad, zig-zagging Jenkin Hill Bridleway, established in the Victorian era for tourists on horseback. As I ascended, looking downhill and to the south, the bustling market town of Keswick and nearby Derwent Water looked more impressive with every step. Looking far to the south-west, the distant outline of Helvellyn whetted my appetite for the days still to come.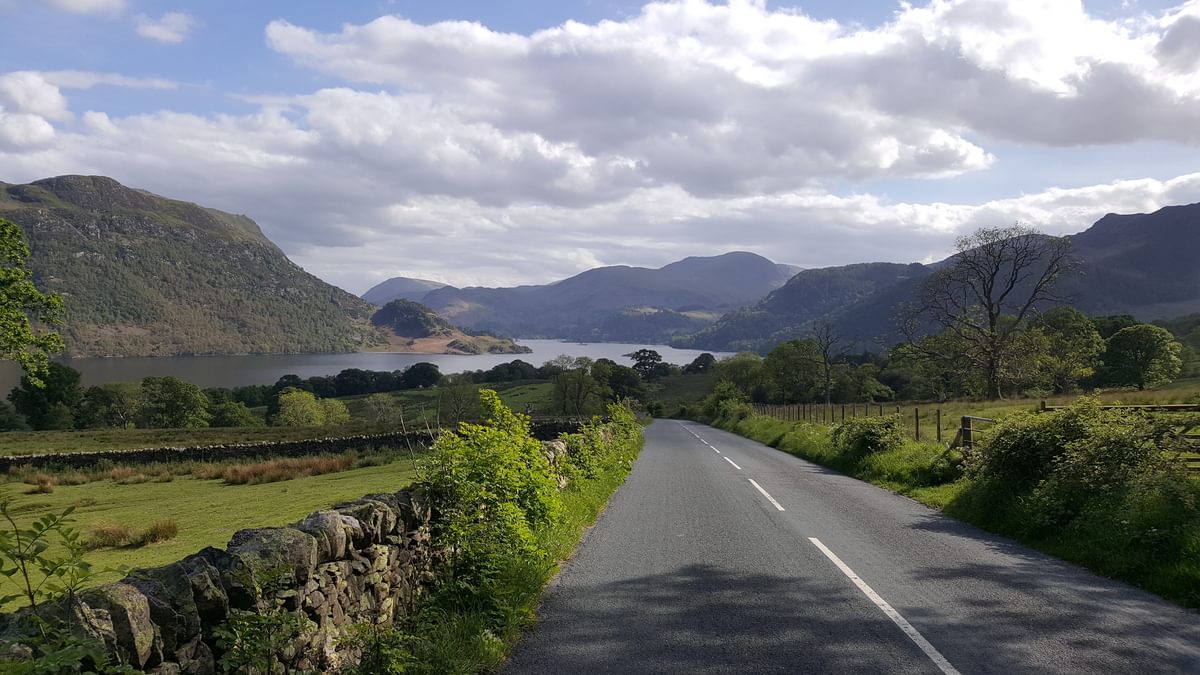 From Jenkin Hill, I took the path over Little Man and plodded up to the summit of Skiddaw. I briefly considered making my walk a bit longer by crossing Sale How and descending to Skiddaw House, before following the Cumbria Way back to Latrigg Car Park; an enjoyable circuit that I have walked in the past. Instead I opted to save my energy and return along the more direct Jenkin Hill Bridleway.

The journey home was every bit as enjoyable as the ride there. I normally aim to cycle and walk circular routes, but with rides of this quality, the scenery is so different when facing the opposite direction that I was quite happy to return the way I came. I could tell it had been a long day while slogging my way up Kirkstone Pass, but it is always a fast ride home from there and I was back early in the evening.
Day 2: Helvellyn – 3,117ft (950m); Helvellyn Lower Man – 3,035ft (925m)
For my next day I took a slightly different route to Kirkstone Pass, along the back road from Burneside to Staveley. I slowed down to admire birds and wildflowers at two excellent nature reserves, the Woodland Trust's Beckmingle Ing and Cumbria Wildlife Trust's Dorothy Farrer's Spring Wood.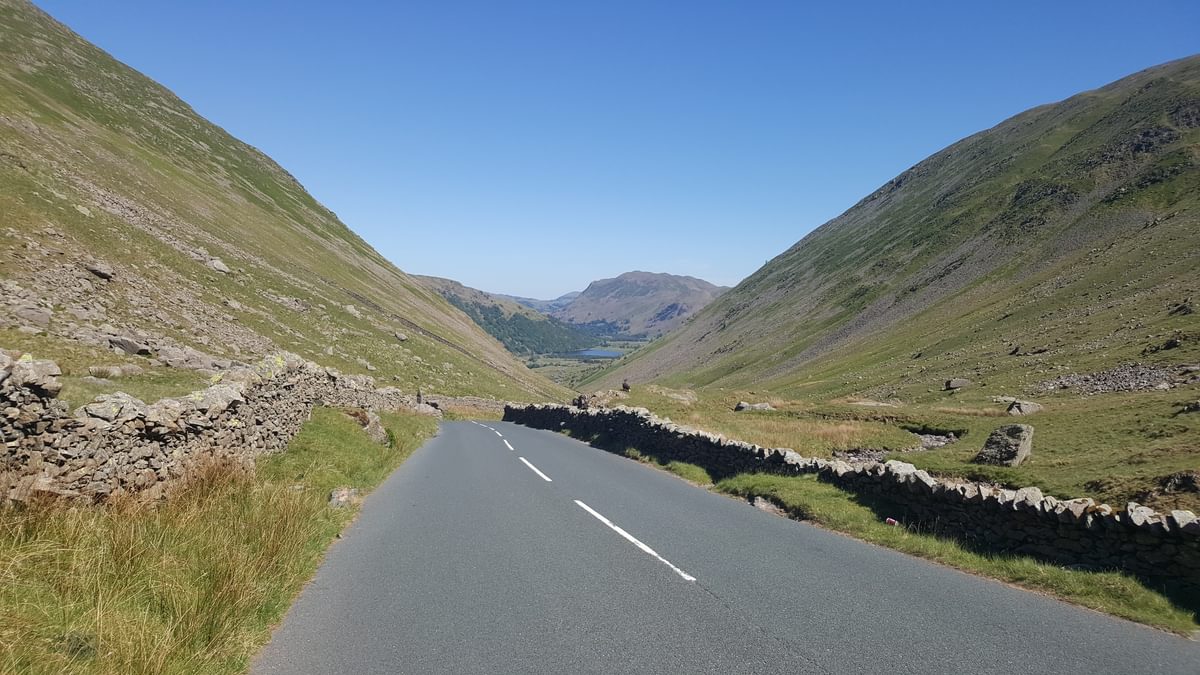 After the long ascent and fast descent to the southern tip of Ullswater, I found a rare cycle stand in the small but often-hectic village of Glenridding and locked up my bike. The overhead cry of a buzzard being mobbed by crows added to the excitement as I set off up Helvellyn.
One of the great classic ridge walks of the Lake District, Helvellyn via Striding Edge and Swirral Edge is a popular route and not a place to expect solitude. On this midweek occasion however, it was certainly not crowded and at times felt rather quiet. I headed up the obvious path alongside Mires Beck and over Birkhouse Moor.
As I gained height, Ullswater revealed more and more of its irregular form, snaking its way to the north-east. Near the Hole-in-the-Wall, Helvellyn was visible for the first time, the western horizon now dominated by the ridge I would soon be following.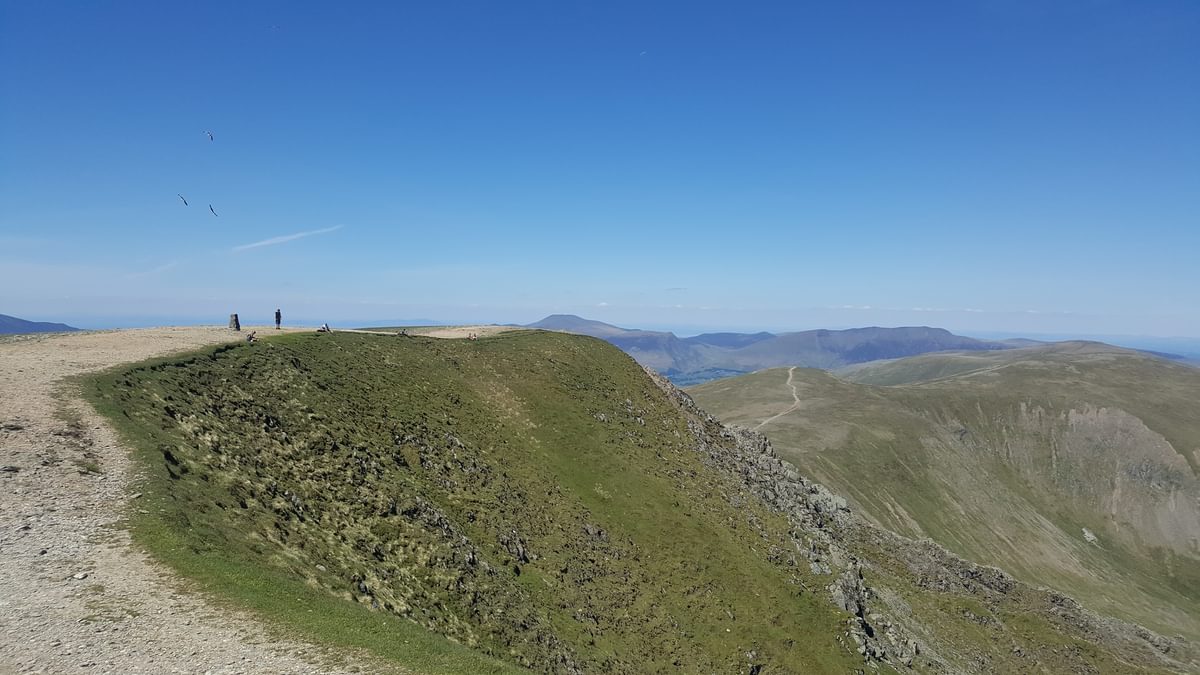 The scramble across Striding Edge (narrow and occasionally exposed but not technically difficult) never fails to disappoint. With the warm weather, dry rock and clear skies allowing views across to the North Pennines and Yorkshire Dales, I wanted it to go on forever. Instead the scramble ends at a steep slope leading up to the summit plateau and passes a memorial to artist Charles Gough, who died here in 1805 and whose dog was found at his side three months later.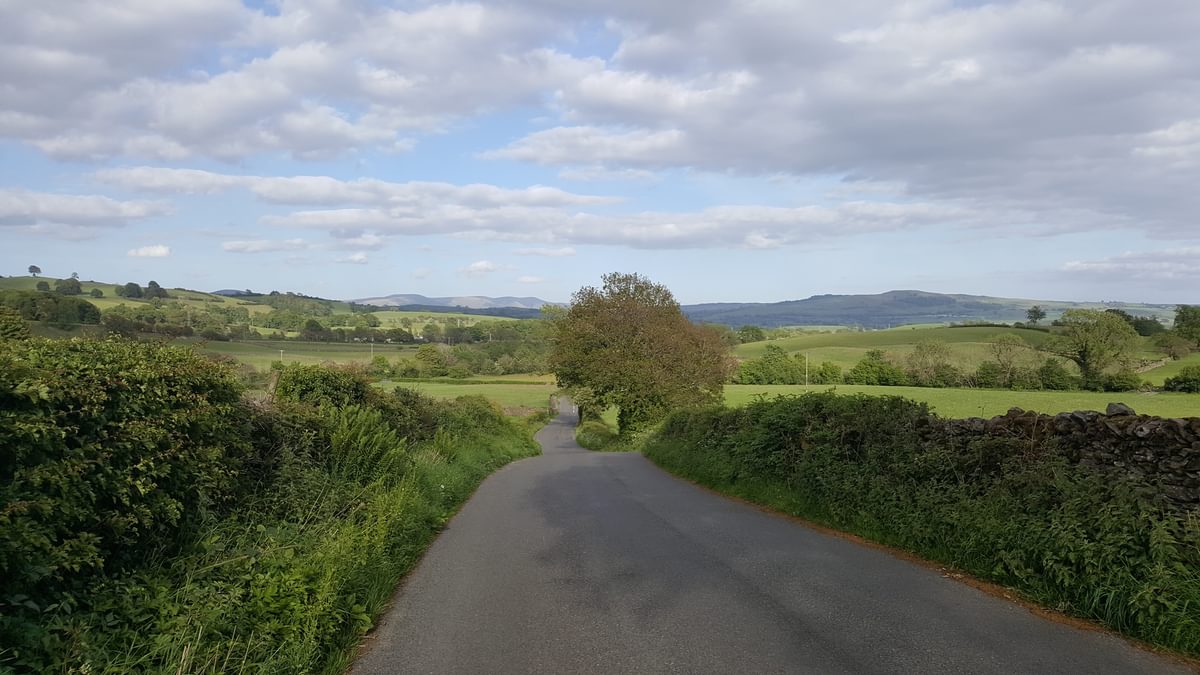 I crossed the summit and continued to the peak of Helvellyn Lower Man, before descending Swirral Edge. Although no as entertaining as Striding Edge, it is a worthy descent route. I left the main track to ascend the bonus peak of Catstye Cam.

On my return to Glenridding I walked along the course of a leat that had been used to channel water to the now long-defunct Greenside lead and silver mine. Before long, I was on familiar ground as I cycled over Kirkstone Pass again and followed NCR 6 back to Kendal. I had set off after 9am and was home before 5pm, having cycled over the highest road in the Lake District twice and walked one of the finest mountain routes in the country in less time than Dolly Parton spends at work.
Day 3: Symonds Knott – 3,147ft (959m); Sca Fell – 3,163ft (964m); Scafell Pike – 3,209ft (978m); Broad Crag – 3,064ft (934m); Ill Crag – 3,068ft (935m)
The third day was the biggest. Scafell Pike is the highest point not only in the Lake District, but in the whole of England, so sees countless visitors approaching from the major valleys of Wasdale, Borrowdale and Langdale. But, having taken the popular paths up Skiddaw and Helvellyn, I decided to go off the beaten track for this one, taking my personal favourite walking route to the summit, from Wrynose Bottom via Moasdale.

I packed supplies, including some banana cake, which I (along with most people in Britain) had learnt to bake during lockdown, and as much water as I could carry for a warm and sunny day on the roads and fells.
The most direct way to cycle to Wrynose Bottom would mean following the road between the towns of Windermere and Ambleside, but that busy stretch of road is not much fun on a bike, so I opted again to ride up Kirkstone Pass and this time to descend the notoriously steep road to Ambleside, known as The Struggle. Of course, it is a struggle only on the way up and I knew I would not be doing that until much later, so I just enjoyed the fast descent.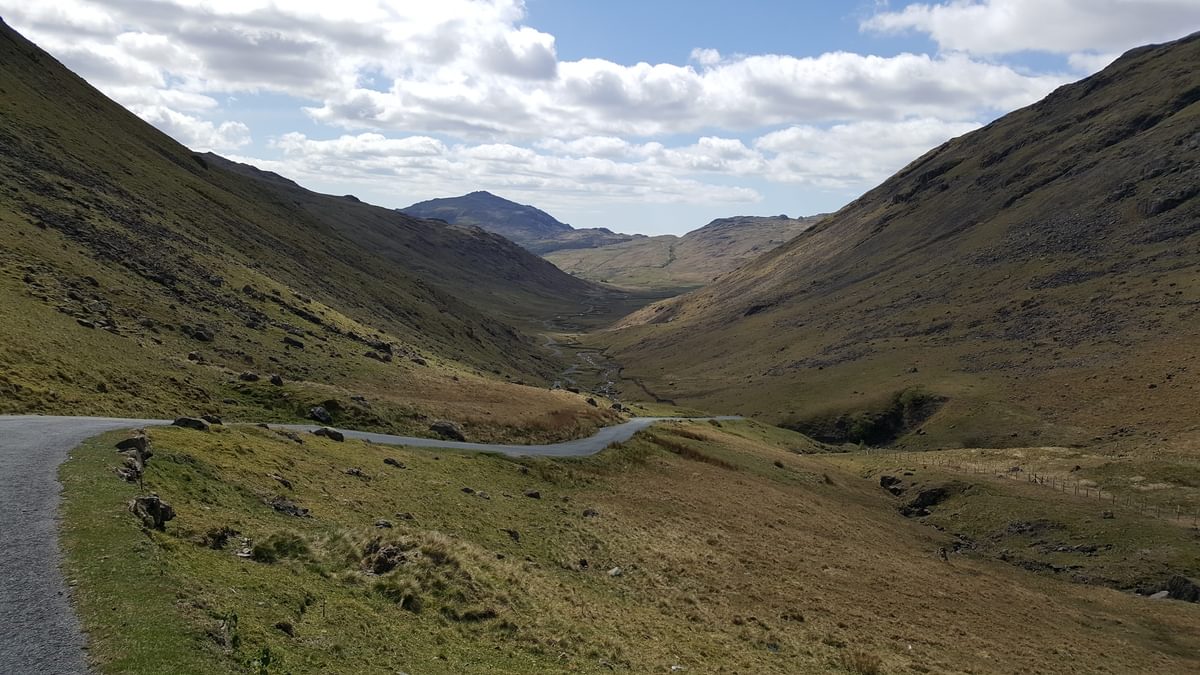 After winding my way through the one-way system in Ambleside, I was on to pleasant cycleways and quiet roads to Little Langdale and the second big ascent of the day – Wrynose Pass. Kirkstone is the highest paved mountain pass in the Lake District and Hardknott undoubtedly the most fearsome, but Wrynose is not far behind.

Approaching from the east, the road can be seen stretching uphill far into the distance and the steepness only increases towards the top. Eventually, legs aching, I descended into the tranquil and picturesque Wrynose Bottom, where I put the bike down and went for a walk.
Despite the heat, the Public Bridleway north up Moasdale was squelchy underfoot and home to numerous marshland plants, including the carnivorous common butterwort and round-leaved sundew. I followed a faint path to the spongy plateau at Great Moss, crossed the immature River Esk and began the ascent towards the narrow ridge known as Mickledore, zig-zagging up steeply at first, but the path soon levelled to become a pleasant stroll. Since leaving the road I had still not seen a soul. Before reaching Mickledore, I turned left up a steep path through the scree to Symonds Knott and then over to Sca Fell.
Sca Fell is the second highest mountain in England and yet an ascent of this vastly underrated peak is at least as rewarding as an ascent of its taller neighbour. On this occasion, not unusually, I had the summit to myself. It was a clear day, so I could see many miles into the distance in every direction – the Solway Firth to the north, the Yorkshire Dales far to the east, Morecambe Bay to the south, the Isle of Man across the Irish Sea to the west, and all around me the fells, valleys, waters and meres of the Lake District.
Sca Fell and Scafell Pike from the top of Moasdale
Sca Fell and Symonds Knott from Scafell Pike
I returned down the scree and up to Mickledore, where I joined the main path up to the rock-strewn summit of England's highest mountain. Every time I stand atop Scafell Pike, I remember my first time there when I was seven years old and my dad told me that I was, at that moment, higher above sea level than anyone else in England. Regardless of how many times I have been there since, there is always a special feeling when, just fleetingly, I'm the king of the castle and you're the dirty rascal.
In order to complete all the 3,000 ft peaks, I continued north-east to the summit of Broad Crag and then over to Ill Crag, before descending the steep and serene Little Narrowcove to return to Great Moss and down Moasdale to my bike. Back in the saddle, I knew my way home was east over Wrynose Pass, but the allure of Hardknott was too much for me, so I had to make a detour west up the steep, winding road to the top of the greatest mountain pass of them all.

I returned over Wrynose Pass and The Struggle, which is an apt name for a steep hill climb at the end of a hard day, with hiking boots and rucksack strapped to the bike. In the soft twilight, I saw bats and tawny owls flitting and swooping as I passed Beckmingle Ing and it was not until darkness had fully enveloped the land that I made it home.
Getting around a National Park: travel by bike
It would be an enormous understatement to say that cycling to the starting points of these walks added to the enjoyment, physical challenge and sense of fulfilment. Each day's adventure began the moment I left the house. The environmental impact was minimal, with no fuel consumption or CO2 emissions. National Parks and beauty spots have limited space for car parking and, whilst there is certainly room for improvement nationwide in terms of designated cycle parking, you can always find somewhere to lock up your bike.
I live in Kendal, so cycling to the Lakeland Fells is far easier for me than it would be for someone who lives far away. However, I live a stone's throw, and easy bike ride, from Oxenholme Lake District railway station on the West Coast Main Line, which can be reached by public transport (when that becomes a thing again) relatively easily from most parts of the country.

Bikes can be taken on almost all trains, as long as you book in advance. Kendal is awash with accommodation options and, if you fancy a multi-day challenge, can be reached by several National Cycle Routes, such as NCR 70 from Walney to Wear and NCR 6 from London to the Lake District.
I was not "travelling light" at any stage, but a fair amount of weight can be carried comfortably by bike with a little practice. I had a rucksack and boots in a waterproof cover strapped to the pannier rack at the back of my bike, with all the necessary equipment for cycling and walking.
Obviously, I am not suggesting that anyone attempts to undertake anything quite like this without being comfortable on long bike rides and big mountain days, in unpredictable weather conditions. But above all, wherever you live, and whatever you intend to do with your day, I would encourage you to consider leaving the car behind and, instead, travel by bike.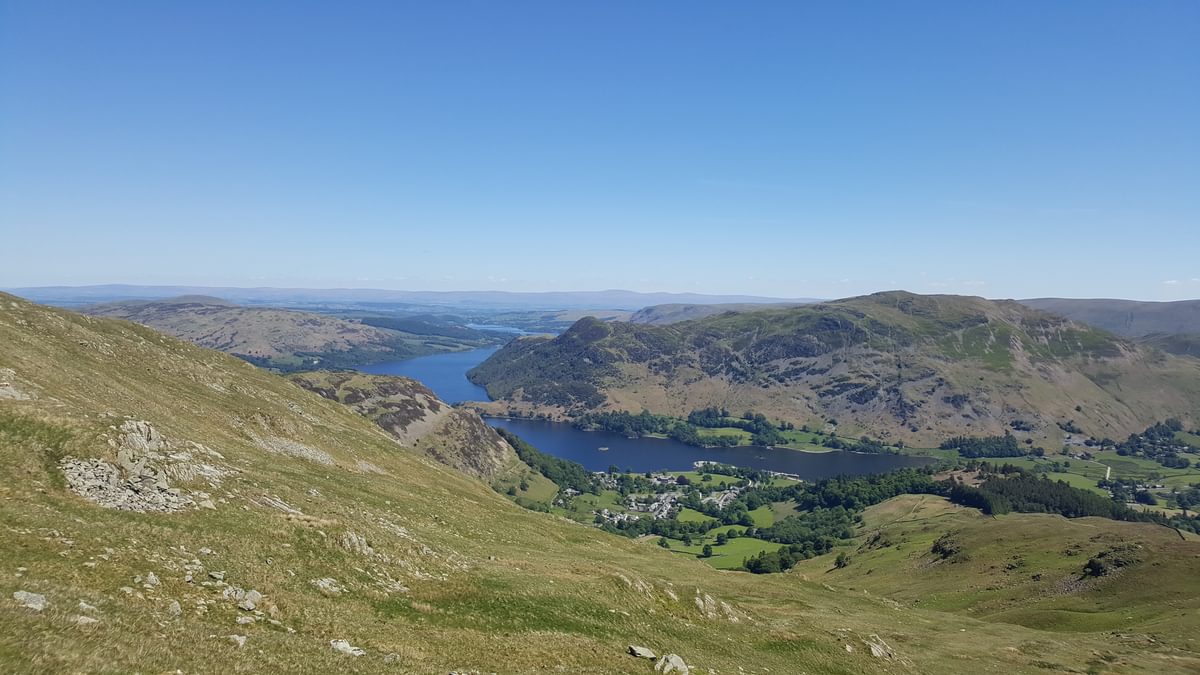 To read more articles like this get our newsletter
Sign up today for a 20% discount on your next purchase. Join over 30,000 enthusiasts from around the world. If you don't love our mix of new books, articles, offers and competitions, you can unsubscribe at any time. We will never spam you, sell your data or send emails from third parties.