12 things I learned from my recent trip to the Alps
Cicerone's Joe Williams recently returned from a two-week holiday in the Alps. The original plan had been to do some alpine climbing, but snow and weather caused a change of plans for him and partner Caroline Holmes. Here are 12 things they learned that could help you on your next alpine climbing/mountaineering/trekking/walking/trail running trip.
1. Don't forget to apply suncream under your nose
When on a glacier at 4000m in bright sunshine, it's wise to apply suncream more than just once, not just first thing in the morning. And if you feel yourself burning, it's also wise to just stop and reapply suncream. And don't forget that snow reflects the sun back upwards, so make sure you protect the underside of your nose or you might find yourself peeling for a week.
2. Check before booking your holiday that the huts and lifts are open
"Let's go early in the summer season so that the glaciers are in better condition." This is a good idea, especially these days when the alpine glaciers can be a tortured mess by July. However it shouldn't be the main factor in deciding the dates for your trip. Despite having spent some time in the Alps every year for at least the past 20 years, I somehow forgot about the mountain huts and the lifts. Turning up in Zermatt, we found that no high mountain huts were open, and only a couple of lifts were running (none above Saas-Fee). Now ordinarily this might not be a big deal: Just camp/bivi or use the hut winter rooms, and do a bit more walking rather than use a lift, but this caused a problem this year because of the next point...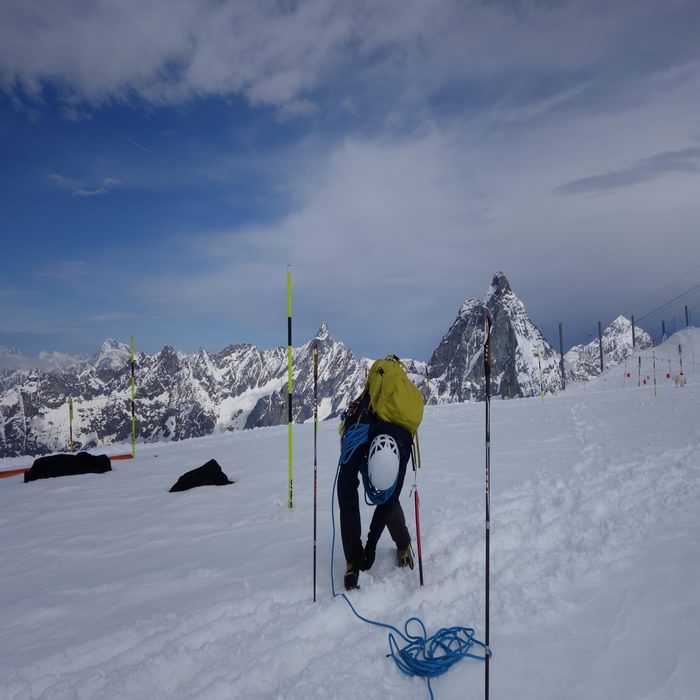 3. Check there's not too much snow and that you actually can do something in the high mountains
Here's a formula: No open huts + no open lifts + lots remaining winter snow = no people = no tracks in the snow = mountains are impossible unless you want to wade through deep, wet snow.
This year, winter in the Alps was heavy and stayed late. Talking to friends that live in the Alps and studying webcams beforehand, we could tell that there was a lot of snow still around. As it turned out, there were occasional snow patches down in the valleys (in avalanche funnel areas), at 2300m there were extensive snowfields, and above 3000m there was continuous snow. Warm day and night temperatures meant the snow was wet and melting during the day, but not freezing enough to stop you from sinking in at night.
On our unsuccessful attempt at the half traverse of the Breithorn (one of the most accessible fourthousanders), as soon as we stepped off the main 'tourist' track, we were floundering. The ascent from the basin on the south side of the mountain up to the col on the ridge at 4022m had a height gain of 250m and distance of 0.6km. This took us one hour and twenty minutes… one hour and 20 minutes of high stepping, sweating, wet boots, wet trousers, frustration and collapsing snow steps. Upon reaching the ridge, there was too much snow to climb it safely so we had to retreat anyway!
This group were doing it right: Skiing! We, on the other hand, were labouring through deep snow
Caroline nearing the the col at 4022: hot, sweaty, tired and wet feet
4. Check what time the last lift down is before you leave the cable car station
On our Breithorn climb we just walked right out of the Klein Matterhorn (3883m) cable car station without checking the time of the last lift down. After we had bailed on the ridge, we hoped to walk back around to the normal route to at least bag the summit. But the snow had become even slushier as we made our way down - our boots were wringing wet and our trousers were absorbing water in an upward direction too. Hidden from us (but in our minds as a possibility), bad weather had closed in from the north and before long we were in a white-out with thunder booming some distance away and snow beginning to fall.
Reaching the mountain's normal route, we knew we didn't have time to go to the summit. I also began wondering what time the last lift down to Zermatt might be - I guessed it would probably be 4:30pm, but there was a chance it might be 4pm. As it snowed more heavily, we upped the pace, feet cold and saturated in our waterlogged boots. We couldn't afford to lose a second as we raced my imaginary 4pm cutoff time, Caroline putting up with loose shoelaces that collected clumps of snow for a time. Heads pounding from the altitude, we finally surged back into the station, at which point an employee said we had four minutes before the last lift down, and them promptly closed the exterior door! A few minutes later and we would have been locked out at 3800m in the storm, faced with a monster 2300m walk down the snows back to Zermatt!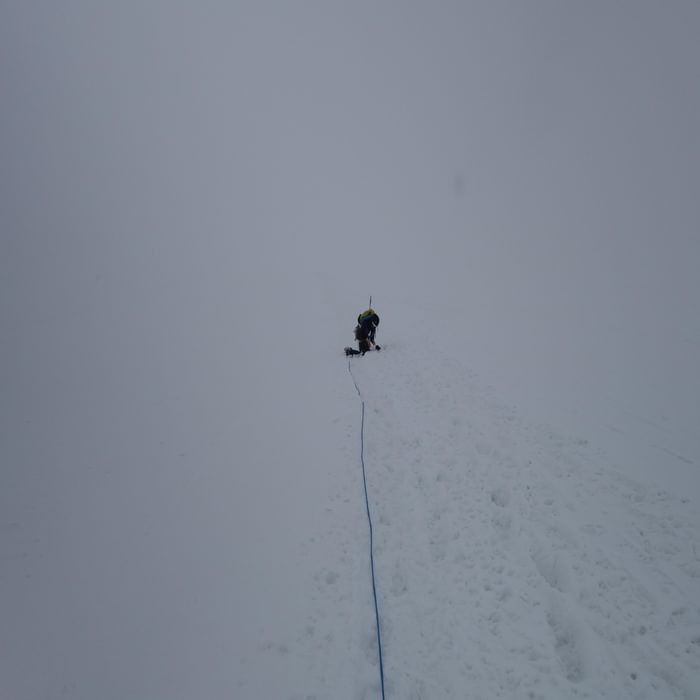 5. Don't go straight up to 4000m and expect to enjoy it
Although I can still perform ok, whenever I go up to 4000m for the first time during a trip I usually get a headache. Sometimes this can even last for an hour or so after we return to valley level. This time my pounding head lasted all afternoon and evening. It was all I could do to just lie down in the grass of the Täsch campsite with my eyes shut, wishing it would just go away! This was the worst it's ever been.
There's this feeling at the beginning of an alpine climbing trip that you should acclimatise steadily, but who wants to do acclimatisation walks at 3000m when there are fourthousanders all around to climb! Well, the lesson has been learned: no more fourthousanders without having spent at least one day and night up high beforehand.
6. If going for two weeks drive down or rent a car at the airport; if just for one week then no car but accept you'll be in just one place
How long should your trip be? Should you bring everything you could possibly need with you? Is it best to drive down or fly? Camp or hostel/hotel?
Ours was a two-week trip that was done with public transport and two large bags each. The 70kg of ultralight mountaineering equipment we had brought with us was a total pig to carry around. And our intention to stay in campsites, rather than in a hostel or Airbnb, resulted in even bigger bags and a greater reticence at having to carry them around when moving locations.
So we have come to the following conclusions:
For a one-week trip, fly down with limited baggage. Accommodation in a pre-booked hostel/hotel/Airbnb and stay in that area regardless of the weather.
For a two-week holiday, either drive down or fly then rent a car. Take stuff to make camping comfortable and give options for different kinds of activity. Drive somewhere totally different if the weather or conditions aren't good enough.
Buy a van…?
7. If you're setting up in a campsite for a while, bring the appropriate kit
Turning up on foot at our campsite in Täsch, we assembled our big and comfortable four-person Eurohike tent. Very nice, we thought. And we had managed to remember plastic plates and cutlery too - well done us! But compared to the professional car-campers in the campsite, we were clearly second best. We had nothing to sit on. We had to buy washing up liquid. A tea towel would have been helpful. And a mini-bbq would have been the dream.
Enjoying some car camping. At least we had beer
We had around 35kg of luggage each
8. Take appropriate shoes
With a recent history of achilles, ankle and other foot problems, my footwear choice should have been called into question before we left. I brought rock climbing shoes, B3 mountaineering boots (narrow and rigid), lightweight zero-drop trail running shoes (which I used for day-to day wear as well as running in), and flip flops.
It was a disaster waiting to happen, and within a couple of days I was in a shoe shop buying another pair of cushioned, conventional trail running shoes, and complaining about my sore achilles. Next time I would have a solid pair of approach shoes with good support and cushioning for day-to-day wear as well as the other shoes.
9. Bring bite relief cream
No explanation required.
10. Be an all-rounder
This we got right. In the past five years I have added road, trail and mountain running to my list of mountain-related interests. Although alpine climbing and mountain running are the activities that get me the most excited, I'm also very happy to spend my time road cycling, mountain biking, bouldering, fastpacking, ice climbing, sport climbing, scrambling, trekking, skiing, ski touring, trad climbing and walking.
This meant that when we concluded that there was too much snow up high and too unsettled a weather forecast, we were able to happily take the train to the south of France to do a six-day fastpacking (hut-to-hut running trekking) trip. Having the skills, experience, fitness and kit with you to do something else means that you can have fun in the mountains whatever the weather and conditions, rather than moping around Chamonix in the pouring rain, looking bored and frustrated while staring up at the cloud-covered peaks.
With conditions too bad for alpine climbing, we went running instead. Here, we ascend the beautiful path up to Trift
There were large deposits of snow even at low altitudes. Above Trift, walkers and runners are greeted by one of the finest and most sudden views in the Alps
Crossing the snow patches at around 2600m with the Matterhorn behind
11. Have good knowledge of other areas of the Alps
When we reached the point where it was clear we wouldn't be doing any alpine climbing, and that the best option for us was to do a multi-day run somewhere, the next question was 'where?' Since discovering the joys of fastpacking last year, we have realised that any trekking route can be done at the pace of a run, doubling up the walking stages and staying in refuges and gites, all while carrying a lightweight pack. We got hold of the ebook for Trekking in the Alps, which gave us a range of ideas, which we then compared to the weather forecasts of different regions and times and costs of travelling there.
Having walked some of the famous GR5 through the French Alps a few years ago, I was also aware of the GR52, a more rugged alternative finish to the trek that traverses through the Mercantour National Park. So, a horseshoe route was planned: From Nice, north up the GR5 to St Dalmas, then east and south through the Mercantour down to Menton. Six days, 105 miles and 9,500m of ascent. And it worked out perfectly.
Day three of our GR5/52 fastpacking journey - we are about to enter the Mercantour National Park in the southern French Alps
We couldn't avoid the snow and bad weather entirely. After a morning of micronavigation in a whiteout and rain, the weather began to ease. Soon, we would reach the stunning Merveilles valley
12. Bring a penknife and a toothpick
On this fastpacking trip, we packed light. So light we didn't even take Caroline's mini penknife. Normally this wouldn't have been a problem, but on day four we were given a large saucisson for our packed lunch. Without a penknife we simply gnawed the cured sausage directly. This then got stuck in my teeth. For days. Quite annoying.
This was offset by the joy of biting directly into the entire wheel of camembert we had also been given for lunch. Tasty.
To read more articles like this get our newsletter
Sign up today for a 20% discount on your next purchase. Join over 30,000 enthusiasts from around the world. If you don't love our mix of new books, articles, offers and competitions, you can unsubscribe at any time. We will never spam you, sell your data or send emails from third parties.