Why choose to trek the GR5 through the French Alps?
A graceful ridge soars away to the south, its flanks of grass and faded alpen rose like rippled antique green velvet, enticing your eyes and quickening your heart. This was to be where the adventure would begin.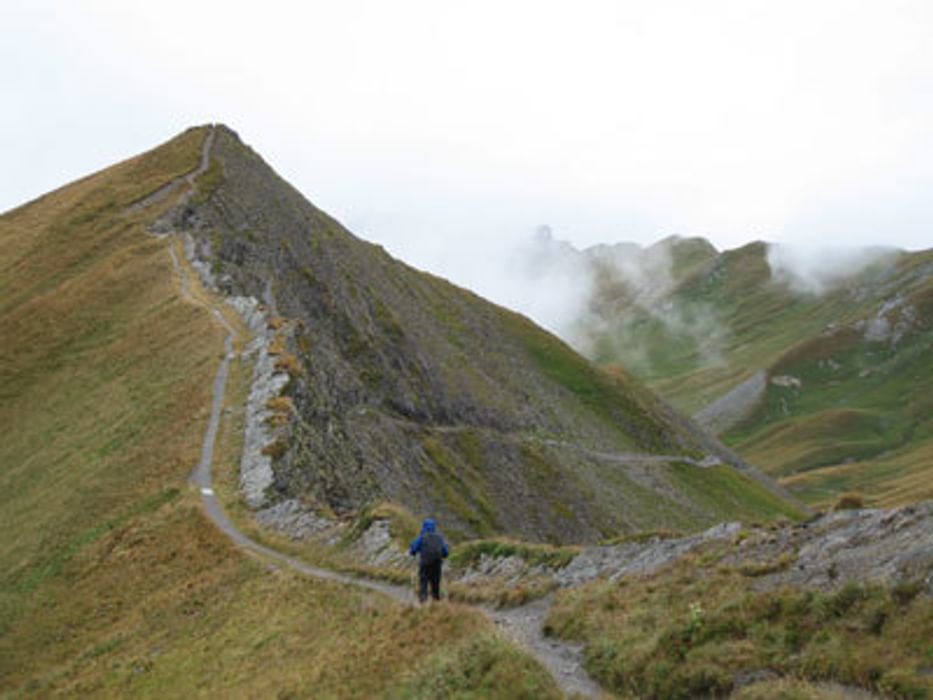 I first saw that ridge sixteen years ago, while staying at the Croix de Bonhomme refuge on our first TMB (Tour of Mont Blanc) trip, and I promised myself that one day I would turn south along that ridge, and walk the GR5 to the Mediterranean. The entire GR5 actually begins at Hoek van Holland on the North Sea, but we began our trip as many do, on the southern shores of Lake Geneva (Lac Léman) at the small town of St Gingolph on the Swiss-French border.
Our plan was to walk the whole route in one trip – something we hoped our mid-fifties bodies would approve of! It's not a technically challenging walk, nothing ever requires the use of your hands for scrambling, but it's a long way, 650km (over 400miles), so you need to do some preparation before you go to be sure that you have a reasonable level of mountain fitness. The other requirement is to be able to take four weeks away from work, which is often difficult unless you work in the education sector, or are retired. This is why many people take two or more trips to complete the route – we met many people walking the two-week stage either to the north or south of Modane, while others we met were taking it in smaller stages over many years.
MontBlanc
Is it worth walking the whole route? In our opinion definitely 'YES'. The first two weeks take you up into ever higher alpine terrain, with the thrill of vast panoramas of the Mont Blanc range, that ridge mentioned above, and the sheer delight of the Vanois National Park, while the second two weeks south of Modane lead you through delightful scenery to Briancon, then through two further protected reserves – the Queyras and then the Mercantour National Park before the final descent to either Nice, or Menton via the GR52.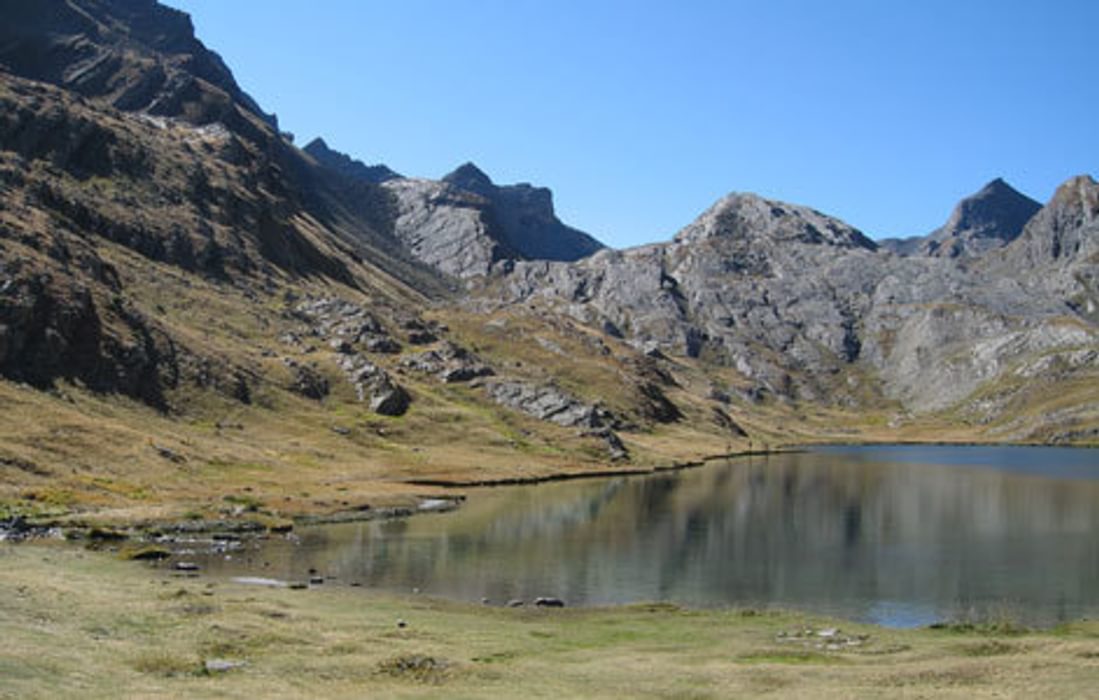 To cut a very long story short, we did it! We took 28 days, which included one full rest day in Briancon. The day stages in Paddy Dillon's book are about right, each day having an average ascent and descent of around 1200m. Some days are shorter than others, and you can usually find ways to make stages more manageable, or longer if you're going well. Most of our days were between 6-9 hours of actual walking time.
Some useful additional information:
Keep your pack weight to a minimum as you will enjoy the trip so much more. We were probably carrying around 6-7kg each for most of the time, including some water and food. The trick is a light but comfortable rucksack, and the not much more that the things you would normally take for a full day out in the mountains, plus toothbrush, sleeping bag liner, pack towel and a couple of changes of socks and underwear. The weather can be anything from sweltering 30 degrees to sub-zero – we had blizzards, hail, heat, humidity, rain, high winds... make sure you have clothing for all conditions.
The route is surprisingly popular, with only a few sections less busy. We walked between late August, finishing on 20th September, and in one or two places we found accommodation fully booked, so as you do the walk, try to book three or four nights ahead, longer if the stops are to be on Friday or Saturday nights or if there is only one place to stay with a long walk to the next possibility.
One of the main things to be aware of if you're contemplating a month long trek is the psychological aspect. It's not a sprint, it's more of a marathon, so take each day one at a time, and maybe divide the route into chunks of four or five days so you have your own milestones. It's a long time, so you will find that you unwind from the outside world in a way you may not have previously enjoyed. Keeping a journal of each day is a great idea to keep your memories crisp, and it's fun to read through at the end, or even years later.
There are opportunities to buy food most of the way through, although there are a few sections where you will not pass any mountain huts during the day, or shops, so need to carry two or three days supply for lunches. There are more options in the northern Alps, so you can sometimes enjoy a lunchtime treat of soup and cake or myrtille tart (blueberry tart) in a high refuge, instead of, or as well as anything you may have been carrying with you. Many places will provide picnic lunches, which are nearly always good, ranging from huge ham sandwiches to couscous salad, eggs cheese and fruit.
Easyjet have introduced a Flexi fare, whereby for a bit extra, you have the option of changing your flight home as many times as you need to, which is good to know, but something that we didn't in fact need to do in the end. Also regarding transport, if you are walking the route in stages, there is a bus from Nice and Nice airport which goes right up to St Etienne de Tigne (around a week or ten days from the finish) which costs just 1 euro.
Anyone thinking of doing the trip – please feel free to contact us if you have questions that you think we might be able to help with.
To read more articles like this get our newsletter
Sign up today for a 20% discount on your next purchase. Join over 30,000 enthusiasts from around the world. If you don't love our mix of new books, articles, offers and competitions, you can unsubscribe at any time. We will never spam you, sell your data or send emails from third parties.