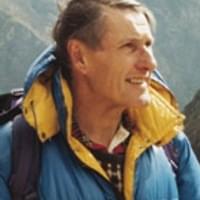 Peter Hermon
---
Peter's first acquaintance with the hills came at the tender age of seven when he was terrified at being taken up Thorpe Cloud in Dovedale. However the spark was lit because he was soon rambling on Kinder Scout and remembers Youth Hostelling over the Hard Knott and Wrynose passes in the Lake district when they were still rough farm tracks. Before long a picture of Tryfan, soaring aloft, lured him to Snowdonia and the hidden hills of mid and south Wales.
Peter was for many years an executive with British Airways but, despite having the whole world as his oyster the lure of the British hills never paled. Once, on a beach in the Seychelles-one of the world's most exotic hideaways-he recalls yearning for the challenge of Crib Goch or Scafell and has a particular affection for the Grand Canyon where he rates the North to South rim traverse as one of the world's great hikes.
'The British hills are the ideal scale', Peter says, 'for day walking. Plenty of time to enjoy a good breakfast, stride the tops, enjoy the views and the bleating of the sheep and be down for a convivial evening. The weather may be trying but no one who has savoured a clear summer's day, the crisp winter air or been privileged to see the clouds part and reveal 'the whole of Wales' after a day of damp swirling mist is ever likely to forget it'.
Emails to hosmill@aol.com